An office video tour is a way of showing off your office space to customers and clients.
After all, after putting so much time and effort into creating a beautiful office space for you and your team, why wouldn't you want to show it off?
Whether you've just moved to a new office space or you're proud of your current office space, there's lots of benefits to be enjoyed from making this type of video.
Essentially you're opening up the doors and letting people in which is a very powerful message.
This is particularly important if you've got clients overseas such as in the US or Australia as they might never have the chance to physically visit your office. They might be working with you on a long-term basis yet the distance can make them feel detached.
However, by being able to see your office through their computer screen, it helps them feel more included and engaged with your brand. It breaks down the geographical barriers and shows your customers where the creativity happens!
The same way that it's good to see the face behind the computer screen, it's also good to see the location of the company you're working with.
With that said, let's look a little deeper into why office video tours are effective.
Why is an Office Video Tour Effective?
We've touched on this slightly in the intro but an office vide tour is effective for a whole host of reasons which we'll explore below.
Shows that your company is transparent as you've inviting people into the space where you work everyday.
Lets your audience meet different team members as you can feature different people throughout your video.
Can be used across your website and social media to increase brand awareness and brand exposure.
Instills trust in your audience as you're giving them a birds eye view into what you do.
Makes your brand feel more personal and 'human' by showing people around your working space.
Enables you to communicate your brand identity and company values in an engaging format.
Let's customers and clients overseas feel more connected to your business.
Gives your brand more personality as these videos allow the audience to experience the sights and sounds of the location as if they were present.
Good branding tool as you can feature your brand colours, typography, and logo on the screen.
Allows you to show off your new office space if you have recently moved.
Gives you the opportunity to talk about different areas of your business and introduce different departments.
As you can see, these types of videos can do lots of great things for your business.
Essentially you're breaking the barrier down between your brand and your audience to make them feel more included.
Clients love to feel valued, and this can go a long way in terms of encouraging them to invest in your business.

How Can I Create an Office Tour Video?
Now you know what an office video tour is, and why they are effective, it's time to start creating your own.
But, you can't take to the camera just yet. There's lots of considerations to take into account before the camera starts rolling, and it all begins with setting up your office.
Let's dive in.
Consider the set-up
Before even turning on your video camera, you need to consider where you're going to be filming.
Now I know this might seem obvious (duh, your office, hence the title of this post!) but you need to think about the set up of different rooms.
For instance, what's the lighting like in each room? If there's no windows or natural light then you'll have to make sure you have artificial lights set up and switched on before you've started filming. Even in rooms with natural daylight flowing through you'll have to make sure this actually works on camera.
Are people going to be squinting whilst speaking into the camera? Do you need to get some blinds/ curtains fitted or maybe film in a different room altogether?
There's a lot to think about and we've just touched on lighting! It's not enough to just sit back thinking everything is fine you're filming in your own office. You need to consider the set up of each individual room to make sure they all work on camera and are visually appealing.
This leads us nicely onto organising your workspace. You don't want to record an office tour video which has lots of cluttered, dirty desks in the background which are crying out for a clean. Similarly, you don't want to record an office video with overflowing bins in the background showing yesterday's Greggs trip.
Sorting the background of your office tour video is key. Remember you're sending out a message to your customers and clients so you want to make sure it's the right one. Unless of course, you want them to think you're messy and unorganised? Your choice.
Another key consideration is making sure there is no sensitive information on show in the background. This can be very easy to overlook as people are just carrying on with their usual work. However, it can be detrimental if this information is on show as you could be leaking personal data.

Plan each shot
This follows on quite nicely from the section above, as planning your individual shots is key.
It's not good enough just to have a 'good' idea of where you're going to film. You need to carefully plan out each shot so that the video moves from one room to the next in a coherent and logical way.
Start by making a list of each room in your building that you want to include in your office video tour.
There might be some rooms that you want to miss out such as the toilets and storage room! Unless of course these have some sort of relevance to your office video tour, then by all means, keep them in.
It's about understanding the purpose of your video and your reason for creating it in the first place. These reasons will drive forward your decisions about which rooms should or should not be included in your final office video tour.
Once you've made your list, walk through each room so that you can get a feel for how this will work on video. If you're using a videographer in-house, get them to walk through holding the camera so that they can see if they can capture the necessary details from that vantage point.
The best place to record might not necessarily be from the centre of the room. It might be that your videographer needs to try a few different places in order to position the camera in a way that captures the footage.
Practice makes perfect, and this stage is about ensuring that your final video will showcase your office in the best possible way. Once you have found a spot that captures the most detail, make a mark with some tape so that you don't have to do this process all over again.
Making a list of the different rooms you want to include is extremely important as it makes sure you don't miss anything out. If you're hiring a video production company to record your office video tour, then make sure you give this list to them so that they can make sure they've covered everything you've asked for.
Select an office tour guide
Who is going to speak on your office tour video?
You need to consider which members of your team are most confident on camera, as lots of pauses and nervous 'mms' will not send out the right message.
You want your audience to be fully engaged in your video as you showcase your beautiful office space. The last thing you want is for them to be frustrated because your office tour guide can't remember their next line. This will make your audience lose interest and it's all too easy to press that 'stop' button.
Your video should flow seamlessly from one frame to the next and should look very professional. Anything less than this is going to reflect negatively on your brand, and it could make you look quite amateur. This isn't the message you want to convey as you want to showcase your brand in the best possible light.
Regardless of what sector you work in whether that's renewable energy, or healthcare, you want people to have trust and confidence in your services. You want them to see this office tour video and feel more engaged in what you have to offer.
After all, that's the whole point of an office tour video, to invite customers and clients inside. It's designed to build a deeper connection between your brand and your audience, so you have to carefully curate the messaging you're putting out there.
Don't want to waste this opportunity by just letting anyone be the tour guide. And in lots of cases, the best presenter isn't always the person highest up the ladder. It's ideal if the CEO is great on camera, as they are the face of the business.
However, if they're really nervous and painfully awkward on camera, then this can be more damaging to your brand image than using someone else. Find the best person for the job. Not the highest paid person in the company.

Write your script
By script, I don't mean a set-in-stone document that your tour guide has to read word for word.
Instead, this should be a flexible document that acts more like a base. This gives your office tour guide something to follow instead of going off on a whim.
It's extremely easy to forget what you're trying to say when you're standing in front of a camera. Especially when you're talking about your own business and showing people around where you work, as it feels a bit more relaxed.
This makes it even easier for a presenter to go off on a tangent. However, it's important you still get the right message across and speak clearly and confidently. Having a script to refer to can make your tour guide feel more confident as they have an idea of what they're going to say.
This all boils back down to the purpose of your office video tour. You and your team need to understand why you are creating this type of video in the first place. Maybe your team has recently expanded and you want to show your audience that your business is growing.
Or maybe you've recently moved office spaces and you want to show off your swanky, new surroundings.
Knowing this information is key as it will help you determine what areas of the office you need to show and the different team members you will be speaking to.
Before recording your video, you need to plan how it will flow. Maybe you want to start by showing off the entrance, then moving onto the office floor, before showing the different breakout rooms. Whatever sequence you have in mind, having a script gives you a sense of direction.
Find a 'quiet' day
Is there such a thing as a quiet day in the office?
If your business is anything like ours, then I can tell you no! However, try your best to find a day where your team has a little more free time.
This means they can be fully immersed in the office video instead of being pulled into different meetings or answering emails and phone calls.
Not only is this disruptive while you're trying to record, but it also means that some of your team members might be missing. You're trying to present your business to the world, so you want to showcase your team at full capacity.
Obviously this might be a bit more tricky if you've got hundreds or thousands of employees. In this instance, you will want to strategically choose to show in the video to represent your business. It makes sense to show someone from each department or division so that you are still representing the different parts of your business.
It's a good idea to put the day you're filming into the diary. This means everyone knows when it is taking place so there's no excuses for being off or being late! You should also tell your team not to book any meetings for that particular day so that they can be a part of the office video.
This should cause minimal disruption to their work as it should only take half a day maximum, to record your office tour video. Obviously this time frame will differ depending on whether you try to keep everything in-house, or leave it to a professional video agency.
We know which one we'd choose, but more on that later in the post.

Hire a videographer or a video production company
Hire a videographer in-house or hire a professional video production company?
A biggie.
One way of working out which route you should choose, is to ask yourself the following question:
How important is the quality of my office video?
Now I'm guessing it's pretty important.
This video is going to be seen by hundreds and thousand of your customers/ clients, and it directly represents your brand. From showing off your team, to demonstrating your working culture, your audience can learn a lot about your brand after watching this video.
Out of all the different types of video, this one is probably the most personal.
You're actually inviting people into your office (albeit virtually) and showing them where you work day-to-day. It's very powerful, and gives people a behind the scenes snapshot of you and your team. It proves that you've got nothing to hide, which is great for building up trust and transparency with your audience.
You're letting them 'in' which is why an office tour video is very effective – when it is done right.
As such, is it not worth investing some time and budget into making sure it hits the mark?
By trying to keep everything in house you might think it's cheaper, but the quality can also be compromised. Instead, by hiring a professional video production company, you can be confident the end result is something you can be proud of.
You won't need to worry about accidentally showing personal information in the background or about the lighting in your meeting room being too dull. It's all taken care of because your video production company are the experts!
Talking of expertise, we can manage all of this for you at Canny Creative. We have a dedicated videographer who can film your office video tour, making sure all of the necessary boxes are ticked. This means you can get back to running your business instead of having to juggle the video side of things. Leave it to us, we've helped numerous clients showcase their office space to customers and clients.
We've also produced our own office video when we moved locations. Due to the the rapidly expanding workforce at Canny, we needed a bigger space that would future proof the business and allow us to hire more employees.
Check it out below:
All you need to do is get in touch with the Canny Creative team to kickstart your video project.
Distribute Your Video
Now you've got your video it's time to start sharing it with the world!
As we've already covered, there are lots of benefits to creating this type of video so don't just leave it sitting. You want to show it off to your customers and clients, and invite people (virtually) into your beautiful office space.
If they've never seen your office before then this could make a real impact.
Think about where you want to share your video and decide which platforms are most popular with your audience. Remember wherever your audience is active, your brand should be too.
Struggling to figure this out? Sounds like you need Canny's free customer persona template.
As a bare minimum, your office video tour should be posted on YouTube. This is the second largest search engine and the third most visited website in the world, just slightly lacking behind Google and Facebook respectively.
The potential reach of YouTube is also enormous, so you don't want to miss out on the opportunity to engage even more of your audience!
1 billion people visit YouTube each month globally.
You should also share your office video tour on social media as this enables those in your community to see it.
This is very powerful as not only will they see it, but they can also like, comment, and share it with their own network. In turn, this increases your brand exposure even further as it can reach people who are not currently interacting with your brand… until now.
A final word…
Before you start distributing your video anywhere, make sure it ends with your company logo and a strong call-to-action (CTA). What this CTA is depends on what you want people to do. Maybe you want them to get in touch or subscribe to your YouTube channel. The choice is yours, but make sure you go out with a bang and encourage your audience to take some form of action.
Google Office Tour Video
After watching Google's office tour, I can't imagine a single person doesn't want to work here!
As well as effectively capturing the office space and its surroundings, it's clear how much Google places the health and happiness of their employees at the forefront. It's really powerful and makes you not just value Google for it's technological capabilities, but also for how it treats its people.
Whilst it's all about working hard here, Google really looks after their employees and offers a full-rounded approach. It's not just about work, it's about fostering relationships, socialising, having fun, being happy, and having the space to be creative.
They even provide an on-site medical team to give employees an MOT. And if that's not enough, there's also a masseuse service for those feeling a little stressed. However, with the amount of strategically placed 'mindfulness rooms', quiet pods, gyms, and private swimming pools, I'm struggling to see how employees can be feeling stressed!
Without further ado, take a look for yourselves …
Amazing isn't it?
What more could you ask for. I think what really got me was the laundry service! The fact you can actually drop off your clothes before breaking up for the weekend, and then simply pick up your fresh load the following Monday.
Google goes beyond the standard workplace perks!
Throughout the video, you'll see a mix of animated graphics and still shots. This works really well in an office video tour as it helps to break up different points scenes.
They also feature a range of different employees to promote diversity and inclusion. This can be easy to overlook but you should always make sure you include a range of genders and ethnicities, otherwise you can send out the wrong message.
One of the key takeaways from this video is how happy every employee looks.
Google isn't daft, and they know a happy workforce is key to engaging people in their brand.
Whether they are trying to recruit new employees, get investors on board, or attract more customers, that real human touch is very powerful. I don't know about you, but I feel closer to Google after watching the video and have a lot more respect for them as a brand.
A very big thumbs up for this office video tour!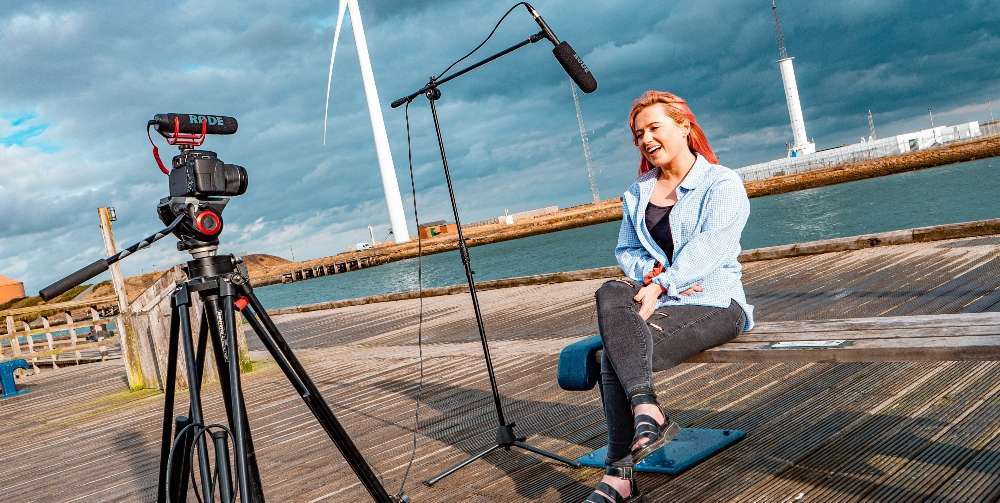 7 Simple Steps to Creating an Inviting Office Video Tour
Creating an office video tour can do wonders for your business.
From inviting people into your office space, to introducing new team members, to emphasising your brand values, these types of videos are very personal.
More and more businesses are starting to create office video tours to enable their customers and clients to get an inside glimpse into what goes on behind the scenes. In many cases, people never actually get the chance to visit your office in person, so it's pretty interesting to see what goes on in the day-to-day running of the business.
Especially if this is something they are investing their money and time into as they want to feel part of the brand.
As you can see from the example above, Google is just one company who have latched onto the importance of creating an office video tour. Is your company going to be next?
If so, then you need Canny Creative.
We have produced office video tours for a number of clients and we know how important it is to showcase your brand to the world. From getting the lighting right, to planning each frame correctly, we provide a full rounded service. As a business owner, you're probably trying to juggle a million different things!
Producing a high quality, professional, inviting office video tour doesn't have to be one of them. For more information about how we can help, get in touch with the team at Canny, or download our video brief template and send us exactly what you need.