You could say UpFresh had a radical identity change, and 'switched up' everything they could to get as far away from their original logo as possible.
Founded in 1945, the food distribution company, 'Fermette Food Group' recently rebranded, giving themselves a 'fresh' new identity.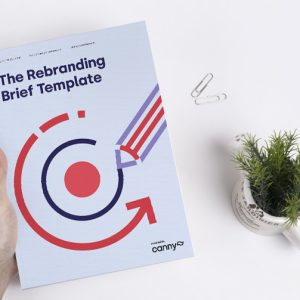 The Rebranding Brief Template
The Rebranding Brief Template is a free template that will help you get the brief for your rebranding project right. ...
Everything from the name, colour palette, messaging, and brand imagery has been updated to create a memorable logo which claims pink as their colour in the world of fruit and veg.
Let's dive into the details of these updates shall we?
A New Name, and a New Identity
A name change was a smart way to go, as 'Fermette Food Group' didn't quite have a catchy vibe, but instead, felt very corporate.
It also didn't provide any insight into the brand's personality which is something consumers really buy into.
However, by blending the words 'UP' and 'FRESH', it created a short, snappy, and most of all,memorable, brand name.

Credit to Under Consideration
The heavy focus on the 'U' (which isn't an upside down sad smiley face FYI), is unexplained by the company. However, this adds a bit of mystery to an otherwise simple brand logo.
The bold, full caps, barlow condensed font is more youthful compared to the original font which was very basic. Therefore, this creates a sense of purpose and relevance for the company in the growing healthy food market.
This new logo also promotes a more modern vibe, growing with their customers to avoid being left behind, without making things too complicated.
Overall we think it's a strong logo switch up, and definitely brings the brand up to date.
Colouring that Pops
Onto the exciting bit…
UpFresh had a complete makeover when it came to colouring, scrapping the classic, predictable, 'fresh produce' green for a vibrant magenta.
A great choice in my opinion, as the pink contrasts so well against the other more basic supporting colours of black, grey, and white.
Equally, pink adds a bit of spice to the fresh produce community, as it's a colour rarely seen in the world of fruit and veg.

Credit to Under Consideration
Maybe with the exception of a Pink Lady sticker, but this still doesn't make the same impact.
Although green is typically the colour that comes to mind when someone mentions fruit and veg, it provides 0 contrast, and means more often than not, company logos can end up looking very similar.
However, by using pink, it provides a cleaner, fresher look which really works.
Also, the produce will never blend into the delivery crates, meaning UpFresh is unlikely to be mistaken for another food distribution service any time soon.
​​
Online Design
In contrast to the brilliant new brand identity, the online presence of UpFresh is a little bit flat.
With the huge focus on more professional, glamorous food shots, UpFresh have left little to no room for their prominent new brand colour to be added. Instead we get flecks of pink scattered over the site in the form of stickers, but it doesn't feel like enough.
The food shots don't seem to match up to the new bold brand identity, and the company starts to feel more like a gourmet restaurant or boutique farm shop.
The move from the focus on magenta and bold wording, to the more neutral supporting colours, and professional shots, feels a tad removed from the first branding images.
Why not judge for yourself?

Credit to Under Consideration
Branching Out to Billboards
A slight criticism is that the billboards don't make it very obvious what UpFresh is all about.
Again, we see the pink stickers plastered over bold text, and luxury shots of broccoli and cheese, but we don't get a good idea of who UpFresh are, or what they are offering.
It all feels a bit unexplained.
The professional photos feel as though they are trying to hold onto a slice of their old identity, however, it doesn't quite match up with their new bold colouring and lettering.
However, it's still safe to say that these designs would definitely catch the eye of anyone passing by! It's a strong colour combo with the pink permeating much of the designs.

Credit to Under Consideration
Switching it UP: The UpFresh rebrand explored
UpFresh got off to a great start with their logo change-up as they embraced bold, attractive new colouring which challenged the norms of the fruit and veg industry.
Also, whilst their billboards are quite simplistic and vague, this creates a sense of mystery that will inevitably draw consumers in.
The magenta wording and stickers in particular catch your eye, and are a huge contrast to their earlier simple, green logo.
Overall, we like the direction the company has taken to completely transform their brand identity into something refreshing and fun.
UpFresh can't be accused of playing it safe with this one, and this worked in their favour in terms of putting a brighter, eye-catching stamp on the industry.
What do you think of this extreme UpFresh rebrand? Do you agree that magenta works better for this brand's identity? Let us know in the comments below!