When you think of a logo for a royal ballet company, what comes to mind?
Is it soft, fluid shapes? Or swirly, joined-up typography perhaps?
If so, then you might be surprised when you see the latest rebrand for the Birmingham Royal Ballet Company.
Moving away from it's regal roots, the brand has opted for a much more strong, dominant logo which is sure to catch the eye – even if ballet isn't really your thing.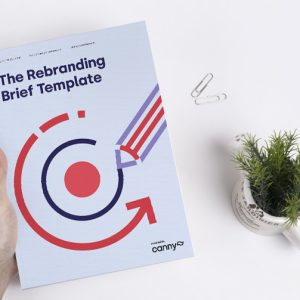 The Rebranding Brief Template
The Rebranding Brief Template is a free template that will help you get the brief for your rebranding project right. ...
We naturally think of the word 'soft' when it comes to ballet as a sport, as we conjure images of delicate ballet dancers, prancing elegantly on their tip toes.
However, all of these preconceived notions have been thrown out of the window, as Birmingham Royal Ballet want to ooze confidence and strength.
Both of these characteristics are essential to becoming a ballet dancer. Firstly confidence as you're performing on stage to potentially thousands of people, and strength, which relates to both the mental and physical attributes required to perform.
Let's take a look at this rebrand in further detail.
History of Birmingham Royal Ballet Company
With ties dating back to the 1930's, Birmingham Royal Ballet company is a classical ballet company based in Birmingham, England.
Originally housed in London's Sadler's Wells Theatre, the company was unfortunately bombed during the Second World War, so they were on the move to find a new home.
They began touring the UK during the 1940's, until they eventually took up residence in the Royal Opera House, Covent Garden.
The company relocated to Birmingham in 1990, and as such, changed its name from the Sadler's Wells Theatre Company to what it is known as today. Since then, it has become one of the world's most respected classical ballet companies, renowned for its excellence and artistic innovation.
Bringing on Cuba-born Carlos Acosta as artistic director in 2020, the brand set out to change up its brand identity with the help of NB Studio.

A Bold New Look
Bold is an understatement!
If we compare the old logo vs the new logo, the change is stark.
The previous design made use of the Royal coats of arms of the UK, which featured as the main visual device. Even just looking at this emblem, it screams regal, traditional, and long-established.
Whilst all of these connotations are positive, the old logo was very difficult to reproduce. And as we know, for any brand to be successful, it needs to work across both print and digital platforms, and the old logo was just too complicated.
It's also a bit stuffy and doesn't appeal to a modern-day audience.
"Carlos Acosta is a global dance icon. His vision for Birmingham Royal Ballet is world-class classical ballet everywhere: winning new fans, staging new work and creating social impact." – NB Studio
But to win new fans, it needed to be more globally accessible. The Royal coat of arms kept the brand rooted, and somewhat limited, to the UK.
Introducing: a refreshed identity, with multi-platform potential.



Credit to Under Consideration
Bigger Visual Impact
With the crest emblem dropped, there's more room to bring the brand name front and centre.
The new logo features a condensed wordmark to add more strength and visual impact to the brand.
The name 'Birmingham Royal Ballet' demands all of the space and takes up the full width of the logo. It's strong, powerful, and daring – which are all characteristics of ballet itself.
"It's a multi-platform refresh designed to take ballet places it's never been before – creatively, emotionally, physically and digitally." – NB Studio
The typographic works in two ways – it can either be stacked, or it can be used as a single line of text. In either application, it's both solid and strong – two words which are often overlooked in the delicate world of ballet.
However, as we've alluded to earlier, ballet demands a huge amount of strength, and whilst this logo is unconventional, it cleverly communicates the philosophy behind it.
I really like the new direction, and think it's refreshing to see such a classic and historic ballet company push the creative boundaries.



Credit to Under Consideration
Photography that Makes you Stop
The wordmark also works beautifully across photography including leaflets and digital billboards.
In some applications, the words are broken up between a top and bottom line to frame the image on the page. It's really effective, and creates synergy between the unconventional wordmark, and the brand.
On its own, it's easy to think 'that logo has got nothing to do with ballet.' However, when you see the logo beside the fantastic photography, the overall result is highly effective.
Coupled with vibrant colours, and professional imagery which captures performers in a range of poses, it's sure to make anyone stop.
Taking Centre Stage: Birmingham Royal Ballet Rebrand Explored
For a company so rooted in history, having been bestowed a Royal Charter in 1956, it's encouraging to see Birmingham Royal Ballet Company undergo such a daring rebrand.
From dropping the crest emblem, to purely focussing on the brand name, this company is making a stand in quite a soft and 'fluffy' world of branding.
As we've touched on, brands in this space usually opt for smooth, fluid, soft shapes which are reflective of how ballet performers move. However, they fail to communicate the strength and endurance that is required of these performers both physically and mentally.
Under the lead of their new artistic director, the Birmingham Royal Ballet Company has sought to challenge these out-of-date notions, by introducing a revamped brand identity.
This will appeal to a mass audience and turn up the volume on their artistry – something which can be understated.
Now it's over to you. What are your thoughts on this rebrand? And you don't need to tip toe around it!
Leave your thoughts in the comments below.