Donut packaging comes in many shapes and sizes, and is often playful and fun in its design.
Although, normally the best thing about getting donuts is the donuts themselves, in this post we will be taking some time to appreciate the design elements that make up donut brand identities.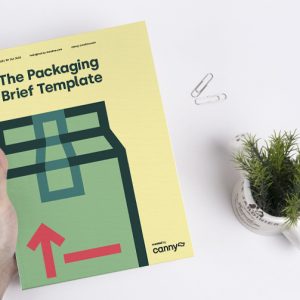 This list contains some big names in the donut world that we all recognise (and love), and some smaller brands that might be new to you.
But they have all one thing in common: they do a great job in advertising their donut brand to the world.
If you'd prefer to listen to us talking about the importance of packaging design before getting stuck into donut packaging examples, then check out the below video!
In this blog post we will dive into a variety of donut packaging designs, so get ready, I am about to make you all incredibly hungry, and hopefully make you appreciate the design work that has gone into these scrumptious donut brands.

Credit to Krispy Kreme
Krispy Kreme
Let's start classic with a brand we all know, Krispy Kreme.
And if you don't, where have you been and why don't you eat donuts?!
Krispy Kreme have brilliant packaging thats well designed and instantly recognisable as the "vintage American diner style" which gives the brand and packaging a visual that people love.
They are an established brand that doesn't have to do a great deal anymore to sell its products, but in this world, if you aren't adapting and innovating, you will eventually get left behind.
Krispy Kreme are a huge company, and have the ability to go full hog when it comes to marketing, so they regularly create special donut packs for certain holidays, and recently created the "Pudsey Dozen" all in support of Children in Need, all with its own unique packaging.
They have even gone as far as creating donut walls and towers ready to buy for parties or gatherings.
Now if you are a small company, it can be hard to throw money at all sorts of marketing, but it doesn't have to be big. It's easy to be prepared by plotting events throughout the year for example focusing on seasonal launches, and creating something to help with your business marketing, as well as getting customers excited and involved.
So, not only do Krispy Kreme have some effective packaging, they really take advantage of every opportunity to market themselves.

Credit to One Plus One Design
Bronuts
I have talked about this brand in a previous post, but I thought the Bronuts packaging was too good to miss from this list.
Bronuts has some beautifully designed minimal packaging, using elements from the well crafted brand.
They keep white as the main colour with simple branding elements throughout, and they polish off the packaging with clever personable messaging.
For example, on one donut box design, you lift the lid and there is a lip that simply says "YUM!".
Bringing in simple touches like this can enhance consumer experience, as smaller hidden messages certainly provide a little extra interaction, and more importantly fun!
Creating a more personable and engaging experience is a big part of packaging design.
Obviously the product is important, but if you can make the user not only enjoy your donuts, but also enjoy the whole experience, then you're onto a winner.
This means you are building relationships with customers that are rooted in your brand, not just your product.
These relationships are harder to break, but that means you, as a brand, have to hold up your end of the bargain. You have set the bar high, so you have to stick to it and continue go above and beyond.

Credit to Voodoo Doughnut
Voodoo Doughnut
Voodoo Doughnut are a donut brand with locations all over the west coast of the US, along with a couple of locations in Universal Studio resorts.
In the last example I talked about creating relationships with customers, which is all about creating a picture in the minds of consumers about what they can expect from your brand, in both product and personality.
This company have a very particular style that runs through into their products, and they make their brand personality crystal clear from the get go.
Their signature donut is the Voodoo Doll which is shaped exactly as the name suggests, with a pretzel stake through the stomach.
This is just the tip of the iceberg though, as they are incredibly forward-thinking and cheeky with some of their donut designs, however we should warn you that some are not family friendly!
Essentially, you should never be afraid of being who you are when it comes to branding, and although some people may not like it, your target audience should be the focus of where your brand is headed!
If you set your stall out early, your customers will know what is on offer and they will come to expect that from you.
However, if you are in a business where content is sensitive, it is probably best not to go down a forward and cheeky route, therefore in this instance it's key to understand who you are, and what message you want to put across.

Credit to Garbett
Happy Maple
Happy Maple is a Adelaide-based bakery all about producing small batch, 100% vegan donuts which are made from gluten, tree nut, and peanut free products.
This is an ever-growing trend as consumers are becoming more savvy about what they are putting into their bodies, and how it is affecting the planet.
Similar to the last two examples, Happy Maple firmly put their flag in the ground with what they are about, and they have projected this through their messaging, branding, and packaging.
The company seem to use a sustainable container, however, I could not find any solid confirmation of this, although this would sit perfectly with the brands overall message.
On the whole, Happy Maple keep their packaging minimal, using the simple sleeve lined with donut illustrations on top of a contrasting vibrant blue colour.
Similar to Voodoo, the brand have gone full steam ahead with their brand messaging, and promoting exactly who they are.

Credit to Noissue.
Doughnut Time
Next on our list is Doughnut Time, who claim to be the favourite in the UK, and available 7 days a week!
This donut brand, similarly to Happy Maple, have a strong focus on cutting out the plastic, and making their packaging as eco-friendly as possible.
So, you wont see a plastic bag in sight when you take a trip to Doughnut Time, and all donuts come in cardboard boxes, which is pretty classic for this sweet treat.
Another nice element to the packaging is the use of food safe paper that helps to protect the underside of each donut, which is equally designed in a random, cartoon style like each of the boxes.
Now, this brand was pretty hard to nail down in terms of their classic everyday packaging design, as they have a variety of limited edition and seasonal box designs
However, we came across the pink packaging design shown in the image above most often, so we will dive into that one!
So, on the inside of each box there are small doodles of different donut flavours in a navy blue colour, and under the lid of each box is the phrase "Let's Get Glazed", with 'glazed' written in a bubble letter font to mimic the shape and glaze of a donut.
Each box is a shade of baby pink, however the company have been know to have purple, green, or yellow boxes, depending on the occasion.
I like that Doughnut Time adapt their packaging design from season to season, as this keeps each box relevant and mixes things up!

Credit to Deliveroo
Dum Dum Donutterie
Depending on whether you are looking for donuts, patisserie, or even croissants, Dum Dum Donutterie can cover all bases.
For Dum Dum's the brand identity is simple and focused on providing artisan donuts, and even going as far as naming them "The Best Doughnuts in the World?" on each and every box.
Leaving it up to us to decide I guess!
However, let's move onto the packaging side of things.
Ultimately this brand uses one main colour, that is only what we can describe as magenta, and this can be found splashed all over the company website, and more importantly their donut boxes.
Each box uses an identical design, consisting of a white exterior, pinkish-purple swirls on top of the lid, and a solid magenta interior.
The fun with this packaging is similar to the Bronuts box design, as it's the messaging that brings the branding to life, and inside each box, big or small, are the words "Donut mind if I do!"
This playfulness is what keeps this British family business relevant and quirky in the donut world, particularly as the general design is pretty straightforward.
However, this does help the company to stay aligned with their brand guidelines by keeping things simple, and focused on the quality and taste.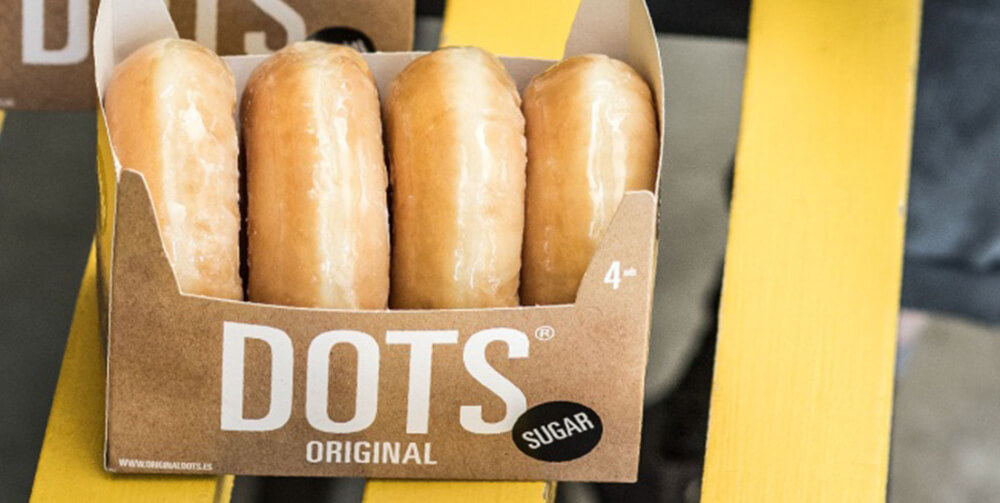 Credit to Dots Original
Dots Original
Dots are another perfect example of how to keep things simple.
Sometimes design can be a tricky task, especially when it comes to packaging.
Figuring out what needs to be on the packaging, how you represent the product, and how the user is going to interact with it all can be a headache.
What you can be left with is a lot of information all getting packed onto a small item of packaging.
Dots have decided to take away a lot of that worry and kept the design of their packaging minimal, and in doing so, clutter-free.
They only include information that is required by law, or information that helps build brand recognition, and after that they do very little. They have a picture of the product, the logo, and essentially that's it.
Even the packaging colour is neutral or transparent!
Making packaging transparent is a clever way to allow the consumer to see the product for what it is. No unrealistic representations of the product means you are more likely to come across more trustworthy, as you're saying 'this is our product and we aren't hiding it.'
Finding subtle ways to suggest certain messaging to consumers is key.
Whether that is having transparent packaging to show that you aren't hiding anything, or using natural colours to show all your products use natural ingredients, packaging is powerful as it allows you to build on the existing brand message.

Credit to Emelie Johannesson / Oliver Sjöqvist
8Munkar
Obviously the big guns like Krispy Kreme have built their brand around the 50's American diner visual, but when I came across this packaging concept for donuts, I loved the fact they took that visual style and threw it in the bin.
And they didn't hold back on telling us either.
8Munkar ditched the recognisable design that is attached to many donut brands and swapped it for more of a Scandinavian style, that matches perfectly with the Swedish treat they were packaging.
The packaging concept itself is all about user experience.
We have all become accustomed to being on the go, as we are now eating, drinking, messaging, and even paying bills on the go.
But once you have opened up a pack of donuts while on the move, they are losing that freshness, and ultimately being a bit awkward to carry.
This is where the packaging designed by Emelie Johannesson and Oliver Sjöqvist differs from the rest.
They have created a carry box that allows you to pull one out at a time, each with its own wipe, napkin, and a message telling you exactly how many you have left.
8Munkar is a great example of staying true to branding.
They did not feel the trendy 50s, American diner visual was for them, so they used that to their advantage in the packaging. Why not take a look through the full project here.

Credit to Proven Goods Co
Proven Goods Co
Proven Goods Co are a small batch bakery based in Newcastle Upon Tyne, who have built a brand using social media.
But first, let's start by delving into the brand and how it looks.
Again similar to 8Munkar, they have ditched the 50s, American visual style and went with a much softer, and more inviting hand drawn approach. They have matched this with a softer colour palette, using pink and a charcoal grey.
Both the colour and the hand drawn elements come together to create a unique and personable brand.
Proven Goods Co use their social media to its full extent by posting great content that not only looks delicious, but is informational too.
For example, alongside all the images of the company's mouth watering donuts, they explain how you can purchase donuts, and where they will be.
Any business needs to understand that social media is now a big influence on consumers buying patterns, so if you are to be successful and grow, you need to harness the power of social media for your business.
Whilst this looks different depending on your industry, social media can be a powerful tool.

Credit to Crosstown
Crosstown Doughnuts
The last stop on our donut tour is to a London based bakery, and a company that seems to be a bit more luxurious and classic with their packaging.
That's right, Crosstown doughnuts are next, and they keep things super slick and simple, with all black packaging.
The only slight introduction of colour into this packaging design is the white logo, and "Crosstown London" brand name and location along the side of each box.
Equally, each box is decorated with a small ribbon in either black, or red (so thats another random addition of colour here and there) which only adds to the high quality look of the packaging.
It's smaller details like this that make a brands packaging feel special, and like a real treat for customers, especially when it's paired with a hidden message on the box too.
It seems a theme has emerged during this post, as donut companies like to include hidden messages or puns for customers when they open up their box. So it's no surprise Crosstown has jumped on the bandwagon.
For this bakery, the message "P.s. You look great today." is displayed on the edge of each box as it's opened up.
So, if you were second-guessing whether to have your third donut of the day, Crosstown are telling you, you look great, so treat yourself!
Donut Packaging FAQ's
Before we round off this tour of various donut packaging brands and designs, we thought we'd add a few packaging FAQ's just to recap on the basics before you go!
What Does Packaging Design Include?

Packaging design includes anything from creating a logo, and deciding on your brand colours, to choosing which materials you will use to create your box or package. This design process includes everything to do will how your final product will look before it hits the shelves.

What are the 4 Principles of Effective Packaging Design?

For packaging to be successful it must follow the 4 principles, and must: compete, engage, communicate, and deliver a memorable experience.

What Makes Packaging Design Successful?

Packaging must offer something unique to consumers that isn't already on the market. Packaging designs are what captures customer attention, and holds their engagement over time.
Tasty Donut Brands and Donut Packaging to Digest
Hopefully this post has given you some insight into how you could build a successful donut brand, or what it takes to start your packaging design process.
You can use these tips and tricks for other food businesses too, in order to build brand recognition, and to attract more customers to your offering.
So whether you prefer the classic American style of Krispy Kreme, or luxury packaging is for you, this post has hopefully highlighted that there are so many ways to go with sweet treat packaging.
However, if you were only here because you spotted donuts on the feature image, then we've probably made you very hungry, so we expect you'll be off to Krispy Kreme now to satisfy your craving!
If you need any help building your food brand, or branding in another industry for that matter, then get in touch with the team at Canny.
We've worked with lots of brands in the food sector, including OPI Frutta to create packaging that stands out on the shelves.