Food packaging design can be tricky to get right, as food comes in all shapes and sizes.
As packaging designers, we try to think of how we can enhance the functionality and experience of food packaging. Usually, it can be.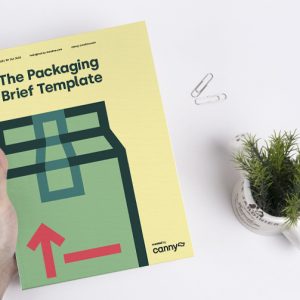 As designers, we're always trying to think of how the functionality and experience of our food packaging can be emphasised or enhanced by the design.
Packaging design isn't just about making a product look pretty. It's about starting to get down to the nitty gritty, and helping a product sell.
Here are some questions we ask when designing food packaging:
How will the consumer use the packaging?
Where will they see the packaging design?
Does the food need to feature on the packaging?
What will consumers get when picking it up off the shelf?
How will it feel?
Food and drink packaging projects are extremely customer lead.
The best food and drink packaging not only looks great, but functions great too.
So without further a do, we have compiled a list of some greatest food packaging design we've seen in the food and drink industry.
These packaging examples have different targets and different goals, showing you that it's not all about making it look pretty, theres so much more to think about when it comes to packaging.
Credit to Jones Knowles Ritchie
Dunkin Donuts Packaging
Recently Dunkin Donuts changed their branding and dropped the "Donuts" from their name. We think in the the initial aftermath people were surprised as Dunkin Donuts has always been Dunkin Donuts. It was strange to see it without the Donuts.
But once we started reading into the reasons behind the change, for example, to not confuse new customers into thinking they only sell donuts, it starts to make sense. They have a multitude of products so why package a bagel with something that says "donut" on it?
The lifestyle of people is now getting quicker and quicker, and they have made the whole brand and food packaging a quicker and sleeker experience to deal with. Bringing a friendly and almost conversational vibe, pushing through the brands heritage, starting with a single store in Quincy, MA. The packaging design still uses the eye catching orange and pink, just a brighter version of the colours. Really standing out to the ongoing customer and enticing new customers.

Credit to Robot Food
Wagg Pet Food Packaging
The Wagg pet food packaging is a lovely change in a pretty old fashioned packaging world of pet food. Bright colours, minimal and a fun loving style… What packaging could embody a pet better than that?
Not only that, I am not a pet owner but I can imagine getting the correct food for your pet at the specific time in its life would be a nervy experience without help. So the information on the packaging makes it easy to select and understand exactly what you need for your pet. Displayed in a consistent and easy to read label across the whole packaging range.
This pet food packaging really does stand out on the shelves. It is a good lesson in not over complicating packaging, "purpose" is always the priority when it comes to packaging in our eyes.

Credit to Emma Sicher & Peel To Peel
Emma Sicher Fruit and Veg Packaging
Sustainability is now a massive discussion when it comes to food packaging design.
The amount of plastic we use is immense and I am sure you have all see the programs on TV showing plastic polluting our oceans. As designers and as clients this is now a very big issue we have to think about.
And their are some people trying to ditch plastic. Emma Sicher, a 23-year old graduate of The University of Bozen-Bolzano in Northern Italy decided to find a different route in the food packaging industry. She has used food leftovers to create packaging sheets to house fruit and veg.
Now for all this is not yet a mass solution to the problem, it shows that people are starting to think about radical new ways to package our food in a sustainable manor.
As designers and clients this needs to be at the forefront of our minds in the project process rather than an after thought.

Credit to Plenum
Red Jacket Tea Packaging
This tea packaging has a beautifully elegant design, using a foiling technique to bring through the high end, quality look.
As a set, this tea packaging looks great together, all utilising elegant patterns that you can almost imagine happening as the tea hits boiling water, subtle strokes of tea mixing with the water.
All the packaging screams quality and consistently delivers this message with every element. Using certain print techniques and finishing can really have an affect on the overall feel of your brand, so keep this is something to keep in mind when packaging a product.

Credit to Red Antler
Brandless Packaging
Brandless is a company trying to strip away brand from the grocery industry, their range of products take away any hint of a brand. Replacing it with a white box which they are known for. The goal is to bring equality to all products.
Personally I love this, which may seem funny as a designer speaking. But in a world with so much brand noise and hyper designed food packaging, and brands claiming the mantra of "it does what it says on the tin". This packing actually does that, nothing more or nothing less than what it says on the label.
For all I would be out of a job if everything turned to this style, and this approach may not be correct for your business but it is worth keeping in mind that minimal can do just as good of a job than something with all the bells and whistles. Everybody is now to some extent taking more notice of what is in their food, so making this important information easy to read and take in can be a very big win in the consumers eyes.

Credit to Jules Tardy
Archer Farms Coffee Packaging
Archer farms coffee packaging is a beautiful example of the illustration design trend that is finding itself into all packaging and design alike.
The reason this one stands out to us, is its functionality and its ability to stand out from other coffee on the shelf. The grid system on the top of the packaging covers all the important information consumers want to know, roast, flavour, origin etc. The flexibility of this element on both white and black allows a wider range of products to be created while keeping with the recognisable brand.
The cherry on top is the illustrations. Now this is a drink and food packaging design trend that is very big at the moment, and be careful because it might not be for your business. But these packaging examples work very well and line up with the fact it is fair trade and globally sustainable.

Credit to Robot Food
Coop's Own Brand Alcohol Packaging
These days people are opting for own brand food and drink over recognised or premium brands. So it is no wonder the supermarkets have cottoned onto this and began to make an effort with their own brand packaging. One of the best we like is the Coop's alcohol packaging design.
Everything about the packaging screams small independent brewery design, but everything is part of a cohesive over arching brand style.
Using big, bold and quirky typography makes it stand out dramatically on the shelf. The style brings a chip on its shoulder, a brash look not normally related to supermarket own brand products.

Credit to BrandOpus
Blue Dragon Packaging
The new Blue Dragon food packaging design has ditched the old, drab design for a vibrant and culturally relevant design. Asian cooking has plenty of colourful ingredients and flavours which seemed lost in the old packaging. The new packaging brings excitement and colour to the brand experience which translates to a more cheerful experience while in the kitchen.
The new look brings an ever changing asian culture to the consumer with an altogether less formal look, tempting the consumer to be expressive in the kitchen with its products.

Credit to Williams Murray Hamm
Waitrose Freefrom Packaging
Waitrose has released new packaging for their free from range. The packaging still brings through waitrose's overall brand feel but also brings a new element to the style. Showing all the food in a less formal setting, showing how delicious it looks. It pushes that you are still getting delicious food, rather than loosing out by making a food choice.
The subtle framing of each item on the packaging with two brackets also look like lowercase F's which plays into the "freefrom" brand.

Credit to Pearl Fisher
Market Pantry Packaging
Market Pantry had a pretty drab, early supermarket own brand look. When they decided to rebrand and change their food packaging it exploded into a bold, vibrant and punchy look. Ditching the boring images of each product for revitalised delicious looking images, partnered with both exciting and expressive typography and playful illustrations.
It has gave the packaging a more professional, enticing and trusting look, allowing consumers to feel confident they are getting a delicious and worthy product. It is also very flexible, having many different elements to it, allowing them to be used when necessary for each individual product without loosing a sense of the brand.

Credit to Big Fish
Kallo Packaging
Kallo is a food brand that makes healthy snacks and cooking products. Their healthy food packaging design previously lacked taste, for want of a better word. But their awesome new food packaging design brings exciting and loving element to the healthy food inside.
They use deep rich colours, that almost have the mouth watering before you have even opened the food packaging. Couple this with some friendly illustrations which hits all the right buttons with the product being healthy and organic, and you have a brand and packaging with tonnes of character, who said eating healthy had to be boring and painful.

Credit to Artem Semenov
Anna & Anna's Packaging
Anna & Anna's food packaging design uses big bold colours and minimalistic design to put the spotlight on the product. But it has a hidden secret as well…
The simple shapes behind the photo of the product, look like a nice touch of colour alongside the main colour. But they are also an infographic, showing you exactly what ingredients are in the product. With the colour explanation on the side you get to see exactly what and how much of it is in your food. A unique way of visualising a normally small and standard bit of information that is normally an after thought on packaging.
So the next time a statistic or a slice of information "has to" be on the packaging, have a think about how you could include it in a way that is helpful to the consumer.

Credit to Date Of Birth
Coffee Bar Coffee Pods Packaging
This beautifully simple design makes a very clean and compact impact on shelves, offering something totally different than anything else in the market.
It makes a normally bulky process look incredibly easy through its packaging. The visual aspect is also a big pointer, The fact you can actually see the product always makes an impression on the shelves, so much so to me, the Coffee Pod packaging almost makes it look like a collectors item, like all those Star Wars figures I still have mint in box in the loft.
So before you think about some nice illustrations of our product or something like that, possibly think about simply showing your product, it can have a resounding effect on consumers and could just swing them to your product.

Credit to Yura Podryadov
Chon Choner Packaging
Chon Choner is a coffee line from Mr. Viet. It is a premium coffee variety, apparently one of the most expensive varieties in the world.
So to see a playful image on the front is slightly strange, they have gone against the high end, classy look normally related with expensive product and used a lovely illustration to push the exotic origins of the coffee in Vietnam. All the way through the Mr Viet. range, illustration and bold text is used to give a unique look in the coffee industry.
This is a great example of how you can go against the norm and really have a successful packaging, it can stand out from everything else in your product space.

Credit to Spiilka
Mo? Ice Cream Packaging
This bright and colour packaging really makes it simple to ask for "MO?"re.
The bright colours on the packaging match up with the colours of the product itself which is shown on the packaging, making it all the more tasty looking. The simplistic approach has no information you don't need, which makes all the packaging clear and straight to the point.
A very successful packaging project that shows that simplicity can be key to translating your brand message across.

Credit to Onfire Design
Luxerose Cocktail Packaging
Luxerose take simple packaging design to the next level. Their simple packaging starts quite plain, and then dissolves into a wonderful explosion of illustration and colour.
With cocktails and drinks of that nature becoming a massive industry (whatever happened to a bottle of brown and a G&T by the way?), The need to come across differently and stand out is a must.
Luxerose have created neat containers with tubes in, each with its own distinct colours and patterns containing a cocktail blend easy to use and pour straight out the tube. A very clean and distinct method to cover any social event or to be given as a gift. The illustration on the packaging shows vibrant floral images, connecting with the cocktails inside. This is a totally different approach to area that is normally in a sachet or in a can.

Credit to Swig
Bozal Mezcal Packaging
Now this may be slightly unattainable for your everyday business but this mezcal packaging for Bozal is truly brilliant.
A brand born in the mountains, these clean and earthy ceramic bottles encapsulate beautifully the brands culture and heritage. Combine that with some minimal labels which let the bottles do the talking, and you have some great packaging.
Now this may seem a bit over the top to some people but it really shows how much you can show about your brand in a well thought out and designed packaging. You would invest in yourself and your product, so why not invest in its packaging to push your brand even further?

Credit to Vibranding
Red Bat Wine Packaging
This wine packaging reminds me a little of the Bacardi branding, but its daring and sexy sister. They've managed to utilise their brand identity to it's fullest with branded product packaging.
The deep red of the label and the black of the bottle gives it a dark feeling, as if it is a guilty pleasure, which all in all for someone who doesn't like wine, it looks very desirable.
The print finish makes it very tactile which when it comes to picking it up off the shelf, it will engage the sense of touch along with sight.
The print method, material and finishes on packaging can really enhance the user experience and the desirability of the product. Especially if it is something that is in functioning use on a regular basis, so if you have to package a product, make sure this is taken into consideration, it could make a massive difference.

Credit to Watermark
Ingleside Vineyards, Chesapeake Bay Wines Packaging
This wine packaging celebrates the area and sea life from where it comes from using realistic illustration and nice brand touches like the vineyards coordinates on the neck of the bottle.
The illustrations are painstakingly hand painted, for me emphasising the hard work and patience put into making the wine. The whole design is modern and sleek, representing the wine and area in an elegant fashion.
Using nice little touches on your packaging, like the coordinates on this packaging can really enhance the brand, being proud of what you do and where you come from is always a winner with a consumer.

Credit to Round
Loving Earth Chocolate Packaging
Chocolate and healthy eating don't often go hand in hand. But the healthy looking food packaging for Loving Earth Chocolate has combined the two brilliantly, positioning itself as an almost high end brand with all its values at the core.
The bold colours bring a shelf presence backed up by clear and simple information, function is a big thing for me in design and it comes across very clearly.
The unique illustrations on the front of the packaging are also embossed, gives this chocolate packaging a tactile finish, engaging the consumer with touch straight away.

Credit to Carlsberg
Carlsberg Glue Packaging
Carlsberg recently released the new Carlsberg Export brand and packaging design. Along with this they have also released a new way to package a pack of cans.
With so much emphasis on plastic waste and new initiatives to reduce plastic waste. Carlsberg came up with a glue to hold together cans that you can just pull one from when needed. Now this isn't to much about the look of the cans but design is very much about function along with the look of a product.
Now this may not be perfected but this is a massive step from a big company to changing its habits and reducing its affect on the environment. Which as designers and businesses is something we need to think about in each project.
21 Tasty Examples of Food Packaging Design
Hopefully this list has given you some important pointers and inspiration on how packaging can really affect how your product and brand comes across.
And that looking good is not the be all and end all.
When it comes to food and drink packaging design, function and user experience should take priority for the consumers sake. It's something we know all too well having helped Opi Frutta bring their colourful packaging designs to life and on the shelves.
Maybe you need help designing your own tasty food and drink packaging? Whether you're a start up found or work as part of the marketing team Canny are on hand to help.
Simply reach out to our team of food packaging design experts and let's create something that jumps off the shelf!