In the digital age that we live in today with more and more companies using online marketing, is the business card really a valid business asset or has it had its day?
Well let me tell you, YES!
The business card can still be a key and vital piece of brand material, for any size company whether you are small or large, a startup, or a market established company.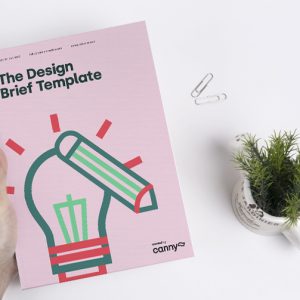 The Design Brief Template
The Design Brief Template is a free template that will help you get the foundation for your design project right. Whet...
One of the main benefits of a business card is its physical presence. Anything that audiences or consumers have to interact with, naturally holds their attention for much longer. Even though digital marketing is becoming increasingly popular among companies, as long as there are still expos and networking events, then the power of the business card will live on for many years to come.
The business card is often one of the first points of contact that customers or clients have with your business / brand and is often where first and lasting impressions are formed. For business cards to become successful, it is important they don't just become another tick the box piece of brand stationery. They need to stand out – and for that they need to be designed right!
Check out our video below to see how to design your own business cards:
Let's dive in to some of the best in show!

Designed by Hey Studio
Estampaciones Fuerte
First up is Estampaciones Fuerte's business card. This really hits the nail on the head and is certainly a show stopper when it comes to a perfectly designed business card! The card is hitting two major marks when it comes to design – does it look good aesthetically, and does it have purpose. Rarely do the 2 take on such a literal representation of a company, however here 'Hey studio' have managed to do this.
Estampaciones Fuerte is a Spanish cold metal stamping and pressing company, so their business cards are trying to convey an engineering and industrial feel in their look. The company's USP in engineering and pressing of steel, is represented in a simple and effective way, by the embossing and die cutting of the cards. By doing this onto a metal grey card, it gives the impression of pressed steel.

Designed by Why Not Studio
Unibase Fuerte
Vertical business cards are a very simple and great way to make your company stand out amongst the crowd. Most generic cards are landscape in their orientation however by switching it up you can get some very interesting text layouts.
Unibase is student accommodation in Krakow (Poland), its whole brand image is very unconventional and rebellious. They have really understood the importance of appealing to their target audience, being unconventional across the whole brand, with business cards being no exception.
Using the eye catching bright yellow combined with the cards not conforming to conventions by switching orientation between landscape and portrait, Unibase instantly becomes much more intriguing among students and younger people. The whole brand image of going against the grain becomes not only metaphorical, but literal too.
After all, rebelling and going against the status quo is what being a student is all about!

Designed by Ogilvy
Chest Physician
In terms of wacky business card designs, putting your contact details on a balloon is certainly up there! However this contact card designed by Ogilvy, for a Chest Physician at an asthma allergy centre really thinks outside the box.
This business card not only delivers the contact details in an unconventional and witty way, but also doubles up as a chest exercise for patients to determine their lung capacity!
As mentioned earlier, designing something to be interacted with, really helps the audience / consumer engage with the brand.
Normally in the health sector, you would find a very mundane, clinical and boring business card, which would probably be picked up in a second and forgotten about just as fast.
However by thinking a little differently, you can really ensure people will read the information given and are often more likely to remember it.

Designed by Obys Agency
Obys
Sleek minimal and elitist. These business cards for Obys – a creative design agency epitomise and ooze class. They are a great example of the power that less is more has when it comes to design.
Lots of people are normally very conventional and reserved when it comes to being creative with business cards, often becoming very utilitarian in their look. However when you are a design agency that specialises in web, app and graphic design – then you really need to go hard or go home!
Obys have gone for a minimal design approach to their business cards, opting for a striking monochromatic look. By having high contrast between the white text and black background, your eyes are immediately drawn to the card's content, almost forcing it upon the viewer. This makes it very effective in delivering key information.
Another bold design statement with these cards, is only showing half the logo. This really goes against the status quo of having your logo, slap bang in the middle of your card. Instead, only revealing part of the logo creates intrigue and mystery, sparking people's curiosity to find out more about the brand. Not only this but it helps cement your business as being a market leader, an attitude of "We don't need to show you our logo. You should already know who we are".

Designed by Moving Brands
Eir
Eir is one of Ireland's largest telecoms companies, providing mobile and broadband to both urban and rural areas. Back in 2015 Eir went through a huge brand overhaul transforming itself into the fun and vibrant brand image that we see today.
The whole brand & even the renaming from Eircom to Eir is all based around the motto 'Live life on Eir'. Air is essential to life as Eir is essential to Ireland. The business card embodies this message beautifully delivering a positive, warm and humanised card, that catches peoples eye and invites them in.
What is particularly nice about Eir's cards are the spectrum of designs and vibrant colours that they have at their disposal, as it really catches peoples eye. By not just opting for one universal card, it really helps to give a more individual and personalised brand image – setting itself apart from the cold corporate world.

Credit pinterest
Flow Yoga
Another business card design thinking a little differently is the Vancouver yoga studio – flow yoga.
This business card is so clever and witty that it is certainly one that anyone receiving will remember. For most business cards, you don't actually know what a company does until you fully read the information on the card.
However the clever thing about this outside-the-box idea is that you know exactly what they do before you even pick up the card. Portraying exactly what a company does through its brand image, without the use of any extra information, is extremely rare and is the ultimate designers goal.
Another great design technique implemented in this card is its interactiveness. As mentioned earlier it is an extremely valuable design tool, which really increases the chances of people engaging with your company and remembering it – which is really what the business card is all about!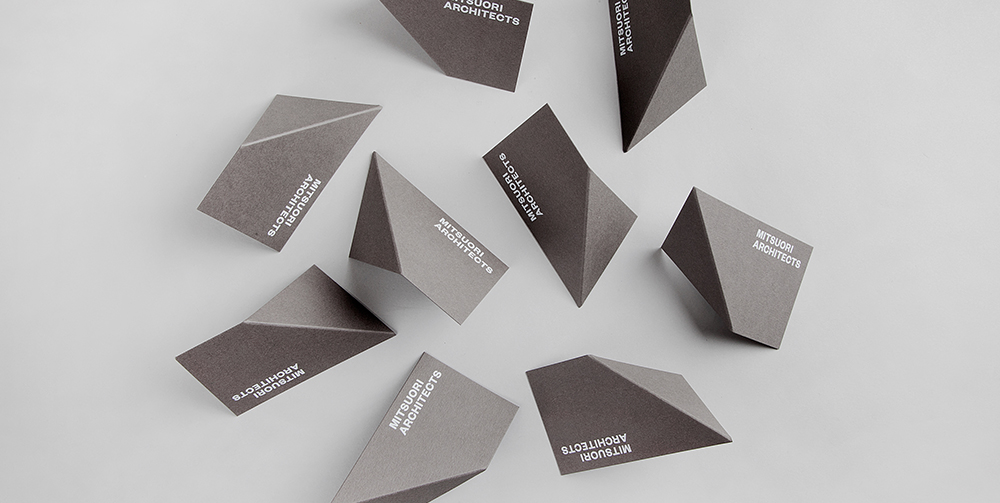 Designed by Hunt & Co
Mitsuori Architects
Again here we have another great example of the best in business card design. A structural origami style business card which can be erected using a single fold.
Mitsuori Architects is a Melbourne based boutique architect studio. Their brand image and business cards directly derive from the translation of Mitsuori – meaning threefold. This idea of adapting the folded angular shapes and pulling it across the whole identity really portrays the studio well – this is particularly well expressed through their business cards.
By incorporating the angular 45 degree fold lines used throughout the identity, gives the business cards the ability to freely stand on their own – which is a really creative idea. Having the ability to stand gives the cards architectural form – which represents the studio and what they do brilliantly
Bringing physical 3D presence to the otherwise 2D world of business cards, really helps to bring this architectural firm and the work they do into the real world. This instantly tells a client looking at their business cards that this firm takes ideas from paper and brings them life.

Designed by Poble
Poble
A lot of the examples already looked at in this post have been extremely creative and very out there in there designs. However Poble, a Spanish creative studio is here to show us that getting the basics right with a simple, stripped back and minimalist approach can really hit the mark!
Poble has a very minimal Swiss design approach when it comes to its brand image, this has been carried on through into the business cards, where they have opted for a very bold typographic look. The high contrast between the type's weight and size gives a real added interest and depth to the design. It also gives a hint that the studio has a varied and un-confirmative approach to its designs.
The business cards have clearly had a lot of thought put into exactly what cardstock to use, opting for a very thick and textured look. This combined with the embossed and letterpress printing method, has really emphasised the craft feel of the studio.
The use of colour in these business cards are also very different to the others that we have previously looked at in this post. Instead of opting for bright, vivid or high contrast colour schemes, Poble have instead chosen very earthy and muted colours. These really allow the textures of the paper and embossed print effect to shine through and do the talking.

Designed by Lotta Nieminen
Bec Brittain
Less is More. When it comes to these Bec Brittain's business cards.
Bec Brittain is a New York based creative lighting and product designer, who makes amazing, 'out there' lighting.
Her "love for luxurious materials, intuitive forms and forward-thinking technology", means her lights are extremely extravagant, creative and high-end. Ranging from four to five figure price tags, they are certainly out of my budget! However with such a high price tag, this leaves no room for compromise on any level of the brand.
Luxury is what people want, and luxury is what people get with this business card.
The business cards are super minimalist in their design approach, leaving lots of space to portray an air of luxury, but also more importantly to let the quality of the paper stock and embossing really do the talking. With Bec Brittain having a passion for luxury materials, this really represents her design and thinking style well.
The use of the combined royal green, black and copper has also been cleverly used to bring another air of sophistication to the business cards. Even without reading the cards, you can instantly recognise that this is a quality and high end product.

Designed by The Chase
Emergency Electrician Paul Wenman
Everyone always has that one cluttered junk draw (well I certainly do) full of an array of seemingly pointless items that will never see the light of day – whether it be pens & pencils, take out menus or in this case, tradesmen contact cards. However this Electrician's business card designed by 'The Chase' will certainly not be hard to find.
The tradesmen & contractor sector can often be a very dreary and bleak place when it comes to all things design related, often not given appropriate care or consideration. In an oversaturated market with lots of competition, it can be very hard for your business to stand out amongst the crowd.
Often lots of tradesmen get work through word of mouth, by friends or friends recommending people. However contact cards are still very important as the majority of the time when people receive a tradesmen's card, they will put them away for a rainy day.
To put it simply, if your card stands out amongst the rest then you are much more likely to be the first candidate they ring!
This Electrician's business card is certainly one that will catch anyone's attention. When the lights go out, this brand will glow. No literally – the business card glows!
'Paul Wenman is an electrician who reckons most of his call-outs come from people left in the dark.' So making the cards glow in the dark is an extremely witty and humorous way to make this brand stand out.
Another clever element to the design is the tear of the card attached to the letterhead. This means when quoting or invoicing people for work, they are always left with your contact card to hand – which can then be passed on to that friend of a friend.
Conclusion: The Best In Business Card Design
The importance of the business card should not be overlooked. Even with the recent rise in online marketing, the trusty business card can still be a vital piece of brand material – often being the first point of contact that people have with your business.
However business cards should not just be a fleeting afterthought or tick the box brand exercise. As seen here, they can become more than just a utilitarian contact card that sits in a holder on a counter. Instead with a little thought and design treatment, they can become an extremely powerful and creative company asset.
The more creative and innovative you are with your business cards the more likely it is that people will connect with your brand – which will therefore generate more business leads. Simple!
Feeling creative with your business cards? Or wanting a brand refresh? Then why not get in touch, we would love to help!