Before we begin listing off all the B2B marketing services, do you want to take a note of the number of services you already know of?
Do that, and then make a separate list of what services you didn't know worked in a B2B setting once you get to the end of this post.
We can guarantee the results will surprise you.
Which is sort of the beauty of posts that offer a 'complete list.' You're bound to learn something new; something that, we're hoping, will help you and your marketing strategies moving forward.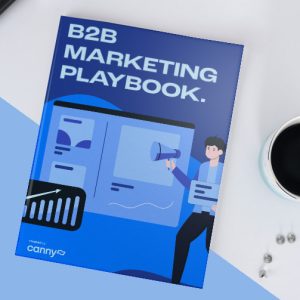 B2B Marketing Playbook
B2B marketing can be an absolute minefield as you need to convince other companies that your product/ service is worth in...
As you might already know, marketing to businesses is a completely different ballgame.
Businesses aren't as easy to market towards, and come with their own buyer's journey, which is something every savvy marketer needs to consider before they even think about what services they'll seek.
To begin, let's look at a quick definition of B2B marketing services to make sure you know exactly what we're covering in this post. After that, we'll then begin to name/describe each B2B marketing service one after the other.
Are you sitting comfortably?
If you are, then let's get going.
What are B2B Marketing Services?
Before we begin, we should point out that there are significant differences between this post and the blog we have running down the complete list of content marketing services and deliverables.
Anyway, back to B2B marketing services…
The purpose of any B2B marketing service is to prioritise and target other businesses directly through strategy, research, creation, and reporting (more on each of these services later).
B2B marketing services are typically sought out by those who either lack the time and attention needed to execute their ideas, or those who don't have a lot of experience in marketing their business to other businesses.
And then there are those who approach B2B marketing agencies for a completely different perspective. The insight these agencies provide is practically priceless as far as having an outsiders opinion goes.
Sure, brands might already have a decent understanding of B2B marketing as is, but keeping on top of trends in the market can be tough when you have so much to do already; again, another benefit of taking advantage of B2B marketing services.
Who Offers B2B Marketing Services?
As stated in the previous section, B2B marketing services are typically offered by a dedicated agency that specialises in either one, or all of the services mentioned (strategy, research, creation, etc).
B2B marketing agencies, such as ourselves, tend to work collaboratively with clients. This allows us to ensure that all services are maximised, and that all deliverables are of a set standard before they are handed over.
Deliverables being anything from general marketing collateral to optimised blog content.
Know that there are hundreds if not thousands of B2B marketing agencies out there at this moment in time. Some specialise in one particular field or service, whereas others offer the complete package – taking you from research all the way to reporting.
Which you choose will depend on a variety of factors, the most obvious being:
What you're hoping to achieve.
When looking for an agency, be sure to look at previous examples of their work. If they are who they say they are, then the quality of their portfolio should give you a pretty good idea of what they can do.
Agencies are technically B2B businesses themselves, so be sure to get a good look at their marketing output while you're at it.
There's no better quality check than seeing if they practice what they preach.
List of B2B Marketing Services
Remember when we said we'd look at each B2B marketing service in greater detail?
Well, this is the section.
Do keep in mind that not all of the B2B marketing services you find are so cut and dry. In some instances, research and strategy are one in the same. The same goes for creation and research, as some companies will ask for constant updates to see how their content is doing.
Let's start with research services, and go from there in an order that makes sense.
B2B Marketing Research Services
It's no wonder brands are seeking the help of agencies to perform market research for them. There is just so much to track and monitor these days, it can make choosing the right metrics somewhat difficult.
Approaching an agency to provide market insights ensures that the data gathered is relevant, in date, and helpful above all else. By helpful, we mean data that brings you closer to your overarching marketing goals.
We should look at a real world example of B2B market research services, if only to make sure you understand what it covers.
Without naming names, here's a quick rundown of the research services offered by a popular B2B research agency, for reference:
Buyer personas
Sizing
Market structure
B2B Marketing Strategy Services
Strategy will always follow research if you're working with an agency handling most of your marketing for you.
And with good reason.
Without research, it's impossible to know who you're marketing towards, what works well based on things like competitor analysis, and what marketing methods are more likely to bring you the most success.
It goes without saying that having a clear B2B marketing strategy is a must. Your marketing strategy is a constant point of reference, one that you can share with other members of the team so that they know exactly what's happening and why.
Strategy-based B2B marketing services bridge the gap between research and creation (creation being the next stage of this process).
B2B Marketing Creation Services
Creation is where the majority of you require help with. After all, most marketers can handle the research and strategy side of things. It's sitting down and executing your ideas that you might be struggling with.
More-so when it comes to things like blogs and resources such as ebooks and whitepapers.
Yes, anyone with a basic understanding of the English language can write a decent blog and have it make sense. But will that blog then appeal to other businesses and get them in your funnel?
Maybe not.
Consistency is an underrated part of creation, and I don't mean just doing the same thing in a similar style either. I'm talking about ensuring that any and all content captures the essence of your brand, and its goals.
Creation is more than simply getting something out there for the sake of it, which we'll tell you first hand if you decide to get in touch to talk B2B marketing.
Blogging
When we think of B2B marketing creation services, blogging is something that immediately comes to mind, hence why we've peppered it throughout this post.
Blogs are fantastic for establishing credibility and providing value to readers. There's also very few limits to how you can write them, as long as the content is optimised, that is. You see, some have a very different view of what a blog is and the role it plays.
Some believe that blogs are an extension of the brand and a source to provide important company updates to readers. Others see it as a way of gathering leads through smart content that answers some very common questions in a much longer form.
Both are correct in their definitions, only we see blogs as more of a marriage between both definitions.
In other words, you can be informative without being boring, as proven by the thousands upon thousands of words we've already written for clients.
Clients such as YardLink, iVent, and Learning Journals, to name but a few.
Ebooks and Whitepapers
If you're an avid reader of the canny blog, then you should have a pretty good idea of what an ebook and whitepaper is and what the benefits are of offering them up to your target audience.
For those in need of a refresher, should we look again:
Ebooks: A long-form piece of content that educates readers on a specific topic. They are great for sharing key insight/expertise to those who hit download.
Whitepapers: An informational document used to promote or highlight a solution, product, or service in great detail.
Content upgrades like ebooks and whitepapers are easily one of the best ways of increasing organic traffic to your website. They're also very handy to have when it comes to lead capture if you ask that they provide an email address to download these resources.
From there, you can then begin to work them through an email sequence, thus working them through a funnel in hope that they'll eventually convert!
You can also begin to nurture them once they've converted too; this is great for keeping customers away from your competitors, and it all started with an ebook or whitepaper.
Marketing Collateral
You're always going to need assets when marketing to other businesses. Assets that exist in both the real world and in the digital space. For example, let's say you're looking to take part in a B2B trade show and you'd like to promote your attendance online.
To do so you might need social media assets that feature the event information, your branding, and anything else that helps you stand out and create as much buzz as possible.
You might also need physical assets, such as a banner to put up at the event, not to mention, print materials to hand out.
A B2B marketing agency should be able to help you with everything you need to promote the event and grab the attention of other businesses once the event is underway.
Working with the same agency to produce all marketing collateral is key. Doing so ensures that there is a level of consistency to what is being produced. It gives you confidence too, in knowing that you're getting something that is of a high quality.
Other popular forms of marketing collateral created by a B2B marketing agency includes:
Landing pages
Branded content
Infographics
Product catalogues
B2B Marketing Services
When people think of B2B marketing services, they're probably thinking of direct marketing assistance that lends itself to things like email marketing, social media marketing, and content marketing.
All of these methods play a very important role in marketing your business to other businesses.
They're tried and tested.
They're also leveraged by some of the largest B2B brands in the world – from your HubSpots all the way through to your SurveyMonkeys.
Since we've mentioned three of them, we might as well list off all the other popular marketing methods that most brands require assistance with:
Search Engine Optimisation (SEO)
Search Engine Marketing (SEM)
B2B Social Media Marketing
B2B Video Marketing
B2B Email Marketing
B2B Content Marketing
Below we look at each of these B2B marketing services in much greater detail, which you need to check out, again, if you're to fully understand each of these services and what you're getting out of them.
Search Engine Optimisation (SEO)
SEO is an interesting one to talk about in a post all about marketing as it can apply to more than just blogs. Everything you upload onto your website, every download, every landing page coming from a Facebook ad, needs to be optimised for it to gain as much traction as possible.
The more optimised these pages are, the easier it will be for new leads to find you organically.
That's the gist.
We could have easily placed SEO under the reporting section above too, with keyword research being a key part of what content an agency will produce for you, based on your own wants and needs.
When we approach content and SEO, it is always with purpose – meaning, we wouldn't shoehorn irrelevant content into posts for the sake of ranking for a particular keyword.
No, no.
As long as the content is well formatted, well thought out, and goes through the correct html markup, then your content should rank naturally on its own!
Search Engine Marketing (SEM)
Similar to SEO, SEM is a digital marketing strategy used to boost the visibility of a website in search engine results pages (SERPs). SEM is also known as paid search, or pay per click (PPC), depending on who you ask.
We've thrown around quite a few acronyms at this point. If you feel unsure about any of these terms, or are simply looking to broaden your knowledge, check out our blog covering the A to Z of web design, development, and hosting.
Anyway, back to one of the most popular B2B marketing services…
SEM is another keyword-based marketing method, one that requires time and effort to conduct the proper research, begin the process, and continue on from there.
79% of marketers say PPC is hugely beneficial for their business.
– Hanapin Marketing
Should you choose to partner with a PPC agency, you'll have the option of various marketing services to pick and choose from – each with its own set of characteristics:
Native advertising
Search ads
Display ads
Google Shopping ads
Remarketing campaigns
PPC has been known to be very beneficial to businesses occupying the B2B space, and has even been known to yield 50% more conversions compared to organic advertising, according to Moz.
If that doesn't stress the importance of getting your PPC campaigns right, then nothing will.
B2B Social Media Marketing
The common thread connecting any blog, video, or resource talking about how to get B2B social media marketing right, is creating original content that is exclusive to you.
Content that will appeal to prospective customers and established customers; both ends of your marketing funnel, essentially.
How much control you give an agency over your social media accounts and strategy is completely up to you. Our advice would be to ask them to work on either one campaign, or focus on one platform, in particular, for a little while before handing everything over.
Doing so will make sure that brand voice, the content they're posting, and the consistency, are all worked out before you proceed.
This isn't really part of what services we offer as much as it is a tip, should you choose to go off and control your socials yourself:
Highlight your employees as often as possible.
Putting a face to your brand will help humanise it, making it feel like less of a robot and more of a brand that other businesses want to work with.
Proving how easy you are to get along with can go a long way in terms of setting the right tone for your brand. This is important for businesses of all sizes, regardless of what sector they're in, or where they're located.
B2B Video Marketing
If there's one thing we know about video marketing, having dabbled in it internally and with some of our B2B clients, it's this:
Video is unmatched when it comes to generating an incredible amount of usable content.
A single video can be chopped up and repurposed in a 1,001 different ways. It also works wonders on social media should you choose to run ads behind some of your clips.
Still, you need to have that original video handy first before any of that happens…
You might think you're a dab hand with the video camera but the businesses you're looking to target won't. Production quality is such an underrated part of corporate video production, and needs to be talked about more.
Seriously.
And that's before we've even mentioned scripting, storyboarding, editing and sound design. Your best bet is to go with a corporate video agency that specialises in B2B video production.
Partnering with an expert will ensure that the videos are of a high quality and connect in the way they were intended.
B2B Email Marketing
The B2B email marketing services are a little different to those others might refer to. You see, there are two main types of email marketing services of note:
Platform-Based B2B Email Marketing: Software designed to automate as many email marketing tasks as possible to make life easier for marketers.
Agency-Aided B2B Email Marketing Email marketing agencies that help other businesses by drafting emails, coming up with strategies, and more.
In this instance we are talking about the latter, which isn't to say that platform-based B2B email marketing services aren't worth checking out, because they 100% are.
We use ActiveCampaign to run all of our emails (internal and external), and wouldn't know where we'd be without it. Streamlining these processes saves a hell of a lot of time, which, in case you haven't been paying attention, is a hallmark of most of the B2B marketing services mentioned.
B2B Content Marketing
Last up on the B2B marketing services is another popular one, that being B2B content marketing.
You can pinpoint its popularity thanks to this method's knack for emphasising expertise in a very simple, yet effective way. There is a lot more value in content for a business than another form of marketing.
Businesses have their own buyer's journey for you to consider, and there is content for each part of that journey to help ease them into each stage, including that final nurture stage that we touched on before.
80% of business decision makers prefer to get information from an article compared to an ad.
– Exact Target
Technically, video, email, and social media marketing all sit under the content marketing umbrella, but we wanted to talk about each in equal measure.
Besides, when looking for help with each of these services, most wouldn't search for the term 'B2B content marketing services' to do so. And we want to help as many people as possible; the more people that find this blog, the better!
The fact that you're reading this blog right now tells us that content marketing works. It's a strategy we leverage a lot to reach new B2B clients, and we can help you with yours too!
B2B Marketing Reporting Services
The last B2B marketing service category we want to talk about is reporting. Reporting being arguably the most important aspect of any marketing-focused strategy; business-oriented or otherwise.
Like we said in our post breaking down the complete list of content marketing services, reporting should be a lot higher in terms of importance.
Measuring the success of your marketing will keep you clued in as to what is working and what needs improving. Thus increasing the strength of any future efforts! Reporting can take time; it can also be incredibly boring, if we're being completely honest.
What's more, performing reports, audits, and things like that, has been known to lead to bias, which can affect the quality of the data gathered.
This is why some brands seek the help of a third party to take care of this for them.
While we don't offer this level of reporting at Canny, we do, however, pull reports together that look at how our work is performing once live.
This is the case with all blog content we create, but we do the same for things such as social media and email marketing, should you come to us for help in either department.
What To Report On?
Checking in on the general health of your marketing is a sure-fire way of understanding how it's performing. If you're performing well, then you know to keep doing exactly what you're doing.
But what exactly would you report on?
The answer to this question can and will vary depending on what marketing methods you've decided to run with. This can cause a lot of confusion, so let's use a hypothetical scenario to help us here:
Let's say you come to us for help with your content – SEO-oriented blog content, to be specific. In which case, we would look at:
Page Views: Page views, or traffic as it's otherwise known, looks at how many people are visiting your website.
Average Time On Page: A pretty self-explanatory statistic, one that looks at how long people are spending on your website.
Exit Rate: How many people are leaving your site from a particular page. A high exit rate is less than ideal.
We might also use Hotjar to look at heat maps that outline where people are spending most of their time page-by-page, and where they are dropping off (shoutout to Hotjar for such a helpful marketing tool, by the way).
There's no shortage of what you can analyse and report on, but in the case of content we create for you, the above list is what we'd look at.
B2B Marketing Services FAQs
We're winding down now but before we finish up we should look at some B2B marketing services-focused FAQs.
What Do B2B Marketing Services Include?

B2B marketing services include anything that will generate demand for businesses and its products and services.

This covers everyting from B2B-focused content marketing, all the way to B2B video production — or corporate video production, as some might call it.

Why Do I Need B2B Marketing Help?

Not everyone has the time or energy required to deliver efficient B2B marketing work at volume.

This is why many B2B marketers seek the help of a dedicated agency, or third-party, to handle this work for them.

People Also Ask: What are the Four Types of B2B?

Here's a quick rundown of the four B2B types:

Producers
Resellers
Governments
Institutions

Do keep in mind that these are blanket terms for various different types of B2B businesses.
The Complete List of B2B Marketing Services
Alright then, how many B2B marketing services did you note down?
We won't tell anyone if you don't.
That was the complete list of B2B marketing services. From B2B digital marketing all the way through to broadcast marketing, we've covered them all. That said, if there's any we've missed from the list, be sure to let us hear it.
The stronger this post is, the better.
You see, our mission is to help as many marketing managers, standalone marketers, and marketing teams, generally. This blog is but one example of how we hope to achieve this mission.
Another way we help is a lot more direct through the various services we offer as a creative agency; some of which we've actually covered in this post. Listing them off one-by-one would require another post.
A better way to do this would be for you to tell us exactly what you need help with, and we'll go from there.
In the meantime, why not check out some of our portfolio? We work a lot with B2B brands looking to market themselves to a specific audience; TLR Global and iVent come to mind.