Established in 2020, Dam produces plant-based, concentrated milk alternatives for consumers who want to enjoy dairy products – whilst being environmentally conscious.
With this product it couldn't be simpler.
Consumers just add water, shake, and enjoy.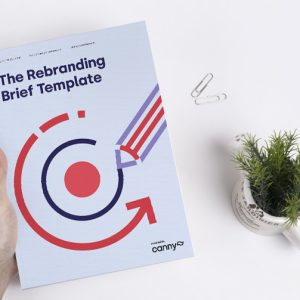 The Rebranding Brief Template
The Rebranding Brief Template is a free template that will help you get the brief for your rebranding project right. ...
Their aim is to combat the excess of wasted product packaging, a problem that exists across the whole FMCG market.
If you're really interested in this concentrated milk alternative, then they also sell buckets that convert into a whopping 67 litres!
Basically, you'll get a glass bottle which shows you how much water you need to add in relation to the amount of product, then you can shake up your own 'milk' in minutes.
To tie in with their environmentally friendly ethos, this bottle can then be cleaned and reused time and time again.
They even give you a little handy brush for you to wash your bottle with.
Now, let's concentrate on the wordmark.

Fluid Typography
The 'milk' starts in a solid form, then transforms into a liquid when you add water.
As such, this fluidity has been built into the visual identity of the brand.
The typography contains both rigid and fluid elements which represent this transformational process.
I'm a big fan of the design, as I think it's really cool and quirky. I enjoy the fact it's been squashed down which mimics the solid product slowly becoming the 'milk' consistency.
Whilst blue is quite an obvious choice for a dairy product, it really works and makes you want to reach for a nice, cold, glass of milk. Or in this case, Dam.
The physical substance of the product—solid transformed into liquid—inspired the wordmark, which combines rigid and fluid elements. Additional brand assets embraced minimalism, reflecting the company's no waste mindset. – Caserne Project Page
Minimal waste, minimal packaging
Reducing waste is an integral part of Dam, and this needs to be evident across their branding.
As such, their new products feature very little in terms of design, which seamlessly ties into their whole ethos about minimalism.
This creates synergy between the brand and its visual identity, as its important customers understand what makes you unique. They need to know about the good work you're doing, as consumers are increasingly becoming more environmentally aware.
And let's be honest, Dam is certainly not the only brand offering a milk alternative.
Therefore, any brand values which set you apart, need to be obvious to the end user. They need to have a reason to choose you.
Dam have integrated this concept into their product packaging, and have primarily focused on their typographic logo as the primary visual element.


Credit to Under Consideration
All about the logo
The logo screams minimalism, and draws all attention to the word 'Dam'.
It looks as though they have placed the logo as big as possible which demands full attention from the end user.
This is very fitting, considering the brand launched in 2020 and they need to establish their position in a crowded market.
A milk bottle can be very easy to miss, as they'll be competing with other brands in the same space.
By letting the logo take center stage, it's impossible for consumers to miss it.
I really like the vertical arrangement of the letters as they stack down the neck of the bottle. Despite the stripped back design, all of the necessary information is still visible and clear to tell the end user exactly what they need to know.
It doesn't need to be busy, and this is a great example of when less is more.


Credit to Under Consideration
Buckets of Goodness
You don't just get one type of milk when you order a sachet (or bucket) of Dam.
In fact, you can choose from almond, peanut butter and chocolate, oats original, or almond unsweetened.
Who said plant-based had to be boring, ey?
The packaging of these flavours is also highly effective as each colour of bucket represents the individual flavour.
Featuring a bold block of colour, with the 'Dam' typography in white, it's simply yet visually interesting as the colours speak for themselves.
Like the rest of the brand identity, the design of the bucket is basic, but it communicates what the brand is all about. It would be illogical to promote 'minimum waste' yet feature a whole bunch of icons and images.
Every design choice ties back to the message, which is the premise of any successful rebrand.
A Dam Good Design: The Dam Rebrand Explored
This is a great example of a brand who understands the direction they're going in.
Dam are on a mission to reduce waste and contribute to a better environment – both concepts are evident across their logo and product packaging.
Whilst the design elements are not the most inspiring, they don't need to be.
It's a non-nonsense, practical brand, and the packaging is helping to achieve something concrete – cutting down on excess waste.
Essentially, it's a means to an end so it doesn't require the same level of fluff and creativity.
There is also a great looseness to the overall identity which echoes the ethos of the company. They want to do good for the planet, but they're going to have some fun in the process.
Hats off to the team at Caserne agency, you've done a Dam good job.
What are your thoughts on this project? Let us know in the comments below.