When it comes to changing your company's brand strategy and brand identity, having a rebranding checklist to hand is going to help you out!
This checklist is a really easy way of making sure you're considering every single aspect of your rebrand instead of going into this blind.
Some things can be easy to overlook- but it's vital you get them right.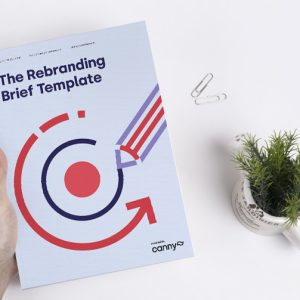 The Rebranding Brief Template
The Rebranding Brief Template is a free template that will help you get the brief for your rebranding project right. ...
There might be some aspects that you already have nailed down, and don't believe you need to devote any more thought to. However, try to think of this as a well-thought out experiment which covers each and every part of your rebrand.
Go through each point on this checklist, tick if off, and then move on to the next item!
This will help to make sure your rebrand runs smoothly, and is as comprehensive as it needs to be to give you the best chance of success.
The Fundamentals of Rebranding
We've already been over the fundamentals of rebranding, so we'll not cover old ground, but if you're in need of a quick refresher, the video below is a good place to start.
Understanding the points covered in this video will ensure you make the right decisions throughout your rebrand.
This process can be highly advantageous for your company as it gives you a chance to re-evaluate who you are, what you do, and why.
It's your opportunity to reshape your brand to ensure it's steered in the right direction.
But enough about the fundamentals of rebranding (make sure you watch the video above!) another key consideration is understanding the right approach for your rebrand…
Why is a rebranding checklist important?
A rebranding checklist is important as this is a complex process that involves various stakeholders, departments, and resources.
Having a comprehensive rebranding checklist can help you streamline this process and ensure that all necessary steps are taken – and in the right order.
It also provides a clear roadmap of the rebranding strategy, including pre-rebranding considerations, to the implementation plan, to post-rebranding evaluation.
With our rebranding checklist, you can reduce the risk of errors, miscommunication, and missed opportunities.
Ultimately, this ensures that the rebranding initiative is well executed so that you can achieve your goals and objectives.
Which type of rebrand do you need?
Before you get started with anything, you need to consider the purpose of your rebrand.
Instead of jumping straight in and totally overhauling every part of your brand identity, make sure there is a logical reason for it. As we'll cover in more detail below, rebranding can affect your brand equity so don't make the decision on a whim.
We've already covered the importance of this in another post about a brand refresh vs a full rebrand so we'll not repeat ourselves too much.
However as a brief overview, understanding the differences between these two approaches will help you make the right choice:
Brand refresh
A brand refresh is the process of updating and modernising certain elements of your brand identity, whilst still maintaining its core elements and overall look and feel.
This typically involves minor changes to the logo, typography, colour palette, or messaging, with the goal of keeping the brand relevant and fresh while still keeping its existing equity and recognition.
Full rebrand
In contrast a full rebrand involves a more comprehensive overhaul of your brand identity. This process is usually undertaken when a company wants to shift its positioning in the market, reposition itself to appeal to a new target audience, or completely change its product/service.
A full rebrand can be a more significant undertaking than a brand refresh, and can involve a complete rethink of the company's vision, mission, values, and culture, with the aim of creating a more compelling brand identity.
Rebranding Phase 1: Considering your rebranding
The first stage of your rebranding checklist involves identifying why you are undergoing the process in the first place.
Why are you rebranding?
As a business owner, the decision to rebrand shouldn't be taken lightly- it can have massive ramifications for any business. It can weaken your market position if your brand pivot is too extreme, and can even alienate existing brand loyalists.
That being said, rebranding can also be one of the best things you can do for your business and brand if your existing brand no longer connects with your core audience.
Just make sure you're rebranding for the right reasons, and you're prepared to fully commit to the rebrand.
Even though you can undo minor cosmetic changes, you can't undo the impact it has on your brand- and you don't want to end up on our list of the worst rebranding failures ever!
If you're sure you've given your rebrand enough thought, and you're ready to rebrand in a strategic and focussed way, then feel free to tick that off the list and continue on.
Do you have the budget for a full rebrand?
Rebrands can be quite costly and once you're on that proverbial train it can be difficult to get off without causing some major damage to your brand.
Using our rebranding checklist will give you a good idea of the costs involved in rebranding, and there really isn't much space to skimp on costs when committing to a full rebranding project.
It's always a good idea to check the war chest to make sure you have enough to cover the financial commitment all the way through your project.
Abandoning a rebrand half way through can do more harm than good!
If you're confident in your financial situation and are 100% sure you've dedicated enough budget to the project, tick it off the checklist and move on to the next point.
Will a rebrand harm your brand equity?
Brand equity is the value of your brand as a thing in itself. It's the awareness of your brand, the social perception, the respect, the reach. Coca Cola has a MUCH bigger brand equity in England and the US (currently) than someone like Hartwall Jaffa.
If you've just said 'Who is Hartwall Jaffa?' and clicked that link, you've illustrated my point.
I think it could be argued that Coca Cola have greater brand equity than Pepsi, but it's probably much closer and only edged out by the fact that people will order a Coke and be asked 'Is Pepsi ok?' more often than the other way around.
If your rebrand is going to harm your brand equity, consider how you can mitigate the damage. Chances are, you don't quite have the brand equity of Coke or Pepsi and can't afford to take a major hit and give your competitors any sort of edge.
When are you planning on launching your rebrand?
Timing and rollout are critical considerations when rebranding.
The launch date should be carefully chosen to avoid peak business periods (think Christmas or bank holiday), with a phased rollout of brand asset updates, including employee training on the new brand identity and messaging.
A clear communication plan should also be in place, informing customers and stakeholders of the brand, and measuring success through tracking brand awareness, customer engagement, and sales.
You should also regularly review these metrics to assess the impact of the rebrand and identify areas for improvement.
It's important to carefully consider the timing of the rebrand and make sure you choose a launch date that maximises the chances of a successful transition to your new brand identity.
Rebranding Phase 2: Picking a rebranding direction
Now it's time to choose which direction you want your business to go in, so that you can position your brand in the right way.
Are you telling a story with your rebrand?
Thinking about your rebrand, have you got a strong narrative thread to really put across your brand?
Don't be afraid to inject a bit of personality into it too and develop a brand narrative to really sell yourself and your business.
If people can connect themselves to the brand in some way, they'll be much more engaged.
You don't have to develop an epic tale, but injecting personality and a bit of a journey so that clients can see themselves in the bigger picture of your brand is never a bad thing.
It may be an old cliche that's dusted off in every sales training session ever, but people buy from people, not corporations.
Giving people a way to see the people behind the brand, in a space that you can control and dictate, is one of the great things about rebranding.
If you're happy that you've achieved that, tick it off your rebranding checklist and move to the next point.
Consider your audience
It's crucial to consider your target audience because they are the ones who will be directly affected by the changes to your brand identity.
Understanding your target audience's preferences, values, and behaviours can help you create a brand identity that resonates with them and drives engagement.
Rebranding without considering your target audience can lead to confusion, potentially causing customers to feel disconnected from your brand and even switch to one of your competitors.
By taking the time to understand your target audience and their needs, you can create a brand identity that is relevant, appealing, and memorable, leading to increased brand loyalty and ultimately, business success.
If you're happy enough with the work you've done around defining your audience, and are satisfied with how your audiences will engage with your rebranding project, tick it off the checklist and continue on.
Prepare for greater longevity
It's important that your rebrand is suitable for longevity rather than playing into the latest design trends or fads.
For starters, a rebrand is a significant investment of time and resources, so it's crucial to create a brand identity that will stand the test of time and remain relevant for years to come.
Additionally, design trends and fads are generally short-lived and can quickly become outdated, making a brand appear behind the times and less trustworthy.
Instead, by focusing on creating a timeless brand identity, you can establish a stronger and more consistent brand image, build trust with customers, and position your brand for long-term success.
If you're happy that you've given your brand the best chance possible to stand the test of time, move onto rebranding phase 3.
Phase 3: Engaging a rebranding agency
Choosing a rebranding agency can be a bit of a minefield as you're trusting these people to get it right.
We've wrote a far more in-depth post about choosing the right rebranding agency for your project so make sure you check it out.
But if you're pushed for time, the main points to look out for are outlined below.
Narrow down your selection
There are a lot of options out there for rebranding projects.
By finding a creative agency you're already familiar with or already admire for the work they've produced for a different company, then you've made your decision much easier.
Why not get in touch with Canny to discuss your options, you're already here so we must be doing something right!
Finding a creative agency that you want to work in partnership with on your rebrand project is vital to getting the most out of your rebrand.
Check our their work and portfolios
Once you've developed your shortlist, go to their website and check out their previous work.
If you haven't found a rebrand agency by way of other work anyway as a reference, it's probably a good idea to familiarise yourself with their stylistic sensibilities.
Every project is different, but you get a good feel for an agency, their preferences, and even their skill level by reviewing their past work.
Get in touch and measure up the responses
How they respond to you when you reach out, gives you a good indication of what these people are like to work with.
You're letting an agency into your business, and trusting them to do a good job. Therefore, how they communicate with you tells you a lot about the way they work.
For instance, are they quick to respond or do they take forever to reply?
Do they seem genuinely enthusiastic about your project or a little flat?
Whilst these aren't a totally accurate measure of an agency, they do give you a good starting point.
Phase 4: Rebranding your business internally
Next up on your rebranding checklist is leveraging the support of your colleagues and employees.
A rebrand can bring some working culture adjustments, as well as changing the core messaging that everyone in the organisation should be presenting externally.
Getting buy-in from your staff can really help with this, and it does make launching a full rebrand much, much easier.
To help explain your rebrand internally, follow Canny's RESET framework:
Reassures – let people know you're making changes, but it's all positive changes.
Explains – explain why you're making the changes as providing rationale is important.
Sells – bring the benefits to the forefront and get your employees to buy in.
Essentials – give them the essentials and what it means to them.
Timely – announce the rebrand in a timely manner so it doesn't just appear. A rebrand shouldn't blindside people in the organisation, even if they aren't involved directly with it.
When rebranding internally, it's important to make sure you don't overlook any assets that could be seen my clients or stakeholders.
It's wise to conduct a brand audit before you roll out your rebrand to make sure any assets you change are worthwhile.
Marketing materials that must be updated in line with the rebrand, include:
Physical items, such as business cards and office stationery.
Email signatures, and the information which they include.
Intranets, or information on internal websites.
Internal templates, which cover a wide range of areas such as contracts, letters and presentations.
Digital assets, such as logos and company images.
If you're happy that you understand how to rebrand your business from an internal perspective, check it off the list and move onto the next steps.
Phase 5: Train your employees
Training employees is a crucial step when rebranding as it ensures that everyone understands the reasons behind the process and how it impacts their role.
Effective training also helps employees to align their actions with the new brand values and messaging, and promotes consistency across all touch points.
The training process should include educating employees on the new brand standards, brand guidelines, and tone of voice, as well as providing practical tools and resources to apply the new branding in their daily tasks.
In addition, employees should be encouraged to provide feedback and share their experiences with the new brand as this can help you identify any potential issues or gaps in the implementation process.
Phase 6: Rebranding your marketing collateral
Rebranding all of your external-facing marketing collateral is absolutely vital to ensure consistency across your outbound messaging.
This includes updating your:
Logo
Your logo is the face of your brand. It has to be a major part of the rebrand, and the new, rebranded logo should be front and centre going forwards.
You should never use your old logo anywhere as this confuses your brand messaging and reduces your brand equity. Often pieces of collateral (such as business cards and brochures) can be overlooked but this weakens your new identity.
Tagline
Your company tagline encapsulates the brand's essence and communicates its unique value proposition. When you're undergoing a rebrand, it's essential to update the tagline to reflect the new messaging.
An updated tagline can also differentiate your brand from others in the industry and can help customers associate your brand with the products and services on offer.
Stationery
Stationery, such as letterheads, envelopes, and notepads, are an integral part of your company's brand identity. As they are used for correspondence and communication, they should reflect the new brand identity as part of the rebrand.
If your stationery isn't branded correctly, or you're still using old stationery, you're just working against yourself. Using outdated stationery confuses your brand messaging and will leave a negative impression on your audience.
Product packaging
It's important to update all of your product packaging and labelling to reflect the new brand identity. This includes labels, boxes, bags, and any other product packaging that customers may see.
Updating product packaging and labelling can help communicate your new brand message, establish consistency across product lines, and increase shelf appeal. This can also help differentiate your business from your competitors and make it more appealing to customers.
Forms and Invoices
Invoices and forms are an essential part your company's brand identity as they are often one of the primary means of communication with customers.
Rebranding invoices and forms is key to ensure a consistent brand identity across all touchpoints. By updating these assets to reflect the new brand identity, you can reinforce your new brand messaging and improve brand recognition among customers.
Website
Your website is often the first point of contact between you and your customers. You must update the website's design, imagery, and messaging to align with the new identity to create a consistent and cohesive brand experience for customers.
This also gives you the opportunity to showcase how the business has evolved in terms of its brand values and mission.
Email signatures
Email is easily overlooked, because it's often automated. However, this is the same as sending a letter, and people are more likely to see it because emails are very common.
Signatures are also easily overlooked unless they are wrong. If your email signature still has your old branding it creates a noticeable and jarring brand disconnect and sends the wrong message to your customers.
Advertising
You must remove any advertising that features the old branding as soon as possible, whether it be on physical platforms such as billboard ads, newspaper or television adverts, or even radio spots with outdated messaging and slogans.
This might seem like an aggressive approach to phasing out the old brand, but it's crucial to project a professional image and move forward confidently with your new branding.
Key takeaway: By making sure you aren't putting out any conflicting branding, you're ensuring consistency of appearance, messaging, tone and positioning. All of these things massively inform how your business is perceived, and are vital to get right.
If you're happy that you've rebranded and completely sorted out all of your external-facing marketing collaterals, you can now move onto rebrand phase 7.

Rebrand Phase 7: Launch your new brand
Now that've worked through all of the stages above, it's time to launch!
It would be such a shame to have done all of the hard work only to fail at the last hurdle and not make a real impact with your rebrand.
Announce your rebrand on your website
Normally at Canny, we don't advocate for content that isn't 100% evergreen, but announcing your new branding after a rebrand is the exception to the rule.
Go big, have fun with it! You only get one chance to introduce your new branding, so you may as well try to make a bit of a splash.
Announcing a rebrand is a great opportunity to show off a bit of creativity as the announcement isn't going to be a permanent fixture on the site so it has a little bit more leeway for creativity and playfulness.
Leverage your social media
Announce your rebrand across all of your social media channels, and making that post as shareable as possible, should be the absolute minimum you do to promote your rebrand.
Sharing on Twitter, Instagram, Facebook and LinkedIn, and announcing on YouTube, TikTok, even on Pinterest and Snapchat if you have corporate accounts there is all good publicity for the new brand.
Don't be afraid to share on your personal social accounts, especially your personal LinkedIn. It's quite a major thing to go through for any business, so be proud of it and shout about it a little bit!
Depending on your timescales for launching the rebrand, teasing your rebrand with glimpses, previews or even a countdown on any of your social platforms is a really simple way to garner interest, as people start awaiting your rebrand.
Launch on relevant websites
There are plenty of user generated content based news outlet websites, and branding websites that you can submit your rebrand to.
Anywhere you think would be an appropriate website to get eyes on your new branding, you should submit to. It's a little bit of cold outreach, and 9 times out of 10 you'll probably not be able to get your rebrand featured- but for the sake of sending one email it's always worth it!
Alternatively, send them your marketing kit to help maximise your chances.
Industry relevant websites that do regular news round-ups and interest pieces are the best targets, as you can gain access to their mailing lists and regular subscribers.
All of this will help promote your rebrand and raise your profile both within the industry.
Send clients an email
It's important to communicate with clients via email during a rebrand so that they are aware of the changes and understand how it might impact them.
In some cases, it may be beneficial to send an email in advance of the full rebrand launch to reassure clients that the new branding is simply an update and won't affect the fulfillment of their current projects or orders.
By proactively communicating with clients, businesses can build trust and maintain strong relationships while successfully transitioning to a new brand identity.
Reassuring the customers that the rebrand is entirely focussed on delivering more value to them. You can use Canny's RESET framework here, with some minor modifications:
Reassures – let your customers know you're making changes, but it's for the better.
Explains – explain why you're making the changes.
Sells – bring the benefits to the forefront and get your customers to buy in.
Essentials – give them the essentials and what it means to them.
Timely – announce the rebrand in a timely manner so it doesn't just drip out with a whimper.
As long as this framework is fulfilled, your existing customers will accept the new rebrand with open arms.
Host a launch event
Hosting a launch event is the perfect time to showcase the rebrand's key features and highlight the company's values and goals, which can help generate interest and excitement among your customers and stakeholders.
This can also help you connect with your audience and gather feedback, which can be useful when you're creating future marketing campaigns and strategies.
Additionally, hosting a launch event allows you to create a memorable experience for attendees and leaving a lasting impression.
Use paid advertising
While rebranding efforts can create excitement and buzz around your company's new image, paid advertising allows you to reach even more people.
You can also create tailored messaging and targeted campaigns to reach specific demographics, geographic locations, and interests. This can be particularly useful for reaching new customers who may not be aware of the rebrand or have had limited exposure to the company's previous brand identity.
Consider influencer marketing
Partnering with influencers in the industry or target market can be a great way to promote your rebrand to a wider audience.
This can include social media influencers, bloggers, or industry experts who have a large following and can help create more of a buzz.
By providing influencers with exclusive access to the launch event, or other incentives, it increases the likelihood of them sharing the rebrand with their followers and generating more interest.
Phase 8: Post rebranding evaluation
The post-rebranding evaluation is a crucial step when rebranding, as it provides you with insight into the effectiveness of the process and allows you to identify any areas for improvement.
The evaluation process should be comprehensive and include both quantitative and qualitative measures so that you can understand the full impact of rebranding.
Quantitative measures
One of the key quantitative measures is tracking brand awareness, as it helps you determine the level of recognition and recall of the new brand among your target audience. This can be done through market research, surveys, or social media analytics.
Another key quantitative measure is tracking key performance indicators (KPIs) such as sales, customer retention, and engagement to assess the rebranding's impact on business outcomes.
Qualitative measures
In addition to quantitative measures, qualitative measures including customer feedback, employee feedback, and media coverage should also be considered.
These insights provide valuable feedback on the perception of the new brand, and help identify any challenges or gaps in the process.
Once the evaluation is complete, the findings should be analysed to determine whether the rebrand achieved its goals and objectives. If the goals were not met, you should identify the reasons why and make adjustments accordingly.
The Rebranding Checklist From Idea To Implementation
By following our rebranding checklist, you can effectively manage the entire rebranding process, from the initial ideation phase to the final implementation stage.
It's important to remember that a successful rebrand requires more than just a new logo or visual identity; it involves a comprehensive approach that takes into account all aspects of the brand, from messaging, to marketing collateral, to customer communication.
With the right strategy and execution, you can successfully rebrand and establish a strong brand identity that resonates with customers and drives growth.
If you need help with your rebrand then get in touch with the team at Canny. We've worked on several rebranding projects, just take a look at TLR as an example. We love diving into your business and working out how we can transform your brand to better connect with your audience.