With millions of thrill seekers across the world, theme park branding and marketing has to be competitive to attract visitors.
For many parks, it has become more about the whole experience with some converting into resorts, offering hotels, restaurants, shows and endless lists of attractions.
However, for others sticking to what they know best seems to be the way forward, offering some of the oldest standing roller coasters in the world.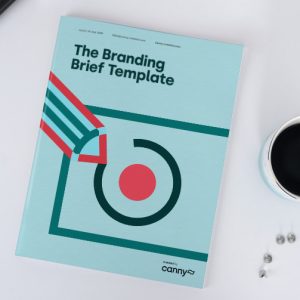 The Branding Brief Template
The Branding Brief Template is a free template that will help you get the brief for your branding project right. W...
This got us thinking about what is most important when it comes to branding and marketing a theme park, is it advertising the adrenaline pumping rides, or creating an experience that lasts for days on end?
When marketing a theme park in particular, there should be emphasis on social media, website design, and repurposing user-generated content.
Therefore, in this post we will be highlighting some of the best theme park examples that exist across the world, and looking into how they market the experiences they offer and whether their brand identity has stood the test of time.
So with that, let's get started.
Magic Kingdom Park at Walt Disney Resort
First up on the list we have Disney's Magic Kingdom, which has been branded "The most magical place on earth".
Located in Florida in the US, it was impossible for us not to kick things off with this park within the Walt Disney Resort, due to its sheer popularity.
Despite the park bringing in millions year on year, it is actually the smallest of the four parks within the resort and has only 4 "thrill rides".
It's clear that the magic kingdom creates a unique experience for visitors, including famous Disney characters in carnivals and celebrations, and this is something other parks around the world can't offer on the same level.
So really the marketing of this place isn't far off as the Magic Kingdom park alone has the ability to make visitors feel part of a one-of-a-kind experience.
For example, characters coming to life that you can directly interact with and firework shows occurring every single night.
The brand identity of the Magic Kingdom is more aligned with the idea of perfection, for example the symmetrical lanes creating a perfect wheel around the castle, and the park photography is either full of happy visitors, or empty and peaceful.
There is certainly a lack of realistic photography and videography surrounding the park, only adding to the idea that the experience is next to perfect.
That being said, visitors act as influencers for the park, posting filtered or rehearsed images again pushing the park as a magical experience.
This links to the idea of theme parks relying on user generated content to push a certain ideal, with perfected reels and photos of tourists making up a lot of the Walt Disney World Instagram feed.
Legoland
This theme park is nostalgic for most visitors, and this time the roller coasters aren't exactly the main draw.
Located in Windsor in the UK, Legoland has been open since 1996 and is a park completely themed around, and in some cases, built with Lego.
Now we aren't exactly interested in the attractions for this park, as it is typically families and children who visit, but we are more interested in the branding.
This park in particular stands alone in that it is dedicated to one brand only, with giant lego minifigures and characters, and a miniature land built from lego; it's quite remarkable what the company have been able to achieve.
Again the slogan "play your part" appeals to the child within everyone and the park brings about feelings of nostalgia for many.
The Legoland website is certainly geared towards a younger audience, which works as parents buying the tickets get a good feel for what the park is about.
This is further extended to the parks social media, with regular park updates and the use of block primary colours ties the branding together neatly.
Despite this theme park being aimed at children, Lego was originally created back in the 1930's therefore is a recognisable toy from the childhoods of many visitors.
This is what works so well for Legoland, the use of universal interlocking bricks that are so familiar, as this positions this park away from theme parks based on characters, games, TV shows, or popular films.
Efteling
We are visiting The Netherlands next, and heading to the Efteling park, which is fantasy themed, with attractions and rides that reflect fairy tales and ancient legends.
This park is over 70 years old, and therefore the largest and oldest theme park in the Netherlands overall, and has stuck with the traditional branding of the park for decades.
In terms of theme park marketing, Efteling is unique in the sense that it blends thrilling roller coasters with heritage and a charming theme of fairytale stories and characters.
As a side note: I have visited this park myself and it isn't branded too much in one direction for example specifically towards children, adults, or families, it is unique in that sense.
The park is embedded into a forest, hence why the company has taken the theme of "fairytale forest" and ran with it, and it is one of the only theme park designs that brings the word "enchanting" to mind.
Similar to other theme parks, Efteling has become somewhere to stay with a hotel and two holiday villages located in the woods.
This is of course part of the park's marketing strategy, encouraging people to prolong their stay and prolong the magic in woodland homes and cottages.
In terms of the social media presence, we would argue it's one of the best in the theme park game, with a great mix of visuals including roller coaster reels, staff and visitor interactions and professional park photography.
Although there are other theme park branding examples that incorporate heritage, Efteling does a great job of marketing to a wide audience using local and global fairy tales and legends alongside roller coasters.
Universal Studios Orlando
We have included two Universal Studio parks in this post as they both offer different experiences, but we will start with the Orlando park.
The Studios are split into several different parks including:
The Wizarding World of Harry Potter
Production Central
New York
Hollywood
World Expo
San Francisco
Kidzone
Each park offers the best of blockbuster entertainment and offers a different theme park experience, as instead of rides, Universal immerse visitors into "set-life".
As the park is a real working TV and film studio, the premise of the park is bringing the most famous films and TV shows to life for the public, through themed restaurants, rides, and original film sets.
This park is unique and one of the world's favourites, as its USP is providing insight into where and how the likes of The Simpsons or Revenge of the Mummy were made.
Universal is again another example of a multi-generational theme park, and this park focuses solely on entertainment for a day or two.
Rather than a resort with places to stay, Universal is marketed as a one stop shop, which doesn't affect millions visiting the park, however it hands over the same visitors to the Walt Disney Resort instead.
Disneyland and Universal are direct competitors, with not much distance between the two parks, the Studios may benefit from offering more options to stay within the resort.
As we have previously mentioned, theme parks are steering more towards offering an experience rather than a one day stay, as attractions and shows build and grow on a regular basis.
However, Universal Studios offers something that competitors don't in that it both brings characters to life, and allows fans and audiences to walk some of the most iconic film sets in history.
Alton Towers
Next up we have the largest theme park in the UK, Alton Towers which spans over 910 acres of land and includes 10 themed areas.
Located in Stoke-on-Trent in the UK, Alton Towers is now named a resort that "exists to make Britain happy", and does so through over 40 rides and attractions.
The original design was inspired by Disneyland, and aimed to create a leisure park rooted in English heritage.
Again, this park is branded as more of a resort and place to come for a short stay, rather than just a theme park with the introduction of hotels, woodland lodges and luxury treehouses.
A key element of the marketing for this theme park is the creation of new themed hotel rooms based on each new roller coaster or attraction that is created.
For those passionate about adrenaline rides, this is a huge attraction to the resort, and often a place to stay is welcomed if visitors are travelling for long periods to see the park for themselves.
However, this park is certainly more about the roller coasters with the Corkscrew open for business in 1980.
Although the Alton Towers website now focuses heavily on buying tickets, exploring rides and attractions and booking a short break, there are several blog posts on the history of the park.
Using content marketing methods such as blogging isn't seen often on theme park websites, however in this case it encourages trust and loyalty between visitors and the Alton towers team.
Phantasialand
Now for this theme park we will focus heavily on the website, as Phantasialand has one of the best websites we've seen in theme park marketing.
Located in Cologne, the park is designed as if the rides are embedded into a natural habitat that was already there, as it is lush and green with small towns and rides intertwined.
You get a real insight into the park as you visit the website, as there are videos on a loop of the different rides and attractions and again, the theme park is designed like a small town of its own.
There are short clips of the main roller coasters playing on the site accompanied by the slogan "one-of-a-kind attractions", however the park doesn't seem to have a singular brand identity.
Unlike the fairytale forest of Efteling and the behind the scenes park Universal Studios, Phantasialand seems to include a variety of themed areas within the park.
The park throws together Mexico, a mouse hunt, a castle, a ride that gives you the feeling of flying and water rides, and it is unclear what ties all of the attractions together.
Although the website is certainly more immservie than others, we can't help but come away feeling unsure as to what Phantasialand actually represents.
There is no clear theme, so it seems the park has become more of a holiday resort with just 7 rollercoasters, and a handful of water rides.
Everland Theme Park
The aspect of the Everland Theme Park that struck us the most is the positioning of the park within nature.
The park is surrounded with and embedded into woods, forest and beautiful floristry in South Korea, as if a lost town come back to life.
The resort is split into 5 areas and filled with rides, exotic animals and attractions, however before we wrote this post, we didn't know it existed.
Despite the beauty of the park, this isn't reflected on the official website and in fact imagery of the park is distorted or in the form of small icons.
When owning a park of this kind, marketing is essential to show off the unique beauty, and we can't help but feel this park is undersold.
Everland is a resort that combines several zones into one and therefore, much like Phantasialand, comes across as lacking a solid brand identity.
The original premise of a "theme park" consisted of rollercoasters and attractions and themes didn't play so much of a part, however Everland seems to have an unorganised mix of attractions.
Therefore, it's quite possible to come away, after visiting one zone, and thinking Everland is a zoo rather than a fully-fledged theme park.
This is why branding theme parks is vital in order for audiences to understand what to expect and where you sit among the field of roller coasters and attractions.
Thorpe Park
Thorpe Park is what we would call a classic example of a theme park, basing their brand around the slogan of "The UK's most thrilling theme park".
There is clear competition between this park and Alton Towers in terms of competing for the top spot in the UK, as both parks are branded in a similar way, even down to the website.
Thorpe park uses the same grid layout to display and detail the rides they have, and they are overall far more targeted towards adults and older families.
Much like several other theme parks now, (and direct competitor Alton Towers) this company is now a resort providing places to stay and dine intertwined with roller coasters and attractions.
Disney's Animal Kingdom
One park that certainly stands out on this list is Disney's Animal Kingdom in Florida that places emphasis firmly on conservation and different regions of the world, above Disney characters.
Although the Disney element is still present in this park the real attraction is the animals and safaris, making this a theme park with a twist.
The park itself is lush and filled with greenery which is certainly more appealing than acres of roller coaster structures that is often what we see with theme parks.
Even from the imagery on the webpage alone we are more attracted to visit this park, compared to the website of say Alton Towers.
However, when we compare the Animal Kingdom webpage, and the Disneyland website in general to other theme park websites, we can't help but feel something is missing.
There is a lack of video content on the site, and this is a missed opportunity in terms of showcasing safari experience and animals living within the park.
As Animal Kingdom offers something a lot of other theme parks don't, it's easy to see how they stand out on their own without a lot of extra marketing. However, despite the imagery there isn't much interactivity, or even a social media presence to build up the Animal Kingdom's marketing campaign.
Universal Studios Japan
We told you there was more than one in this post!
Universal Studios based in Japan, is home to a variety of parks that are similar to Orlando however there are a few distinctive differences ensuring this park stands out.
One of these being Super Nintendo World, a new park that opened in 2021 offering an immersive experience into the land of Mario and friends.
This park is far more active on social media than others we have highlighted in this post, encouraging visitors to tag the account in their own photos and posting park updates regularly.
This is key for theme park marketing, in order to encourage visitors to your park by showing personality and providing further insight into what to expect during a visit.
Universal Japan is marketed differently to Orlando as it is again a park marketed as a resort, with partner hotels, and restaurants on site.
Again the question arises: is this what makes a theme park successful now?
Theme Park Marketing and Branding Examples That Thrill
There are a few key elements that help to boost theme park marketing and branding, including website design, social media marketing, and outstanding visuals.
Theme parks are now more than just roller coasters and fast food, they are entire experiences and allow visitors to immerse themselves into different worlds, from the Magic Kingdom to a world built with Lego.
If visitors can't see first hand what they're in for as they're booking a ticket, then the interest and attraction will decrease.
Some parks may offer short breaks with hotels, spa's, and restaurants alongside the rides and attractions within a theme park, however when marketed incorrectly audiences won't know the extent of what is on offer.
In this post we have rounded up 12 of the top theme parks from across the globe, diving into their branding and how they market to millions of visitors year on year.
At Canny we work closely with businesses to help build their branding into something that competitors can't compete with. So when it comes to branding and marketing, we know a thing or two!
If you feel your business needs a helping hand or guidance on how to create branding that stands out, get in touch with our team today.