The market for consumer packaged goods is oversaturated as new CPG brands pop up day in day out, so it can be hard to differentiate from the growing pool of competitors.
Therefore, in order to reach their target audience, CPG brands have to be more and more specific with their offering, goals, and what customers can expect from them exactly.
It may be the products that have already been released but a new brand decides to offer efficiency that exceeds others on the market when it comes to delivery, shipping, and even customer service.
However, it may be that a CPG brand comes up with a new concept altogether such as lab-grown meat (a sneak preview of our first example) and therefore must break into the market and secure the audiences attention.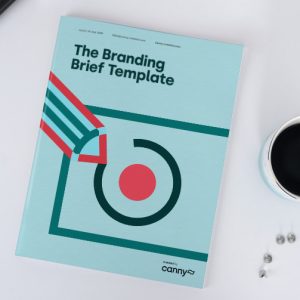 The Branding Brief Template
The Branding Brief Template is a free template that will help you get the brief for your branding project right. W...
We already have an ultimate guide on the Canny blog that will help you become more familiar with consumer goods branding, so be sure to check that out too!
However, in this post, we will be diving into specific examples of the CPG brands that have hit the nail on the head when it comes to packaging, branding, messaging, and market research.
We have included new start-ups from 2022 that are growing in popularity by the day, alongside some of the CPG giants that have ruled the market for decades.
So, let's get going!

Credit to Meatable
Meatable: Lab-Grown Meat
Although there has been a definite shift to more of the population eating more consciously, there is still a large appetite for meat.
Therefore, Meatable saw this as an opportunity in 2022 and began creating lab-grown meat with stem cell technology in order to feed this appetite without harming the planet, or the animals and people living on it.
The company aren't grounded in plant-based beliefs but instead wanted to fill a gap in the market by creating meat without the need for industrial farming, as they believe all meat is a fundamental part of the human diet.
Meatable is slightly different to plant-based and vegetarian brands such as Beyond Meat, Quorn, and Vivera, as they are looking to provide the best of both worlds:
Real meat that doesn't have a negative impact upon animals and therefore doesn't contribute towards climate change, helping to save the planet for future generations.
This idea has been supported by several venture capital firms and this has resulted in a whopping $60 million in funding for Meatable.
As a result, this makes this CPG brand one of the best-backed and supported startups of 2022!
We are not surprised either as this is a great example of a brand really looking into the future and providing exactly what the market is looking for.
As the market becomes more focused on saving the planet and therefore eating less meat, Meatable is making it possible to eat meat and look after the environment at the same time.

Credit to Eating Fine on a Dime
Smart Sweets
Onto a business in the snack section of CPG now, with Smart Sweets that provide low-sugar versions of all of our favourite childhood sweets.
From gummy bears, to "sweet fish" (we will let you do the guessing on which brand this takes inspiration from) to caramels, this CPG brand has managed to take what are usually considered unhealthy snacks, and convert them into plant-based versions with less than 5g of sugar.
The company started out in 2016 when founder Tara Bosch set out to create healthier versions of the worlds favourite candies, and once she had her recipes she found success on Dragons Den Canada, landing herself a partnership with Whole Foods.
This provided a perfect springboard for this CPG brand to grow as this supermarket chain focuses on healthy eating, gut health and living a plant-based lifestyle (the perfect partner for Smart Sweets and their mission and values.)
As a result of this pairing, Smart Sweets have expanded nationally by over 20,000 stores and 2020 was the year the company hit $100 million in sales, making it one of the fastest-growing CPG brands in the US.
As the market for sweets and candy is ever-growing it's important for any new CPG brand to break into a new section of the audience by providing something unseen and unique.
This brand essentially offers a guilt-free, healthier option for those with a sweet tooth, helping to combat the effects excess sugar can have on the human body.
Surreal
Surreal's rise to the top of the cereal industry has been nothing short of astounding.
Initially they found themselves up against American based counterpart Magic Spoon. But through their unique take on social media and other advertising campaigns (they're truly hilarious!), they've managed to carve out a space for themselves.
Let's not beat around the bush either, their brand marketing team is working overtime, and they're absolutely smashing it.
They've positioned themselves as a great tasting, yet healthy, protein packed snack, and it's working a treat.
They more than doubled their following between early 2022 and early 2023. They're even managing to grow their LinkedIn company page, which is insane for a B2C CPG brand functioning on a B2B platform.
You love to see it!

Credit to The Kraft Heinz Company
The Kraft Heinz Company
Next up we have one of the leaders in CPG branding, as The Kraft Heinz Company own some of the biggest and most successful brands in the world.
With brands such as Capri-Sun, Philadelphia, and Jell-O part of the branding family, along with all of the Kraft and Heinz products, this makes this CPG brand in particular highly popular and recognisable.
The company own brands in countries all over the globe from France to Indonesia, and these brands have been, and still are, household staples for billions of people.
You're not telling me you don't have a Heinz ketchup bottle or Kraft Mac n Cheese box somewhere in your pantry or kitchen cupboard?!
The mission statement for this brand is "Let's make life delicious", which is simple, clear, and certainly effective as the overarching Kraft Heinz company owns thousands of products that are tried, tested and approved by millions.
Whether thats the addition of Heinz beans to your toast on a Saturday afternoon, some hearty mac n cheese on a rainy Wednesday evening, or Lunchables that are an easy win for your kids packed lunch.
This CPG brand have a product for just about every occasion and as well as making life delicious, they are a brand to rely on, with ready meals, condiments, beverages, and sweet and savoury snacks, you can't go far wrong!
With a huge established CPG brand like The Kraft Heinz company, consistency and reliability are two key pillars that contribute to success. Therefore, by taking family favourite products under their wing and ensuring the taste and customer satisfaction remains top quality, the company are one of the best in the business!

Credit to Byrdie
Beautycounter
There is a growing market for clean, non-toxic beauty products as more consumers wish to take better care of their skin, and do so through products that are safe as well as effective.
Hence why Beautycounter has been successful since its establishment back in 2013.
This CPG brand is a direct to consumer (D2C) skincare and cosmetics company with a range of products stretching from skincare, to makeup, to bath and body care.
What makes this company stand out from competitors is the focus on their mission statement "beauty should be good for you", as the brand wish to move towards a world where all beauty products are clean and safe to use.
Rather than testing on animals to improve efficiency and get products onto shelves, or including ingredients that aren't suitable for human skin, Beautycounter do the complete opposite.
According to US law there are 1,500 products that are deemed "legal but questionable", and other CPG cosmetic brands will use them when creating new products. However, Beautycounter distinguish themselves by leaving every single one of these ingredients out of their products.
Essentially, if ingredients aren't confirmed as totally safe to use on the skin, this CPG brand don't want anything to do with them!
The aim for Beautycounter is to give the industry a makeover and try to encourage the brands that aren't adhering to the regulations to do so when it comes to safety in skincare.
Although, many cosmetic CPG brands outline that they avoid certain chemicals in their products, it's not often the entire brand is hinged on this.
Bigger CPG brands such as L'Oreal and and M.A.C have recognisable taglines, "Because you're worth it" and "All ages. All races. All sexes" and are founded on diversity, inclusivity and self-worth.
Beautycounter is a complete contrast as they are contributing to better skincare products and practices, which is fresh and stands out in the current market.

Credit to Being Online
Procter and Gamble
Procter and Gamble, or more commonly known as P&G, is one of the top 3 CPG companies in the world.
This CPG brand is US based and owns brands that fall in the category of hygiene, beauty, skincare, haircare, and medical products.
CPG doesn't just extend to snacks and beverages but anything used up by customers on a regular basis.
Similarly to The Kraft Heinz Company, P&G own several brands that are trusted in billions of households, but on a different scale, as consumers expect something different from health and hygeine products.
For example, customers know what they're signing up for when they put a chocolate bar or a bottle of wine in their shopping cart, they know to expect that the products are necessarily "healthy" but they aren't claiming to be.
The chances are that particular consumer is looking for a friday night treat, not a product that is promising to keep them protected, safe, and clean!
However, when placing a box of Pampers nappies or Always disposable menstrual products in the basket, the expectation becomes slightly different. As although these items are still consumer packaged goods, if they promise to provide comfort for your child, or ensure your skin won't become irritated, the brand needs to meet the standards they have set.
Procter and Gamble are an example of a brand who have succeeded in setting expectations for consumers and meeting them, and in turn have become "the people behind the brands you trust."

Credit to Medium
BarkBox
Moving onto a CPG brand for pets now, with BarkBox, a subscription company that provides monthly boxes of goodies for your furry friends.
Each box contains 2 toys, 2 treats, and 1 chew and depending on which products your dog enjoys most, the BarkBox team can customise each package for you.
This means over 100,000 product variations go out to millions of dogs each month.
Personalisation is a key part of this CPG brand, and the company have ensured that every aspect of your pets personality is taken into consideration.
In order to signup for a BarkBox subscription users must go through a quiz answering questions about their dog such as the name, gender, size, and birthday, in order to better tailor each subscription to each individual customer.
The company have built up their customer base by going the extra mile and prioritising the individuality of each and every dog and now deliver to over 6 million dogs worldwide.
Monthly pet subscriptions certainly aren't a new concept, however this CPG brand in particular have thought of everything. It's clear that the attention to detail is what is urging customers to return to BarkBox to treat their dogs each month!

Credit to The Grocer
GoPuff
GoPuff is an American consumer goods and delivery service and works on a similar basis to the likes of UberEats and Deliveroo.
There are a wide range of products stocked on GoPuff similar to online supermarket stores, with sections including:
Alcohol
Healthcare
Fresh fruit and veg
Hot food
Dairy products
Electricals
Toiletries
Frozen food
Just think of any grocery store aisle name and the chances are GoPuff will have a dedicated section on their website and app!
However, what differentiates this brand from other CPG delivery service providers is the timescales in which consumers can receive their deliveries.
GoPuff promise to deliver to your door "in minutes" and have placed this at the centre of their overall branding, meaning no delivery time should ever reach 1 hour.
Although other CPG brands in this category promise delivery within 24 hours, or sometimes the same day, GoPuff have tapped into a niche market here by going on step further.
Along with cutting delivery fees, and setting the bar high for delivery times, GoPuff have additionally cut out the middle man (supermarkets) as they stock all of the products they sell in-house and bring them straight to you.
This CPG brand have taken the idea of efficiency and convenience and rolled it into one service that presents real competition for leading supermarkets all over the world.

Credit to CNET
HelloFresh
HelloFresh is an easy concept for a CPG brand, and quickly became the leading meal delivery box in the UK, and highly popular across Europe, Australia, the US, and Asia.
Essneitally the company send you pre-poritoned ingredients and a recipe card to make a meal in around or under 30 minutes.
Not only is the key takeaway from HelloFresh that you can save time and money, there is equally zero waste involved (and thats for all of the meal kits!)
This is what sets this brand apart from other meal kit delivery services as you are able to cook exactly what you need with no leftovers, decreasing the amount of packaging and food waste going into landfill.
Not only this but HelloFresh go one step further, and much like GoPuff, deliver their food boxes right to your doorstep, cutting out (or cutting down) the time you spend in grocery stores, as well as in the kitchen!
What's interesting about this CPG brand in particular is it owes a lot of its popularity to influencer marketing, as YouTubers and influencers have worked with the brand for years promoting the service.
Influencers use their platform of choice to show themselves using the meal kits and cooking a range of dishes and then accompany these short clips or full videos with discount codes to drive people to the HelloFresh website.
As a result, followers become consumers and part of the HelloFresh community, and once signed up, the subscription service quickly becomes a regular feature in their weekly routine!

Credit to Refinery29
Function of Beauty
There seems to be a running theme when it comes to more modern CPG brands, as personalisation and customisation of products is at the core of so many companies.
Function of Beauty isn't any different, as it is another brand that customises each and every product to the individual consumer.
The brand was established just 7 years ago in 2016, and quickly became popular as customers could go onto the website and take a quiz, answering questions about their hair to get products that were perfectly suited to their hair type.
The brand asks consumers to take a 2 minute quiz consisting of questions on:
Hair type
Hair structure
Scalp moisture
Colouring and hair treatment
Hair goals
Styling products and tools
Styling goals
Then users can go on to name the bottle and choose the scent and strength of the scent.
If that isn't tailored to each individual then I don't know what is!
Then it's as simple as typing in your email, receiving results and purchasing a product that you have essentially created for yourself.
Function of Beauty have taken on the name "the original custom haircare", and boy have they lived up to it!
Their success has allowed them to expand into customisable skincare, and this again helps the brand continue to cater to the needs of each consumer.
As we mentioned above, this is a great example of a company tapping into a specific niche, as although the market for hair care products is vast, it can be difficult to provide everything for all hair types with one singular product.
But clearly for Function of Beauty the challenge was all too easy!

Credit to CNBC
Liquid Death
Onto our final successful CPG branding example now: Liquid Death.
A canned water brand that focuses heavily on reducing the amount of plastic we use in order to lessen the population's impact on the environment.
Hence why their niche is "water in a can", in order to avoid the use of plastic altogether.
This is yet another CPG branding example (similar to Meatable and HelloFresh) that puts sustainability at the core of their offering, which seems to be the trend when it comes to emerging CPG brands.
Each can is designed in a punk style with a skull's head and at first glance, looks more like an energy drink or a beer rather than mountain water!
Despite the specific style of branding the company have gone for, they have no problem appealing to a wide audience due to the unique product and sarcastic tone of voice they use in campaigns and messaging.
The company are partnered with The Deep and use the hashtag #deathtoplastic to hammer home the core objective of their business.
Equally, Liquid Death has managed to build up relationships with celebrities such as Chase Crawford, Joe Manganiello, and Martha Stewart to further promote their brand and the values behind it in just 5 years of existence!
However, this CPG brand is the only example we've discussed in this post that has expanded to create products outside of the consumer packaged goods category by creating a watch in collaboration with Nixon, and their own line of plush cuddly toys.
However take this with a pinch of salt, as although the toys are made with recycled plastic, "Trashy the turtle" and "Wastey the whale" are designed to represent the impact plastic can have on ocean life.
Each plushie has either been killed due to plastic consumption or as a result of plastic becoming tangled around their neck or limbs (so we wouldn't recommend this as a gift for the young ones in your life!)
Although slightly harrowing, this is both an effective use of recycled plastic, and a brilliant marketing technique to get people talking about the brand and of course, purchasing the canned water.
These CPG Brands Will Take Over the World (You Won't Believe Their Success)
There we have it, a list of the CPG brands we think will take over the world, or are already halfway there!
We have included some older more established brands to showcase that reputation and longevity can lead to ongoing success in the consumer packaged goods industry. However, the focus has been upon younger brands started within the last 5-10 years (some even coming to fruition in 2022!) to show how innovation is key if you are going to find a gap in such a saturated market.
If anything this post has taught us (and hopefully you) that safe and sustainable products are growing in popularity whether that's non-toxic skincare, or environmentally friendly meat.
Here at Canny we have worked with various CPG brands to create packaging and branding that stands out against competitors. McKinna Plant Labs, who created a brand of totally vegan dog food, is an example that comes to mind, as we helped to push them into the market gap and promote their product to the right audience.
If you have an idea for a CPG brand, or have an existing product that needs a refresh or a rebrand, get in touch with our team today!