Branding your business can be a challenge, but we're here to make it easier with our ultimate list of branding tips. Knowing exactly what your brand is all about is just the start.
Having a clear vision of your brand will strengthen your business.
Think about some of the brands you already love and know: Apple, Nike, Starbucks.
Why do these brands stand out to you? How would you describe each brand? Why do these brands permeate our consciousness so well?
It's not a mistake. Brands that live on in our hearts and minds do many things right.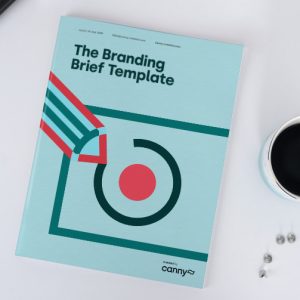 The Branding Brief Template
Branding your business can be a challenge, but we're here to make it easier with our ultimate list of branding tips. Know...
Here at Canny, our mission is to build these kinds of brands for our clients. That's why we're here today to help you out with the ultimate list of branding tips and branding ideas that will help supercharge your branding efforts.
There are a lot of posts out there like Top 10 Branding Tips, What is Branding? and in fact, we've even written a list of the Top 25 Branding Tips for Start-Up Businesses in the past.
But there's nothing insanely actionable that you can refer back to when branding your business!
So here's the deal:
Before we can even delve into the tips, we've added a few questions (consider this a bonus) that you need to answer about your brand first. Then, we can proceed to our huge list of actionable branding tips.
We've also created a video that shares some of our top branding tips, so be sure to check it out before reading on:
Whether you're looking for branding tips for small businesses or larger corporate branding tips, we have you covered. We even have personal branding tips and ideas covered too.
And no matter whether you're starting a new company and branding from scratch, or rebranding an existing company, it's all in this post!
Not sure what branding is? Then maybe start with our "What is Branding?" post before jumping in here.
Got a basic understanding of branding? Here are the questions:
What Does Your Business Do?
The first thing you need to ask yourself is what the business that you're involved with actually does. Sometimes, after years of treading water, this can actually become a little muddy.
You started as a restaurant but now you're also selling food packages that can be delivered monthly. Or originally, you were an e-commerce store that sold sports merchandise, but now you're selling event tickets and more.
Strip it all back and ask yourself, "What does this business do?" Not used to do, or want to do, but actually do.
Note: If you are building a brand and want to change what you do, this is the time to get clear on that, too.
Homework:
Write down a few bullet points on what your business does. If you are feeling a little unclear at this stage, don't worry. Hopefully, the next few questions and our list of branding tips will provide you with a lot more clarity as well.
You can always come back to this question after some more branding soul searching.
Why Do You Do It?
Why did you decide to setup that restaurant in the first place or why were you selling wrestling merchandise out of your garage? Was it just to make some quick cash? (Likely not if you're in the restaurant business!)
Try and remember exactly what lit the fire in you in the first place and write it down. I doubt you did it on a whim, so like the first point, bring it right back to basics. They can often get lost as your brand scales and grows.
Homework:
Think back to those first few days you started your business. Write down one sentence that describes what you hoped to accomplish. Remember this often.
Where Do You Want Your Business to Go?
Once you've identified what you're doing and why you're doing it, spend some time thinking about where you want your business to be five, ten, and even twenty years from now.
For example, Gary Vaynerchuk has said for years that he wants to buy the New York Jets. I don't know why, because the Giants are clearly the better side, but it has been one of his main goals for as long as I've followed his work.
The goal at Canny? To have a minimum of 20 offices spread around the globe working with a variety of different companies from a whole range of countries.
Where do you want your business to go? Are you wanting to open a chain of restaurants? If you're selling sports merchandise, do you want to only sell wrestling merchandise forever, or are you branching out?
This question will set the bar for your brand moving into the future. You can relate everything you do back to this by asking, "Will this action help my brand achieve its end goal?"
Homework:
Don't be afraid to set big goals here. Where do you want the business to be in twenty years? Think as big as you can imagine. This is the dream, baby; it starts from here.
Did you know that before he made it big, Jim Carrey wrote himself a cheque for $10 million dollars and post-dated it? Did you also know that he was able to cash this cheque when the date came? It's all about clarifying your vision early, then working toward that.
What Do You Believe?
Having a brand ethos or brand belief system in place will help you out in the long run.
"Great brands don't sell products. They sell ethos." Tony Fannin, President at BE Branded.
Perhaps, you're all about green energy, watching your carbon footprint and recycling. Great, now you know that all of your stationery should be printed on recycled paper, or perhaps you don't even have stationery printed.
If you believe everyone should have next-day delivery on their product orders, then make sure you shout about it on the front page of your website. A well-defined belief system will help mold your business and its actions.
Homework:
As you make brand decisions, ask yourself "Is this in line with our company ethos?" If you haven't already defined your company ethos, now would be a good time.
Why Are You Branding/Rebranding?
Maybe you are rebranding your company because you want to expand into a new market. Maybe your current brand doesn't communicate your offering clearly.
This was the case with one of our clients YardLink. As a plant and tool hire company, their old brand wasn't connecting them to the right people. Firstly, it was spelt 'YardLynk' which made it very difficult for businesses to find them. They need to be placed firmly back on the map so that they could appeal to a wide net of people in the construction industry.
And that's what we did.
In some cases, there are things you need to know before rebranding. We've talked about this a lot in our 7 Things Your Boss Wants to Know Before You Rebrand blog post, so if you still have some questions, head over and read that post.
Homework:
Write down three reasons you are focusing on your brand right now. If it helps, make a list of attributes you love about your brand and the ones you hope to have. You can't rebrand if you don't know what qualities you want your brand to have.
About Your Customers
Who Are Your Customers?
Without customers, it's impossible to run a profitable business.
It's important to think about the exact demographic you are targeting, so start by taking into account:
Age range
Income
Interests
Occupations
Spend some time thinking about the persona of your customers. If you have customers now, ask yourself if they're the customers you want. If they're not, you need to identify what your ideal customer looks like and how you're going to appeal to them.
Where Are Your Customers?
The location is still so important, even as everything seems to go global or digital. Knowing exactly where your customers are, what they do, where they go, and who they like to hang out with are all key factors in understanding or determining your brand.
Now that you know or have defined your brand a little more, let's move on to some real actionable things you can do to build your brand.
Branding Tip FAQs
But before we dive into a 97 point list, how about a couple of basic branding FAQs?
What do we mean by 'branding'?

Branding is how people view and perceive your company. It's also how you as the owner, and your workforce view and perceive the company. It's your what, your how, and your why.

Why is branding so important?

Branding affects how your audience and customer base interact with your business, it solidifies your place in the industry and how consumers remember you.
The Ultimate List of Branding Tips – The List That Keeps on Growing
1. Be Friendly.
Whenever possible, personalise your marketing messages. A great way to do this is in your emails. Don't be afraid to talk to your customers like they are your friends. Be warm and friendly; it's perfectly okay to have a laugh!
2. Ask Your Customers Questions.
It's so important to survey your customers and – may we say – that you need to embrace all kinds of feedback, good and bad. You'll learn a lot more from the negative feedback anyway, so ask away and be ready for the results.
3. Test Drive Your Slogans.
You think you've come up with the wittiest, cleverest slogan or tagline out there. You're ready to call up your design team and add it to all of your marketing materials.
Stop! Wait!
Before you commit to a slogan or tagline, why not test drive it a bit? What sounds funny or clever to you might be completely missed on your target audience. Start with friends and people in your life who are similar to your target customers.
4. Don't Spend too Much Time Creating a Perfect Tagline.
Speaking of taglines and slogans, once you've got something that works, use it. But don't dwell too much on making it perfect. Chances are in a few years, your business will grow, expand, and change and so might your perfect tagline. Find something that works, people like, understand, and then move on with things.
5. Use Content Gems to Find Content Your Customers Will Thank You For.
Find the most relevant content on any topic. Content Gems finds relevant content on any interest, and you can find up to one interest for free, or subscribe to the business plan which starts at $99 USD per month and lets you investigate up to 20 interests.
Choose interests that closely relate to your company and brand so you can discover relevant content to share with your audience.
6. Create Some Buzz With Buzzsumo.
If you want to create some buzz, first discover what people are already sharing with Buzzsumo. Research any topic, any site and get the top shared content pieces. The free version does give you enough features to do some digging around, but they do offer paid packages for more in-depth content research.
If you just need a way to gauge your brand and see some of the trending topics, the free version will suit you just fine.
7. Curate Content With Ease With Scoop It.
If you have a lot of content that you want to create, including newsletters, and email marketing, consider investing in a Content Curation Service like Scoop It which helps keep you organized and able to create and build content for your blogs seamlessly.
The drawbacks to this kind of service are that you might not get the kind of customisation you would find if you hired someone to create and execute your content plans, including your social media strategies. But if you need to get out a lot of content in an organized manner, this service just might help you out.
This service does not create content, but rather helps you find and manage content that might be relevant to your business.
8. Get Analytics on Your Competition With Similar Web.
Want some basic analytics on your competitors?
Who doesn't?
Why not do a quick Similar Web search and see where you land amongst your competitors? The site is easy to use; just type in the URL you want to investigate, and voila. You'll get some basic traffic info, insights into your audience likes, and similar sites. It only takes a minute or two to look a site up, so try it out.
This also works for apps, so you can get a few insights on that app you've built or on some competitors. You won't get a ton of insights for free, but you can always sign up for their Pro service which gives you way more analytics and insights. The basic package price starts at $199 USD per month and goes up from there, and of course, there's a pop-up support person to walk you through the buying process.
9. Automate Your Marketing.
There are several software programs that promise to help you automate your marketing funnels online. We like Drip, by Leadpages, which allows you to identify your best leads, tag subscribers, and get conversions.
10. Get Hubspot.
Yes, Hubspot seems to be the inbound marketing software solution that many B2B companies love. It's not cheap, but it can pay for itself with just one proper lead. There are many resources available if you want to invest in and learn this software system; it's one of the best.
11. Know How to Use Google AdWords (Even if You Don't Want to Do a Campaign Just Yet).
Learn how to set up a test campaign, even if you don't want to advertise on Google.
Why?
You'll find the relative keywords and even some niche market keywords that will help you build content or target the markets online that you need.
12. Don't Try to Please Everyone.
Define your brand and stick to it. If your brand is a small label, hand-crafted beer, you aren't going to please the discount beer drinkers who scoff at your high prices. That's okay.
Do what you do best; you'll find your brand ambassadors out there.
13. Set Up a Referral Program.
This doesn't have to be complicated: if someone likes your product or service, give them something for telling their friends.
It could be a discount, a free gift, or even a cash-back bonus. If you have a great product, people will automatically refer others to you, so use the referral program as a way to say thanks!
We talk a lot more about referral programs in our Building Brand Loyalty piece and share some of our favourite examples, too.
14. Don't Try to Be Someone Else.
If you are creating something fresh, be fresh. Don't try to imitate the big box stores or the big names that everyone knows. Be who you are.
15. Don't Just Stick a Logo on it and Be Done With it.
Engage with your audience; be a brand that people want to get to know. Don't rely on your logo to build your customers, or brand your company. It's much more about engagement and relationships today.
16. Let Your Audience Define Your Brand and Listen When They Do.
As your company grows, listen to how your customers perceive you. Let that continue to define your brand. Make sure you read every single comment, review, and piece of feedback you get from your customers.
If what they are saying doesn't align with what you think your brand is, maybe it's time to go back to the homework questions we assigned at the beginning of this blog.
17. Use Social Media to Build Connections.
Don't think of social media as a way to blast, blast, blast your brand out there.
Make connections. Entertain people. Have a laugh and build relationships.
18. Become a Centre of Influence.
Don't rely on others to influence your audience. Become that influencer that others quote and share content from. If you are a small business starting out, why not create a group or blog? Call yourself an expert even before others do.
19. Develop Credibility Over Time.
Brand trust and loyalty don't happen overnight. Don't stress if your center of influence is smaller than you had hoped. Keep going. You'll get there.
20. And, Wait.
You can implement all of the branding strategies you like, but sometimes it just takes time for a company or brand to take hold. Get out there, but be patient.
21. Don't Ignore the Fruit That Hangs Low or Falls Off the Tree.
If you want to build your customer base, don't ignore the easy sales, either. Tell everyone you know about your brand, your company. Get out in your local area and brag a little. Reach out to everyone on your email list.
22. Show Behind-the-Scenes Struggles and Triumphs.
It's a temptation to hide away your company until it's larger than life, but that's not how it works. Don't be afraid to document and share the parts of your company that are still a work in progress.
For example:
If you are a building a new coffee shop, why not share the challenges you have along the way before you even serve your first cup of java? Take pictures of your bare walls and construction projects. Take pictures of you and your team tasting the new brews. Share your story early on social media, and build your brand and your business.
23. Be Consistent.
Consistent branding doesn't just mean logo styles and colour schemes. It's also about how you deliver service, talk about your company, and handle complaints.
24. Define Your Archetype
What kind of a brand do you want to become? This article from Business 2 Community suggests that you choose an archetype to help define your brand more:
Are you the helper? The sage? The outlaw? Think about the companies that you love – Apple is the visionary, while Taco Bell is the jester. What type of character is your company? How can you play on this archetype in your branding efforts?
25. Give Back.
It doesn't hurt to create a brand that gives back; think of Tom's shoes. They've built an entire brand on giving one pair of shoes away for every one you buy. Smart and charitable – I like that, and so do many of their other customers.
26. Involve the Professionals.
Take care of your company. If you don't know how to do something, hire a professional. Even if you do know a bit about branding, hire a pro that can do it better. Build the best brand right from the start.
27. Do Your "Get to Know You" Homework First.
Before you involve anyone else in your brand, you have to know your company. Take the time to define your company first even before you meet with an agency or web designer.
A smart team will be asking you a lot of questions in the beginning, so get ready!
28. Learn About Marketing.
We're not saying you have to become a marketing genius, or even create a marketing report, but it always helps to strengthen your brand if you know a little more about the touchpoints you can use to get your brand across.
29. Choose the Right Social Media Network(s).
If you aren't getting any traction on your social media posts, why not? One reason might be because you are using the wrong social platform. Facebook can be great to target certain audiences, but your teenager might think you are lame if you still use it. Snapchat might be a great place for a new energy drink, but forget that if you are marketing a new seniors' programme. Find what works for your brand, and connect with your audience.
30. Stick to a Few Things You Know and Do Them Best.
Defining your brand is so important. If you are creating a company that sells high-end coffee makers, for example, know that's the area you need to know. Stick to content and messaging around what you do, and stick to a few topics. You might never even talk about tea, and that's okay.
Don't water your brand down with too many awesome services and promises. The brands that build authentic brand loyalty over time do one or two things, but they do them better than anyone!
31. Connect With Your Competitors.
Don't be afraid to share the market; there's room for all of us! If you own a local hot spot, why not connect with some other local businesses for an event? Think meet, mingle, and work together.
32. Be a Brand. Don't Tell People What You Think Your Brand is.
If you want to be known as a modern brand, don't say, "modern thinking" or worse, "we're a modern company." Show, don't tell. Be modern in your choice of color schemes, print materials, and approach, instead. It's much more powerful that way.
As Jeff Bezos, Founder of Amazon famously said:
"Your brand is what other people say about you when you're not in the room."
And you get there by showing people the type of brand you are, not telling them. Hold their hand, don't shove them.
33. Be Your brand All the Time.
Branding shouldn't be turned off and on. Whether you are creating an external asset or marketing material, or running an employee appreciation night, your brand should be evident and there all the time.
34. Use People to Represent Your Brand.
It always helps to have a real person represent your brand. Think about a spokesperson who can embody your brand qualities. A lot of brands use celebrities, which can help boost sales for sure.
If you don't have the budget for Beyoncé like Pepsi does, for example, find someone local who everyone loves and knows to represent your brand.
35. Don't Be Afraid to Expand Your Brand Along the Way.
Just like people, companies change and grow over time. Keep an eye out on the areas you'd like to grow, and find ways to expand your brand.
36. Keep Your Brand Current.
Make sure you don't let your brand become obsolete. Imagine if a Blockbuster video had reinvented their brand to include more than just video rentals? They could still be around today. Blockbuster who? Exactly.
37. It's Okay to Experiment, But Keep the Core Brand the Same.
Have you noticed that McDonald's is going through a rebranding process? In Canada, they are even offering tableside service at some locations and amping up their menu to compete with the Five Guys brand. Sounds good, and I hope it works for them, but they can't abandon their core brand to do it: fast food, kids, Ronald McDonald. You know, the things every parent dreads.
38. Tweak Your Logo.
If you are expanding, instead of creating an entirely new logo, why not tweak it? Many big companies tweak and change their logos to represent changing qualities of the brand, or expansions.
Another option is to consider turning your company into an umbrella brand. You can then have several companies underneath it, offering expanded or different services. This way you can retain your core visual identity and use it to influence your sub-brands.
39. Add Colour to Your Brand.
If you've always been a black and white brand, why not add some colour? Colour can express a mood, a feeling, and brighten someone's day. Every colour has a feeling, if you are drawn to a certain colour, think about why. Does this evoke your brand?
40. Find Inspiration On Pinterest
Pinterest isn't just for crafty moms; it's a built-in inspiration board full of ideas. This can be a great place to explore trends, decide on a colour palette, or just source some inspirational images for your branding materials.
41. Get Blogging.
While blogging in and of itself isn't a branding strategy, getting some of your company ideas out there can help you define and refine your brand. Of course, your blogs should be branded as well, but what does that mean?
Now is the time to think about those untouchable brand qualities that you are so proud of when blogging. Are you hip? Do you have a quirky sensibility? Are you a know-it-all informative expert?
We couldn't help thinking about our favourite Food Network personality, Alton Brown. His offbeat ethos is clear throughout his blog, not only in the writing but the images he sources.
42. Recreate the Branding Process.
Why not give your brand a little tune up from time to time? Steal from the pros and put together your own branding board. You can do this in-house and it can be a great little way to involve the team and reignite the fire behind your brand.
At Canny, we actually use the aforementioned Pinterest to pull our initial brand research together. If your brand has lost it's way slightly, why not give it a whirl?
43. Try Something Unexpected With Your Branding.
It's okay to push your brand a little outside the box and surprise your audience with something new. You may even want to do something outrageous like offer 356 days of free returns, like Zappos did.
44. Get Some Earned Media On Your Side.
Build a brand that others will talk about. Be so good that others do your marketing for you.
You can do that by creating great content, running great social channels, or quite frankly, shortcut the process by having a PR agency spread the word for you.
45. Minimize Your Brand Logo.
Sometimes it's best to take something away from your logo, especially if you are a recognized brand already, like this Starbucks example shows.
46. Learn How to Write Better Headlines.
Want to get some more traction for your content? Try to write a better, attention-grabbing headline using this free tool. Aim for at least a 60% or above, or B+ rating!
47. Hire a Branding Coach.
Why not hire somebody who knows how to develop a brand? Sometimes just having that "outsider" perspective is enough to propel your brand into new realms.
48. Get the Basics Right.
Why do brands seem to forget the basics? Customer service, for example. Great design, and awesome websites are good but if you can't return your purchase easily, you'll quickly become a brand that no one can trust.
49. Work On Your Tagline.
Spend some time on your tagline; it should instantly tell your consumers what you do, and provoke the brand ethos. It's like your elevator pitch, but shortened.
I like to think about taglines while I'm on a long walk, or hand washing the dishes. These are the kinds of ways that simple, effective ideas can pop into your mind.
Why not get your friends and family in on the tagline creating? I have found people love coming up with clever little things and ways to say them. You'll learn a lot about how your brand is perceived as well if you get people to help you create your tagline.
50. Define Your Company Voice.
One of the biggest branding mistakes companies can make is not being clear on what the company "voice" is. The voice of your company isn't what you are saying, but how it's being said.
If you fancy yourself a "hip, young, urban" brand, for example, are you going to use jargon and slang in your branding and marketing? Take the time to know your "voice" and make sure it rings true to the brand you want to be.
51. Define Your Company Tone.
Now that you've figured out your company "voice", it's time to define that company "tone." While your voice generally stays the same, the tone in which you deliver those messages is going to change depending on your audience.
You will always be that hip, young, urban brand you are, but if you are creating a proposal to get funding, or creating an ad online, you'll need to adjust your tone. Voice and tone are different, but both need to be considered when building your brand communications.
52. Create Your Company Style Guide.
If you really want to clarify your tone, style, and branding strategy, why not create a company style guide so everyone is on the same page? This is a way many brands make sure that their brand has consistency throughout all of their communications.
If you are looking to build a lasting brand and a growing company, this is something you definitely want to think about creating. Imagine having to retrain 20, 30, or even 100 employees in "your style", "your voice", "how to write blogs"; a style guide can save you time and keep your brand consistent. We love this brand style guide example from MailChimp.
53. Make Employees Brand Ambassadors.
Your employees should embody your brand; they are often on the front line with your customers. If they aren't living the brand, who is? While larger companies might have entire branding divisions and internal communication departments to teach employees the brand standards, what should smaller companies do?
Each employee must internalize and embody the essence, the ideas of the brand. Even the best brand strategy has no influence if all of this exists only on paper. Peter Hartog, Marketing Expert.
54. Put Out Some New Materials.
When was the last time you reviewed your sales packages or slide deck? What about your internal company docs? Want to make sure your brand stays fresh and relevant? Keep your brand messaging current. If you have been using the same branded stationery for years, but have updated your logo twice, it's time to refresh.
55. Embrace Whitespace.
Great design needs room to breathe. Let whitespace be your friend. Too many brands like to clutter their ideas, especially online. Sometimes the way to stand out from other brands is to embrace whitespace.
We love the use of whitespace in this sophisticated branding for Theurel and Thomas, a patisserie in Mexico that specializes in baking French macarons.
56. Take Care of Your Customers.
If you want to build a brand that people are loyal to, you need to do one basic thing: Take care of your customers. Give them the little extras that will make them feel special, and don't be afraid to start a loyalty program that gives your most loyal brand advocates a free cup of coffee, a discount, or even a free month of your service! Everyone loves that something extra!
57. Tell a New Brand Story With Content Marketing.
We love when brands think of ways to get our attention in new and fun ways. Love pizza? Getting married? Why not register at Domino's? Domino's pizza created this really clever branding story and it's captured our attention. That's the kind of surprising brand story we love.
58. Don't Be Afraid to Have Some Fun.
There are many things we like about The Hustle and their email marketing daily newsletter is no joke, or is it? In every email, they seem to find the fun and aren't afraid of it. Maybe that's why we actually open these emails.
If you are too serious about your branding, you might just lose some of your loyal followers for the next brand on the block that makes us laugh. Yes. You need to be serious about your business, but it's vital to have a bit of laugh as well.
59. Be Human.
Everybody makes mistakes. If you've had some marketing or branding blunders in the past, own up to them. Make light of them, even. People are quite astute and your organization will come across as far more honest and trustworthy if you don't appear to be covering something up.
Remember what Johnny Carson used to say if his joke fell flat? "Bombo!" He never skirted around it or hid the fact that the joke bombed; he owned up to it and made light of it. And the audience loved it.
 60. Know Exactly What the Goal of Your Brand Is.
Knowing what your goal is will help give you direction. Are you new and trying to get your foot in the door? Consider being a little edgy in order to get people's attention. Are you a company who is rebranding to give a more affordable feel? Consider a less sophisticated logo paired with an advertised weekly sale. Your goal will drive your brand.
61. Use Your Logo EVERYWHERE!
McDonald's doesn't sell a single item whose packaging doesn't have their logo on it. Their logo is everywhere and yours should be too. This is a great way to build brand recognition.
62. Develop a Shorter Tagline.
While we have already encouraged you to be creative in writing your tagline, now we want you to think about shortening it! Major corporations often incorporate their name into their tag line, or they follow their brand name with their tagline. For example, "Tesco: Every little helps" and "My goodness, My Guinness." Keep it short and relevant. Then, use it everywhere.
63. Read Some Books on Branding.
There are some great books out there on branding and marketing your business. Check out our list below and get inspired! If you would like to share a branding book that inspired you, we'd love to hear from you! Comment below and let us know what we missed on this list!
64. Read: Emotional Branding: The New Paradigm for Connecting Brands to People by Marc Gobé
This book will help you fashion a brand that is fresh and new. By shifting the focus from products to people, this book will help you create the "feel" you want to convey with your brand. Furthering its reputation as a current and modern resource is the fact that it's the first marketing book that examines the influence of the LGBTQ community on several brands.
The book also dedicates an entire segment to the importance of all five senses in branding and design work. It discusses sensory interactions that some brands have built up and how branding should be about senses and emotions.
65. Read: How Brands Become Icons by Douglas B. Holt
If you are looking to make your business the next Nike or Apple, then this book is for you. In his book, Harvard Business School professor Douglas B. Holt discusses how icons are made. He explains how brands become well-known icons and stresses that they are generally not a result of conventional branding strategies. A lot of their success is sheer intuition and serendipity.
66. Read: Designing Brand Identity: An Essential Guide for the Whole Branding Team by Alina Wheeler
This is a bestselling, no-nonsense guide that boasts a universal five-stage process for brand development. The updated fifth edition covers today's relevant topics such as social media, crowdsourcing, SEO, experience branding, and mobile devices. The book includes 30 case studies of top brands from industries from all over the world which makes it a great manual for brand development.
67. Read: Purple Cow by Seth Godin
This book is described as "The cult classic that revolutionized marketing by teaching businesses that you're either remarkable or invisible." Instead of following traditional, boring branding methods, Seth Godin pushes the reader to create something extraordinary that everyone will talk about. Purple Cow challenges business owners to adopt new marketing strategies and to "put a Purple Cow into everything you build" in order to set your brand apart. The book discusses successful brands such as Starbucks and Apple and has been translated into 36 languages.
68. Read: Hello, My Name Is Awesome: How to Create Brand Names That Stick by Alexandra Watkins
This book is a must-read when choosing a brand name. The author claims that anyone can create a memorable and noteworthy name using a few basic rules. Practical tips include advice on how to make sure Siri spells your name correctly – a must with today's tech savvy world. The author includes titillating examples of brand naming gone wrong as well as names that do a great job representing their brand.
69. Think About Your Brand Identity Visuals.
Think about the visual elements that are out there right now creating your brand identity. Not only does this include your logo, but the visuals you use on your social media posts – the images that fill your site.
70. Create a Brand Strategy Brief.
If you want everyone to be on the same page, make sure you clarify your ideas in a brief, especially if you are going to be creating several design concepts. Make sure everyone from creative, graphics, to management understands the brand concepts you want to use, then clarify it in a brief.
71. Research Other Brand Strategies, Not Just Your Own.
We've talked about research already, but when it comes to your brand identity, it's always good to research other brands as well. We're not saying you go out and copy what someone else is doing, but this just might get your creative juices flowing as well.
Maybe there is a trend you want to avoid. Maybe a trend you want to embrace? When creating your brand identity, the more you know, the better it can be expanded.
72. Define Your Audience. Write It Down.
Before we started giving you these tips, we told you to define your audience and write it down. Well, have you?
Knowing your audience is such an important first step, we wouldn't want you to think you could miss it. If you haven't figured out who your target audience is yet, read the next few branding steps.
73. Market Research Your Target Audience and Ask Questions.
If you want to know where your brand fits in, you'll have to do some market research first. At this stage, you've already answered the basic questions about who your audience is, but to get to know them and what motivates them to interact with your brand, you'll have to ask them some detailed questions.
74. Figure Out Why People are Buying Your Product or Service. What's the Motivator?
While you are conducting your key audience interviews, it's important to try to get to the "real" reason that they are choosing your brand, or not. What's the motivation behind their purchasing decision? You'll uncover the motivation behind why people are buying your brand if you ask the right questions.
We suggest you get started with 25 questions you should ask to create your buyer personas to really dig deep and get to the heart of the matter when it comes to knowing your buyers.
75. Create Buyer Personas.
Now that you have asked the right questions, it's time to create buyer personas so you can seriously clarify who your brand is for, what the motivation is behind their purchases, and how you can create a brand that builds true buyer loyalty.
There are many templates you can use to start creating buyer personas for your company. We like this complete guide from Buffer on how to start creating your buyer personas that breaks the entire process down into small, actionable steps.
76. Communicate Directly to Your Audience.
You've done the work. Got to know your audience. Discovered those motivations behind their purchasing decisions and created some detailed buyer personas. Great.
Now, it's time to build content and branding that speaks directly to your buyer personas. This is how your brand is going to have the greatest impact over time. It's also something any sized business can easily do to get traction with their target audience right away.
"With defined buyer personas, your ad targeting and communication stands a much better chance. From increased engagement on your social media channels to a greater ROI for your online ads, taking the time upfront to define your buyer personas can help your online business succeed by better knowing and understanding your core customers" – Richard Lazazzera, Shopify Content Strategist.
77. Think Like Google and Address Those Micro-moments Of Decisions.
We are connected more and more with the digital world because of our smartphones and that can be a good thing when it comes to your brand. Google introduced this idea of "micro-moments" – those moments in our day when we are looking up something, looking to buy something, or just Googling for information. We are definitely a society of "look-it-uppers" and Google, for one, has found many ways to take advantage of this buyer behaviour in our world.
Think about your typical day from the moment you wake up (and reach for your cell phone), to the moment you last check Facebook and head off to bed. Each of these touch points with technology is an opportunity for brands to offer a solution, a promise, or a product.
How are you taking advantage of these everyday moments in your buyer's life? What kind of value does your brand bring online? Think about those everyday moments: What can your brand deliver?
78. Speak to Your Audience as If They are Individuals.
Again, we are talking about your audience. A brand needs to communicate to every individual buyer, not a massive group. We know that you want your brand to be bigger than Coke one day. Great!
Think of your audience not as a large group without a face, but rather an individual you'd sit down for cup of tea with. Now, when writing your blog posts, or reaching out on social media to announce your next product line, think about that person. What do they want from you? What kind of incentives can you provide? Do they want to hang out with you? It's always good to create a brand where people want to hang.
79. Communicate the Emotions Behind Your Brand, Not Just What Makes Your Brand Great.
I was driving through my city the other day, thinking about all the new construction around me, stuck in traffic, as per usual. I happened to glance over at a billboard for a new luxury subdivision. It pictured a happy family, beautiful scenery – the beautiful life in one scene, all on this one billboard. This got me thinking.
We don't make decisions with our brains, but rather our hearts. We purchase a new home because of the way it makes us feel, imagining the memories we'll create there, our friends and families chilling on the deck outside. If you do not sell people that emotional motivation behind the product, the service, the brand, you won't connect to as many buyers. We spend money on things that make us happy. It's not complicated; it's human.
80. Hire a Branding Agency Or Consultant to Help Clarify Your Thoughts.
By now, we hope we haven't overwhelmed you with this list. Trust us when we say that we get it. Our brands are something we nurture over time; they build, we grow – it's not a one stop and you're done process. If you truly want to build your brand, you need to hire an expert. Someone who can ask the right questions and get to the heart of what makes your brand great.
81. Think About the Elements of Your Brand – From Signage to Stationery.
There are many ways to 'brand' something. While we think getting your brand out there on many things is always a good strategy, we know that unlimited budgets simply do not exist. How do you determine where to spend your brand dollars and what is simply fluff? That depends.
If you know your audience, know your brand, you probably have some sort of idea on what elements you'll need first. If you are sending out a lot of letters, maybe start with some letterhead. If you run a food delivery service, let's say you better have some branding on your vehicles. It's all about what works best for your brand.
Let's go through some examples:
82. Invest In Some Signature Signage.
Signage is so important to any brand with a storefront. You want to establish your company right from the start. We like this simple, elegant example from Indigo and Cotton.
84. Use Illustrations to Emphasize Your Brand.
Illustrations can really add the wow factor, or even, dare we say "hip" factor to a brand if done right. We love this example from Bone Daddy's, a BBQ joint with a lot of hip factor.
85. Use Packaging to Communicate and Delight.
We could devote this entire blog to packaging design; it's so vital in the overall branding strategy of your company. We like when brands just make us smile with their packaging like this bright pink donut canister from Big Poppa donuts. It's just a delight.
86. Create a Standard Branded Email Template.
Just because it's email doesn't mean it has to be boring. We love when companies go the extra mile with their branding, including emails. Why not get your creative team to come up with some fun ways to integrate your logo, tagline, and brand message into every email. We like this custom email look from Dry Bar:
87. Don't Forget About Your Branding When It Comes to Your Apps.
You've invested all this time and money in your company and decided to create an app for one of your main services. Great. Don't forget about the branding.
We've seen companies create apps that seem to be on an island completely alone when it comes to the rest of the company branding. You should always be thinking of your brand, even when you go high tech.
88. Go Big With Your Branding On a Billboard.
What will your brand look like when it's on a billboard? While many small- to mid-sized companies may not see their services being expanded or used in this way, we say that now is the time to think big. We like this example from Webroot that embraces their branding (and has a little fun) in this attention-grabbing billboard.
89. Take Your Brand Everywhere!
Why brand your company vehicles? So everyone can see them of course! Spread that company cheer everywhere you go. We love this company vehicle from Metro Sewer and Plumbing. Who knew plumbing could be so vibrant and cheerful?
90. Get Creative With Your Direct Mail Campaigns.
You may think that direct mail has gone the way of the Dodo, but it hasn't. Many smart brands, including Google, use direct mail. It's not the medium, it's the message that matters.
91. Showcase Your Brand Personality With Video.
If you haven't invested in some kind of video marketing yet, we think you should. With our ever growing attachment to our smartphones, we are watching more videos online than ever before.
How can brands take advantage of these trends?
Put videos out that showcase your unique brand personality. Hey, you might even go viral if you get someone like Cristiano Ronaldo to put on a pair of headphones and drink some tea.
92. Think About How Your Brand Will Look On a Mobile.
Think about how your logo will look when it shrinks on a smartphone screen. Creating a logo that will work on all sorts of devices is a must and there are several things you need to consider when thinking about your digital look on much smaller screen.
"While most brands understand the value of investing in mobile, they don't consider mobile's impact on logo design. Many designers still treat mobile as a mere delivery mechanism, rather than the primary customer experience it is today. Brands need to consider user experience across various screen sizes, how they'll appear in the app store, what they can do to increase discoverability, and how the experience lends itself to social sharing at the very beginning of the product and brand definition" – Karl Isaac Head of Brand Strategy and Innovation, Adobe
93. Use Facebook to Build Your Audience and Your Brand.
With 1.49 billion members worldwide, and 22 billion ad clicks per year, Facebook is still somewhere you can find your audience, not just connect with your friends. Facebook is also a great place to do some targeted advertising as well. Here are six easy tips to setting up a great Facebook ad:
Target your audience by selecting specific age range, location, and interests
Do your own A/B Facebook ad testing; try two different versions of the same ad and see which one gets more traction
Know what numbers matter! Clicks on a post are much more important than simple likes. If you are not getting enough clicks, try changing up your Facebook approach.
Don't forget to promote your page and ask for likes!
Keep flooding your Facebook page with content that expresses your brand. Don't just advertise. Share unique content about your business to your dedicated fan base.
Remember that Facebook will suggest other similar brands and pages to people who like your brand. Make sure you are fitting in the right groove by sharing content that fits in your brand niche!
These are the suggestions that Facebook gave me when I liked the Fitbit page:
94. Use Instagram to Build Your Brand. One Stunning Photo at a Time.
They say a picture is worth a thousand words and we believe it! Instagram is a place where you can build your brand, one carefully selected photo at a time. Think about the many brand attributes you can express in photos, such as this example from Kettle and Fire, who easily showcase the fact that you can store their bone broth in the cupboard.
95. Create Memorable Brand Experiences That People Will Talk About.
Brand experiences are any kind of experience people have with your brand. Whether it's how you greet your guests when they enter your hotel, the extras you give in customer service, or the ease at which someone can navigate your website. Experiences with your brand matter.
"When brands provide their audiences and customers with memorable experiences, their customers want to shout about it from the mountain top. They want to post their photos on Instagram, Facebook, and Twitter" – Pam Moore, CEO and Founder of Marketing Nutz
96. Be Bold. Be Creative. Create Products With Instant Buzz.
Sometimes your branding is so good it creates instant buzz, like this example:
97. Be Authentic at Every Brand Touchpoint Along the Way.
It doesn't matter how large your brand is today; without authenticity, you won't be able to build a brand that lasts. Too many brands out there think they have to hype everything, but that isn't true. Do what you do best. Be clear in your intentions and never use hyperbole to brag about your brand. Nobody likes that feeling that something just ain't right. Just do you. Your followers will be there.
The Ultimate List of Branding Tips and Ideas
That's it!
Our huge list of branding tips that we believe will seriously get you thinking about branding your company in an entirely new way, or just strengthening the brand your customers already love. Keep coming back.
We will be adding more branding tips and inspiration to this list! Or, if you want more now, check out the big branding checklist.
We would love to add your ideas as well! Maybe we'll add them to the list!