Even in today's digital world, print marketing is still as important as ever.
Don't fall into the habit of thinking every single person uses social media or is always scrolling through websites, as good old paper and ink is still going strong.
What makes print marketing so powerful is the fact that it's tangible.
These are marketing materials that your customers can actually touch and experience for themselves. There's nothing quite like feeling the texture of paper or sifting through the pages of a brand new brochure, slowly uncovering what lies on the next page.
That's why print marketing is still one of the most effective marketing tools, and it's not going to be sidestepped by TikTok and Instagram.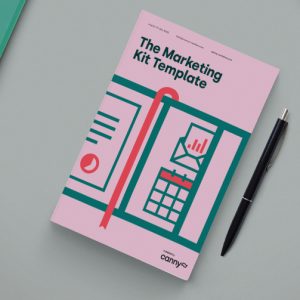 The Marketing Kit Template
A marketing kit is a very valuable set of resources which promotes your company to clients and customers. It gives th...
So next time you think about saying goodbye to print once and for all, take a minute to pause.
Can you guarantee that every single one of your audience will find you through a digital means? To make an impact with your brand you need to be wherever your audience is.
This means utilising a range of marketing platforms, including printed marketing materials.
In this post we're going to explain why print marketing still matters, and explore the print marketing materials that your business needs.
Print Marketing vs Digital Marketing: The perfect mix?
Print marketing vs digital marketing.
Both of these tactics rely on promoting your business through a variety of ways. As you probably guessed, print marketing refers to anything that you need to print out. This covers assets such as business cards, flyers, leaflets, menus, brochures, catalogues, books, bags, t-shirts, calendars, stationary, and much, much more.
Essentially it's anything you can physically touch.
On the other hand, digital marketing is anything that exists in the online space. When we talk about this we're referring to things such as your website, social media, e-newsletter, infographics, blog posts, paid advertising, and SEO.
When it comes to promoting your business and getting your message across, both tactics have their benefits.
It's about working out which tactic is best suited to your marketing campaign, and in many cases this involves a hybrid of the two. For example, if you work in recruitment and you're launching a new piece of software, you could create an explainer video about how the product works (digital marketing) and create an information leaflet to hand out at events (print marketing).
This means you're catering for whichever way your audience chooses to consume content. You're covering both bases which increases the likelihood of your audience reaching out to you.
Why Does Print Marketing Still Matter?
Printed marketing materials still matter despite the abundance of digital channels that are now available, as print marketing has substance.
It leaves a lasting impression on your audience as it gives them something to take away with them.
For instance, when an exhibition ends, your customer or client will still have your business card which they will see every time they look in their wallet or purse. This acts as a constant reminder of your brand and helps to build up brand recognition.
The more they are exposed to your brand, the more likely they are to get in touch.
Let's take a look at some of the other reasons why we're still championing print marketing.
It's Portable
One of the best things about print marketing is that your customers can take the materials with them wherever they go.
Using the example of a business card above, when the exhibition ends your customer still has something sitting in their pocket. This means they'll build up a sense of familiarity with your brand which brings them closer to converting from a prospect, into a customer.
Another advantage of print marketing materials is that they don't require being charged up or connected to wifi. Wherever your audience are sitting or travelling to, they can easily look through your brochure or read your latest catalogue.
This is a huge advantage as we've all been somewhere where the WiFi is crap!
Unfortunately it's not a given that you will always be able to connect to the internet, which makes print marketing even more valuable.
It Instills trust
Due to the fact your customers can actually feel your marketing materials, this helps build up a sense of trust.
By choosing the right type of paper, presenting information clearly, and having a consistent brand identity, you can control the type of message you want to convey. For example, by investing in quality print design you can show customers that you're a professional business which takes things seriously.
You have clearly put thought, effort, and money into making your brand high quality and as such, this gives them trust that they should invest in you. You're proving that you're credible, which is highly important when you're trying to convert prospects into customers.
At the other end of the spectrum, if your print design is poor then this wouldn't encourage your audience to trust you. They need to be confident that you're the right guys for the job before they part with any of their hard earned cash.
Regardless of what product or service you provide, investing in quality print marketing materials is essential for success.
It Expands Your Reach
We've slightly touched on this in the intro, but you can't just assume that everyone loves tech.
In fact some people actually hate having to do everything online and love the idea of still being able to hold something in their hands.
I hold my hands up, I'm one of these people.
Whilst I read a whole load of articles online and get my news updates from Twitter, when it comes to reading, you just can't beat a proper book.
I've tried and tried, but I just can't get on board with a Kindle and still find myself at Waterstones when I'm looking for something new to read! The experience of nestling up with a cuppa and getting stuck into a new novel just isn't quite the same when it's on a digital screen.
Of course for any business, it's vital you utilise both a range of digital and print marketing channels. However, by integrating print materials into your marketing outreach and marketing mix you can be sure to expand your reach and capture as many people as possible.
It's Tangible
The fact print marketing is tangible is what makes it so effective.
We remember things through our senses as these memories stay with us for a long time. For instance, how many times have you thought back to the best pasta dish that you've ever had and you can almost taste it in your mouth?
Or when you open a tube of sunscreen and immediately associate it with that 'holiday smell'?
Our senses are very powerful and brands need to use this to their advantage when designing print materials. The way something feels is particularly effective and leaves a long lasting impression.
You can tell immediately when something has been designed on a budget as it will look and feel cheap.
Therefore, use this opportunity to give your audience something they want to use and interact with by using premium print design.
It's Engaging
When people read content online, they need to scan the information for key points.
They read very quickly, and don't retain all of the content that you've spent so long creating. This might be because it's on a digital screen and it's much easier to press back and look elsewhere.
However, when people are reading print, they tend to read content much slower and more deeply. They really pay attention to the words on the page, and that all too tempting 'back' button isn't an option.
The intent is also much stronger, as if people have gone to the effort of picking up your brochure or leaflet in the first place, then they're already engaged. It's not like digital marketing where their viewing time can be interrupted by a pop up advert.
When it comes to print, they have full control over what they read so if they've chosen to engage with your marketing materials then you're doing something right!
What Print Marketing Materials Do I Need?
When it comes to deciding what print marketing materials your business needs, it all boils down to where they are being used, and for what purpose.
There'll be some occasions when you'll need a mix of print marketing materials such as exhibitions. In this case you might decide to take roller banners, leaflets, catalogues, brochures, merchandise, and stationary.
It all depends on what is required for you to get your message across.
Maybe your business already has some of these assets, or maybe there's some you've not yet considered.
Either way it's good to know your different options, so let's dive into the different types of printed marketing materials.
Brochures
Brochures are foldable paper documents that promote a company's products or services.
They're such an effective form of print marketing as they can easily be folded to fit in someone's bag or pocket. If you're handing these out an event, then this is a huge advantage as customers aren't having to carry around a heavy book.
You can also get really effective with brochure design to make them eye-catching.
By featuring a range of infographics, icons, colours, and borders, you can make them visually appealing to attract your target audience.
There is also a lot of space on a brochure which allows you to go into detail about different products. Therefore they are a great way to educate your audience about your offering in a simple and appealing format.
Catalogues
Catalogues are a great marketing tool as there's so much you can fit in them.
You can showcase your entire product range and give customers a real insight into what your company provides and the services on offer.
Catalogues also instill a sense of trust as they're more expensive to create than brochures or flyers which are only consistent of a single page.
You can display catalogues in high traffic areas such as stores to encourage customers to read through and browse. The great thing about this is that whilst customers might have an idea of what they want, they will inevitably come across more of your products which encourages them to buy.
Similar to brochures, there is so much you can do in terms of print design.
Don't fall into the trap of thinking it has to be designed like the yellow pages.
Even looking at all of that cluttered text is giving me a headache.
Fortunately, there is so much you can do with print design to make it look interesting, creative, and visually interesting. It doesn't need to just be a big bulky book jam packed with information.
For example, you can get printed catalogues with scented pages, luxury paper, and even those that change colour when exposed to different lights.
Who knew?!
The point I'm trying to make is that printed catalogues are still an effective marketing tool. All you need to do is be creative and think about how you can encourage shoppers to read through your content.
Leaflets
Leaflets are very versatile pieces of marketing collateral and come in a range of sizes and styles.
This gives you total flexibility when designing your content as you can play around with different fonts, paragraph styles, images, and icons to find something that communicates your branding best.
Leaflets are also very lightweight which means they are easily portable. Similar to brochures, you can hand these out to clients or customers at networking events or exhibitions and they can easily keep it in their briefcase.
You can also post leaflets through a letter box to target even more people. This means you're actually getting your branding into peoples homes which is very effective when you're trying to reach a wider audience.
You can also be very strategic with your marketing and only give leaflets to your ideal target audience. For example, if you owned a loft conversion business and were handing out leaflets in an estate, you wouldn't give leaflets to the properties that already had a loft conversion.
This is a wasted opportunity as they don't require your services.
Business cards
Business cards are important for any company as they have the potential to really build your brand recognition.
These small cards can be handed out to a customer or client after a meeting. Perhaps you've been chatting to someone at a networking event and ran out of time. You can easily hand them your business card which contains all of your contact details and continue the conversation at a later date.
Because these cards are small, they conveniently fit into a purse or wallet.
This means every time someone looks in their handbag or briefcase, they'll be reminded of your business.
Over time, this can lead to increased brand recognition meaning people are more likely to get in touch with you and kickstart the partnership.
When it comes to designing your business card, there are some things you need to get right.
Check out our video below for the top tips and tricks on business card design.


Promotional Merchandise
People love a freebie which is why promotional merchandise is always a great way to attract people to your brand.
This helps create a positive buzz around your business as people can get their hands on a whole host of free stuff including fridge magnets, pens, notepads, bags, mugs, key chains, t- shirts and much more!
What you choose to give away is entirely up to you.
However, I would advise offering promotional merchandise that makes sense to your brand.
For example, if you work in the manufacturing industry making LED lighting, can you create a pen that is also a torch? Not only is this something people can actually use (and most importantly is free!) but it's also relevant to your brand.
You're covering both bases as you're drawing even more attention to your product range.
Letterhead paper
Letterheads are an indirectly effective marketing tool and can help to represent your brand.
Unlike the marketing collateral that we've mentioned above, letterhead paper is more concerned with making your brand look high quality and professional. This is essential in any sector, but especially when it comes to B2B.
For a letterhead to have the desired effect it must be designed the right way, as otherwise people might assume the business is less competent and they might not want to associate with them. It all goes back to my point about instilling a sense of trust as you want people to see you as the real deal.
Letterhead paper might be sent to clients across the world and as such you need to be sending out the right message. It should align with your core values and give your reader an insight into the type of company you are.
By getting the design right, you can promote your business to a wide net of people. Every person who opens a letter will see your branding at the very top and this is the first thing that will stick in their mind.
Make sure you have crafted this carefully to reinforce your professional brand image.
Invitations
Personalised invitations are a great way to make your audience feel special.
By adding something as simple as their name to the invite, you're reaching out to them on a personal level and making them feel valued. This is a much more effective way to engage customers and clients instead of writing something generic.
Customers aren't stupid and it will be obvious that other people have received the exact same message!
Invitations can be used to invite customers or clients to a range of events including office opening parties, conferences, or brand birthdays.
The look and feel of your invitation is very important as this can either encourage or discourage people to attend your event. Always consider the quality of the paper you choose, the lettering, and the layout of design elements as they dramatically impact the overall finish.
Like any other type of print marketing materials, invites are a direct reflection of your brand so making sure they're premium will pay off in the long run.
Posters
Posters are a great way to promote your brand as they can be strategically placed in target locations.
This allows them to be seen by as many people as possible thereby increasing your brand exposure. Despite only being a single page, posters have the potential to really entice people into your offering.
They are a great choice for product launches and events as you can include a large feature image as the main focus, alongside the necessary details such as product specs or the venue address. The most important design aspect is to make sure the information you include is clear and succinct to avoid overwhelming the audience.
You want people to stop to read your poster which is achieved by understanding how to create effect print design. Posters usually include a few lines of text so that it makes it easy for readers to recall and retain information.
The great thing about this marketing material is that you can place right in your audiences eyeline and where they cast their eyes the most, such as putting it up outside your store window, or on your office door. They're easy to attach and capture people's attention as they walk through.
Calendars
Sending branded calendars to your customers or clients serves two different purposes.
Firstly you're increasing your brand exposure by making sure you clearly display your logo and messaging.
Secondly, you're giving your customers something practical that they can actually use.
Winning combo!
Whether you opt for a single page calendar or a multi-page calendar, this piece of marketing collateral is a fantastic way of reaching even more customers. It's also something that they will put on the front of their desk which means they're looking at it every day!
This acts as a constant reminder and helps to reinforce your brand messaging, as the more they see your brand, the more likely they are to pick up the phone and reach out.
Calendars also work great as giveaways at exhibitions and events as they are small enough for people to pop in their bag. However, next time they go to pencil something in the diary or plan a meeting, it will be your branded calendar that they use!
Signage
You can have signage in any locations you see fit.
For example, you might have a branded plaque outside of your office (similar to ours above) so that people can see it before they come in.
The effectiveness of signage can often be overlooked yet this is one of the first things people will see before engaging with your brand. As a result, you want to differentiate yourself from competitors and give customers and clients a reason to remember you.
Signage is the way to ensure this happens as people see your logo or brand name from the moment they step through the door. If you've got a plain white office for instance with very little indication of your branding, then you're not going to stick in your customer's mind.
There are also so many options when it comes to placing your signage to give you full control. For example, you could also place signage alongside a motorway, shop window, in front of a reception desk, in the carpark, and on the floor. Basically, your brand needs to be in the eye line of your consumer so that they are encouraged to find out more.
At Canny, we understand the importance of quality signage and the impact it can make on your customers.
When working with our client YardLink, we designed a range of printed assets including this digital billboard below. It's bold, eye catching, and get's the key messaging across in 3 simple words.
Check out the full case study here.
Why Print Marketing Isn't Dead and the Ultimate List of Print Marketing Materials
Print marketing isn't dead.
It's as simple as that.
Despite the variety of social media channels and digital marketing platforms that are now at our disposal, you can't compete with the effectiveness of a physical product.
Customers still love being able to touch and interact with print marketing materials, from feeling the thickness of the paper, through to reading the words from a page. There's something much more personal about print marketing, and when customers feel valued, they're much more likely to make a purchase.
It's about creating that connection and making customers feel special.
So there you have it, your ultimate list of print marketing materials. But now you need to get cracking with creating them!
Thankfully here at Canny, we can do all of that for you. Whether you need brochures, catalogues, business cards, flyers, or a bit of a mix, our team of designers are on hand to help.
As we've discussed, the quality of your print marketing is something that you just can't compromise. So why not leave it up to the experts? Simply get in touch with our team and tell us your project requirements!