It's been over 10 years since 7UP last touched up and refreshed its brand identity, with a rebrand that didn't exactly resonate with global audiences.
However, the beginning of 2023 has seen the release of the new packaging design and brand identity created internally by PepsiCo for the popular lemon-lime soft drink.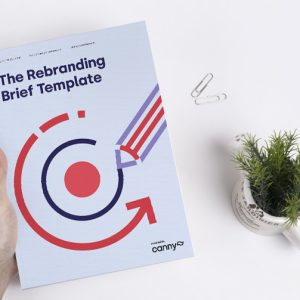 The Rebranding Brief Template
The Rebranding Brief Template is a free template that will help you get the brief for your rebranding project right. ...
Although some of the bottles look slightly more like Mountain Dew at first glance, we can't help but admit these new designs are bold, punchy, and make you feel good!
The new bottles, cans, and billboard advert designs will be activated across all touchpoints this month, so don't worry you can get your hands on one soon (even if the drink inside hasn't changed a drop!)
But before that, let's get into the specifics of what exactly has been tweaked for the packaging of the soft drink giant.

Credit to Underconsideration
Brand New Packaging Design
The nice thing about the new packaging design is that PepsiCo has decided to use all of the space they have on offer and enlarged the 7 so it curves around each can and bottle.
The iconic 7 now has an extended hard drop shadow with a '20th Century Fox' look to it, and it feels like the number now firmly belongs on the packaging design.
Not only this but the 'UP' is more prominent as it is encased in a small round red label that provides an excellent distinction between 7UP, and its long term rival, Sprite.
Both lemon and lime packaging designs are based around green and white tones, therefore this red circle may look simple but it does a great job at differentiating the 7UP brand from competitors.
Speaking of green tones, the shift in the colour palette, albeit slight, is a really nice touch as each green used is a lot fresher and zestier (pairing perfectly with the product inside!)
Even the lemon and lime wedges have been updated to create a look that mimics the growing trend of brands flattening and simplifying their graphics.
However, this choice doesn't sacrifice the depth of the packaging design and instead shows both attention to detail and proves PepsiCo have considered every aspect of the design in this rebrand!

Credit to Underconsideration
Brand Mission and Messaging
This new design came with a new style of brand messaging, as the company are now aiming to spread moments of "UPliftment" to their global audience.
7UP has shifted focus to offering slight relief to consumers in moments of sadness, or during the more mundane day-to-day occurrences or tasks.
Due to the international positioning of both PepsiCo and 7UP this is a brand mission that resonates with the majority of their audience, promoting positive energy and adapting their brand personality to suit all consumers.
It was only right that the brand came out with more solid brand messaging to match the new can designs, in order to remain consistent across their identity.
Although "new get up, same 7UP" and "UPliftment" aren't the most sophisticated or complex taglines, they don't need to be!
I think the new straightforward messaging works well for 7UP, as they are already an established brand and switching the focus to spread positivity among their loyal audience really helps their brand values to shine through.
With PepsiCo being one of the largest CPG companies in the world, it's crucial to send out a message that will be received positively and consistently across all audiences.
So what better message to send than one of UPliftment and positivity to their global customer base!

Credit to Underconsideration
Advertisements
Moving onto the 7UP advertisements now, and the company have gone with a stripped-back look for billboards and brand photography.
Featured are images of people smiling, wearing branded clothing, and drinking 7UP alongside product photography, and the tagline we now know all too well: "new get up, same 7UP".
The advertisements for the new identity remind consumers that PepsiCo may have tweaked the packaging and messaging, but the product inside is the same. 7UP still has the same great taste but the packaging has had a much needed refresh.
The introduction video is upbeat and punchy much like the new packaging, and includes 7UP cans moving at different speeds across the screen, and close ups shots of the new bottle and can designs to really showcase the sleek new 7UP look without overcomplicating things.
Additionally, there are a variety of geometric shapes that move in a sort of organised chaos across the screen and the brand have ensured the red 7UP circle sticker can be seen as part of the can design, and as a stand-alone branding element.
Finally, the introductory video runs through how the branding looks on mobile and tablet devices as well as across billboard and poster advertisements to really tie the brand in with each touchpoint.
UPlifting Audiences: The 7UP Rebrand Explored
There we have it, our take on 7UP's latest rebrand, and although we may say this a lot, we really like what PepsiCo has done here!
Not only is the brand now more vibrant and bold, but its far more targeted to the current 7UP and PepsiCo audience, and appeals to consumers across the globe.
The shift in emphasis on positivity and "UPliftment" is another reason to love the brand and what they stand for, as they aren't trying to completely change their core brand values but instead freshen them up slightly.
Every element from the packaging design, to the introductory video that brings everything together, has been executed in a way that allows the 7UP brand to hold onto its identity as a kingpin in the soft drink world.
Yet this doesn't take away from the changes that have been made to update the brand and ensure that while the identity is memorable, it's vibrant and refreshing instead of tired and in need of an update.
Now it's over to you as we would love to know what you think of this rebrand! We anticipate there will be a lot of mixed reviews with 7UP being such a popular CPG brand, so be sure to get in touch via the social links below and let us know your thoughts!