What is branding?
Because branding is such a misused and misunderstood term, this has become a common question that we answer at Canny.
Alongside "how much is logo design?" and "how much is a website?" – I'd actually say it's one of our most frequently asked questions, in some form or other at least.
For example, people ask us:
What is branding?
What does branding mean?
How do you define branding?
Branding – that's just your identity isn't it?
Does my business need branding?
There's a whole range of ways people ask about branding. And it all stems from not understanding what branding is.
We often receive emails and enquiries that say things like "I need a logo, a business card, and a letterhead designed. Guess you could say I need branding!"
Those elements form your brand identity, which is indeed part of your branding. But it's much deeper than that. It is your voice, your values, your mission statement.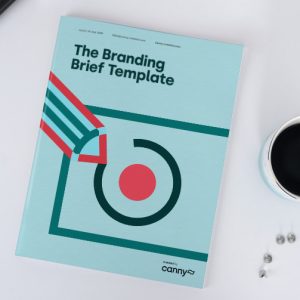 The Branding Brief Template
The Branding Brief Template is a free template that will help you get the brief for your branding project right. W...
It's strategy.
It's how you communicate all of this to your customers.
And that's why we thought writing this post is important.
BusinessDictionary.com explains branding as:
"The process involved in creating a unique name and image for a product in the consumers' mind, mainly through advertising campaigns with a consistent theme. Branding aims to establish a significant and differentiated presence in the market that attracts and retains loyal customers."
To me, that branding definition seems a little fluffy. It doesn't clear a whole lot up, so I'm going to dig into it further.
But first, if you'd rather, we've covered "What is Branding?" in our video series, Building Better Brands. Check it out below.
For a better definition, I much prefer this quote from Amazon's CEO, Jeff Bezos:
"Your brand is what people say about you when you're not in the room."
For me, that sums branding up perfectly.
Branding is almost intangible.
You just know it. You can feel it.
Throughout this blog, we're going to look at:
What is Branding?
Why Do Brands Hire Agencies?
An Example of Perfect Branding
How Important is Branding?
What to do if you can't afford professional branding
Let's dive into the wonderful world of branding, and take a look.
What is Branding?
Branding is not just a logo design. You can't just design a logo and say "that's our branding." It's factually incorrect.
In fact, even if you combine your logo design, business card, letterhead, and other business stationery design, you still haven't touched on your company branding.
Your logo design is part of your brand identity – which is a different thing altogether. Your brand identity is the visual representation of your company's branding.
And that's only one tiny part of the puzzle! We'll talk more about branding design and brand identity later in the post.
Branding is how people view and perceive your company. It's also how you as the owner, and your workforce view and perceive the company. It's your what, your how, and your why.
It's not the design of your logo, business cards, or website. Again, that's your brand identity.
It's about how an audience connects with your company on multiple levels, and through different brand touch points.
A brand can be described as a company, service, product, or person, that has a voice and personality of their own.
A designer can't "make" a brand. Or design a brand. Designers design a brand identity that reflects a brand.
The branding itself has to come from the company. From their brand strategy. As the old saying goes, "know thyself".
Before a company starts thinking about logos, colours or any other design element, they need to ask themselves some searching questions:
What are some of their core values?
What do they stand for?
What makes their product unique?
What is their unique selling point?
Who are their target customers?
Questions like this form the fundamentals of your brand strategy and should be established within the company as early as possible.
While core values and what a brand stands for can only come from the company themselves, finding their USP and where to position themselves requires in-depth market research and competitive analysis.
As well as knowing yourself, you also need to know who your competitors are. Take a look at what they're doing, where they're positioned in the market and, most importantly, look for gaps that your product or service can fill.
There are a number of tools for market research and competitive analysis you can use to scope out your competitors. Neil Patel has a great article on the best analytics tools to use, depending on your needs.
Another factor you need to consider as part of your brand strategy is knowing your target customers. There are two great methods I would recommend you use to paint as full a picture as possible of who they are and what they want and need.
First up, build yourself some customer profiles. Think about your product or service and who you think will benefit from them.
Consider factors such as age and gender demographics, where they live, what their hobbies are, their average income and spending habits. Also consider potential barriers to purchases and pain points they might have.
Naturally, don't rely on guesswork or assumptions when creating your customer profiles.
Talk to your sales teams, if you're already up and running. Use data from your market research, social media analysis, or create surveys. Take as much guesswork out as possible.
The second thing I would recommend when considering your brand strategy and target audience is to create a customer journey map.
Put simply, this is your roadmap of how your target customer will interact with your brand from beginning to end. This is where you should be identifying all possible touchpoints and potential barriers to communication and conversion.
A designer or design agency that offers branding services builds the foundation of a brand, or is brought in to enhance the brand's visual and corporate identity.
A lot of people, including some designers, think that branding a company simply involves designing a handful of visual elements, such as:
Logo design
Stationery design
Colour palette
Typography
The sort of things you'd see when looking at or creating a brand guideline.
In reality, branding is a lot more involved than that.
A design or branding agency knits together brand strategy and brand identity. We don't just produce a variety of pretty designs and call it a branding project.
We look into the business, it's strategy, long term goals, audience, competitors, and more before we start out branding work.
We follow a branding brief that delivers results.
Professional agencies take concepts and ideas from a company's brand strategy. They then bring them to life in the most appropriate format, sometimes suggesting improvements or refining the original strategy along the way.
A professional design or branding agency creates visual elements that make up the corporate or brand identity of a company, showing what it stands for and highlighting their beliefs.
It's not just purely a logo design and some colours put together and made to look pretty.
There are some great articles and books available about branding. I'd highly recommend reading Jacob Cass's article Branding, Identity and Logo Design Explained; in which Jacob does a great job of explaining the difference between the three practices.
If you're looking for new reading material, check out our list of the best marketing books available today.
The following video is also a great overview of the definition of branding and what branding is all about.
Why do Brands Hire Agencies?
Brands hire agencies that provide branding services to establish or enhance their visual identity and/or brand strategy.
Building a great relationship with a branding agency can help grow your business and brand!
If a company is completely rebranding, the brand handbook can often go out of the window.
However, if you're working with an established company, design agencies are often expected to work within a set of guidelines.
These tend to be based around the company's brand strategy or existing brand identity.
Good brand identity guidelines describe how a brand's identity should or shouldn't be used across a variety of mediums. Often referred to as 'brand bibles', they are probably the most important documents you will have in regards to your branding.
Your brand guidelines won't just cover the stylistic elements and how and where they should be used. It should also include such factors as your brand values and mission statement. After all, your brand guidelines are something that you will refer back to time and again, especially when building future marketing campaigns.
Logos are normally shown sitting on appropriate backgrounds, in appropriate colours. Colour palettes are explained in detail, typographical hierarchy is also outlined.
There are a lot of easily accessible brand guidelines. Google is your friend if you really want to dig into lots of different brand guidelines, but the Skype brand guidelines are a particularly great standalone example.
Brand guidelines ensure that the identity of a company is preserved and kept coherent no matter which visual device it's applied to. Depending on the company the brand identity can be made up of multiple devices.
A company such as Nike could commission an agency to create the following elements within their brand identity guidelines;
A logo design (the main symbol behind the entire identity and brand)
Stationery design (letterheads, business cards, compliment slips etc)
Marketing Collateral (Flyers, brochures, books, websites, etc)
Products & Packaging (Products sold and the packaging in which they come in)
Apparel Design (Tangible clothing items that are worn by employees or sold as part of the brand's strategy)
Retail Design (interior and exterior signage as well as interior design of outlet stores)
Email Design (email template design for newsletters, in-house memos etc)
TV Advertising (visual style and elements of TV productions and advertising)
Other Communication
The items listed above and many more make up your brand identity. But not your brand strategy.
Your logo design is the embodiment of the brand wrapped up into one easily identifiable mark, but always remember, a logo design alone is not a brand. It only represents a brand.
We've already written a fair bit of other stuff about logo design. Put simply, a logo design identifies a brand or product in its simplest form.
If you're looking for an agency to help with your branding project, make sure to read our post on creating a great branding brief before you reach out.
An Example of Perfect Branding
The easiest way to answer the question "What is Branding?" is to give an example of perfect branding.
There are plenty of great examples of branding to choose from. But let's look at Apple. They've nailed everything to do with their branding.
Everything Apple does forms part of their brand, and they do a lot of different things.
As you're probably aware, Apple is one of the world's biggest technology companies that designs, develops and sells consumer electronics, ranging from laptops to phones to televisions. Apple was formed by Steve Jobs and Steve Wozniak in April 1976.
They are now one of the most famous corporations in the world.
Everything Apple do is calculated and adds value to their brand communication and identity.
The way they name their products, typeset the names (iPhone, iPod, iMac), through to the clean, functional style of their website all adds to the Apple brand.
The Apple brand in simple terms is "brilliant design that works."
The way Apple deliver their keynote speeches and the accompanying videos on their website shortly before a product launch, are all crystal clear in communication with an air of wonder and excitement built around them.
If somebody blindfolded you and drove you to a mystery location and when you opened your eyes and you saw bright white displays, perfectly shaped computers and gadgetry and shiny work surfaces, you would know that you were in an Apple store.
Apple's customers go to them for several reasons, they want the best in modern technology, they want it to look fantastic, and function perfectly.
Even their product boxes open and smell a certain way!
Apple have perfected branding. They've taken it and expanded it into absolutely everything they do, building their whole company around it.
And that's absolutely the correct way to handle your branding. It should be ever present. And you should build on top of it.
People have a certain level of expectation from Apple because of their branding, and part of their brand strategy is to over deliver on expectations, each and every time.
How Important is Branding?
If you look at some of the biggest brands in the world, you'll notice that their branding is well thought out and considered.
Just look at:
Amazon
Google
McDonalds
Facebook
Walmart
It's no coincidence that they're the successful ones. Their business is alive with their branding.
Everything is on point with them. From their brand imagery to how they navigate social media and interact with their customers.
Branding is an important feature of any business and all businesses should consider it as a vital part of their marketing strategy.
In the design industry a lot of people tell clients that they should "look at design as an investment, not an expenditure" and that's exactly right.
When starting up, a lot of people will think "I'm not spending a huge amount on branding my company, it's not worth it. I can do it myself for nothing."
And that is what costs a lot of start-up businesses money.
Ask yourself this:
"Would I fix my own plumbing?" or would you hire a professional to do it for you?
Branding is a professional service, and should be treated as such.
Your brand strategy and brand identity are vital to your company's success. Why chance it yourself, when you could hire a professional to execute it properly?
What tends to happen is that the companies that have branded professionally from an early stage in their life, go on to realise that their initial investment into their brand has paid dividends in the long run.
We have an article about the cost of branding, just in case you're not sure if it can work with your budget.
Here's something else to ask yourself:
If you had a choice of two companies to use, and one had clearly used a professional to develop their brand identity, and the other had used Microsoft Paint to design their brand identity, who would you use?
At the end of the day you don't want your brand to end up on "Logo Designs Gone Wrong" like the Instituto de Estudos Orientais logo:
One of my favourite things to do on my lunch break is scroll through one of Twitter's networking hours such as #NorthEastHour and look at user avatars and company websites.
In about 5-10 seconds it's apparent which companies have used a professional design agency to develop their brand identity, and which have relied on Paint and their "design knowledge" to deliver results.
In an instant, I make a decision about whether I would buy something from the said company.
If their branding looks professional, and their site works, I decide yes.
If the work looks like it's done by an amateur on a design trip, and their website doesn't function properly, then I decide against it.
First impressions matter, especially where spending money is concerned.
Do you really want to take that chance?
The above is just one example of people making a snap decision based on the way a company brands and presents itself.
There are many instances in which people will make a decision on whether or not to use your brand for their particular need.
People choose this based on a number of factors, but branding your business yourself will certainly hurt your chances of success.
Brand Presence
There are many reasons why it's important to manage the presence of your brand but ultimately the better you maintain how you communicate with potential customers or client, the better you're going to do.
When people are making a purchasing decision but don't have enough information to make an informed choice they will go with their gut feeling.
This could in fact be completely the wrong choice for them, but if your brand doesn't communicate everything it needs to in the right way then you're leaving them with no other choice.
They're then forced into making snap decisions on information that can only be taken at face value.
Your brand needs to be visible, in a way that your customers need them to be.
Your brand also needs to be clearly defined, so your customers know exactly what they're buying in to, and what your brand vision is.
Think about it:
There's no point putting all of your information into a mobile app or poorly designed desktop application if the majority of your audience is over 65. If people find it difficult to navigate your website (no matter how pretty it is) then people are going to lose interest.
By establishing a brand and understanding the people who spend money with you you can connect with them in a way that they prefer – making their lives easier.
People will usually always follow the path of least resistance. So, if your business is the easiest one to deal with then you're going to see much more demand for whatever it is that you do.
Brand Consistency
Brand consistency is about effective communication that speaks to people in one language and helps them to understand why they should choose you over everyone else.
We like to imagine a brand as a person, and thinking about it this way makes it a lot easier to understand.
People are consistent, we are, for the most part, creatures of habit.
The way we speak, the behaviours we show and the choices we make all follow patterns and don't tend to change very often. That's what we're used to, and it works well because you know what you can expect from someone before they've had a chance to do anything.
Brands should communicate with their customers or clients in the same way that two people would.
If one of your friend sound like Del Boy and then all of a sudden starts speaking like Benedict Cumberbatch – you're going to be at least a little concerned, and it's going to confuse you.
When it comes to a brand, the confusion, or concern, caused by that inconsistency equates to you losing both customers (loyal and new) and money.
Brand inconsistencies could be any of the following:
Using different styles of language or tone
Promoting your brand in multiple and conflicting locations
Charging too much or too little for the customers/clients it attracts
Not sticking to policies
Using different visual styles
There's a lot to consider, but by working with a professional branding and design agency you can rest easy knowing that you have a team of dedicated professionals looking over all of these elements with a fine tooth comb.
They will consider the use of language, and how to convert that to an appropriate visual style. They can advise you on how best to promote your brand and provide guidance on how your business should be communicating with customers or clients in the form of a branding and style guides
Without taking the time and effort to establish a strong brand, you run the risk of not looking serious or established enough to warrant people spending the amounts you charge.
Companies that simply don't have a brand or who try to pull off a DIY job are the biggest offenders here.
Branding and design is an investment and you shouldn't be trying to do it all yourself, if you do attempt to design your own brand identity or logo you're likely to end up costing your business money in the long run.
The cost of branding can be scary, but working with a professional branding agency is a real investment into your business.
But, I Can't Afford It!
Can you afford not to have professional branding?
Sure, if you hire an agency that provides branding services, things can get very expensive very quickly. Think about all of the complete list of branding services you could end up paying for.
However, it's all about your return on investment.
If you invest £10,000 but make £100,000 as a result of branding or rebranding, then the initial expenditure has been worth it.
Surely you would agree?
There are however some simple and low cost ways of making a difference to your brand strategy.
Here are five questions to get you thinking about improving your brand strategy and identity.
And if this isn't enough, check out The Big Branding Questionnaire to help you dive deeper into your brand and identity.
1. What Does Your Brand Stand For?
Ask yourself what your brand is all about.
What does your brand believe in?
What is your brand purpose?
What do you want people to think about your brand when they hear your brand name?
What do you do better than your competitors?
The supermarket brand Aldi is all about being a low cost supermarket. Whereas Marks and Spencers' branding positions them as a supermarket for high end luxury food products, and their food packaging design reflects that.
"Make a list of the differences and the extremes and start with that. A brand that stands for what all brands stand for stands for nothing much."
– Seth Godin
2. What Branded Collateral Already Exists?
Get all of your branded material out, and start to conduct your own brand audit.
Spread your branded collateral around your kitchen table, desk, or floor, and take a good look at it.
Do you have a logo that builds on your brand strategy and messaging?
Is your brand identity consistent across all of your printed material?
Is your contact information up to date on all of your collateral?
Are you using the same colours and typefaces across all of your media?
By exploring your brand identity and relating it back to your brand strategy, you can make snap decisions about your brand.
Maybe you've missed the mark, or maybe you're dead on!
Either way, it pays to audit your brand now and again.
3. Are You Using Social Media Correctly?
There are a lot of social media options available to businesses right now. At Canny Creative, we use Facebook, Instagram, and Twitter.
Is your brand represented on social networking sites?
Does the visual identity of your brand flow into your web presence too?
It's best to keep your social media sites similar in style to your printed collateral and your website design.
Don't forget to keep an eye on your social media stats as well. Just about every social media platform will have tools in place for you to see how you're performing online. You can break this down by page likes/follows/etc, how each post performs, how many click-throughs you're getting or your bounce and unsubscribe rate.
You can use that data to better understand your customers and to course-correct where necessary.
You also need to think about the language you use, what you talk about and what you share on social media.
Should you really be talking to your friends about the latest football results using your business Twitter profile?
Probably not. We'd advise saving that for your personal Twitter account.
4. Is Your Website Getting Results?
If your website doesn't look similar to the rest of your branded materials, then it's time to bring it in line.
You want to make sure your brand identity is featured prominently on your website, this will aid in raising brand awareness.
Think about the way you present your service or product online. Ask your best customers for feedback! Perhaps offer a discount code in exchange for their feedback.
Ask them:
How do you perceive our brand based on our website?
What would you change about our website?
Do you understand our branding and messaging?
Is it easy enough to make a purchase?
Can you contact us easily?
If the answers don't sit right with you, it's probably time to make a few adjustments.
There are lots of questions you can ask your users, but even fixing the most basic of problems will help you along your way.
Remember those market research tools we talked about earlier?
They can also come in handy for analysing your own website performance results. The hard data that you can gather from your analytics tools, when combined with customer feedback, will be able to tell you a lot more about how your website is performing.
5. What Can You Do To Change It?
If you're unsure about any of the things we've talked about above, then I'd advise getting in touch with a professional branding agency to see how they can help you.
A lot of agencies will offer a design consultation before starting work on a project.
If you'd rather go at it alone then remember:
Take care of your brand strategy first – don't dive headfirst into designing things
Simple is better – don't try and over complicate your identity!
More colours = more cost (when it comes to printing)
Don't spend all of your time looking at your logo, there's more to it than that
Make sure it's flexible enough to be used in multiple places.
Remember, branding is a professional service. You shouldn't really attempt it on your own.
If you're unsure on how to proceed, then pick up the phone or drop us an email!
What is Branding?
Branding is the life and soul of your company. Your what, how, and why. It's what you do, how you do it, and why you do it.
It's what your brand believes in and how you represent that.
Combine these elements together with your brand identity design, and that's branding.
I think one of the best definitions of brand I've seen is from the Tronvig Group;
"Branding is What sticks in your mind associated with a product, service, or organization — whether or not, at that particular moment, you bought or did not buy."
Combine that with Jeff Bezos' quote from earlier, and that's branding summed up perfectly.
It's the way your brand sticks in people's minds, and, in that instance, convinces them to buy or not to buy what you're selling.
However, branding isn't always about convincing people to buy, it all comes back to your brand's strategy and goals.
Sometimes it's about creating brand loyalty, raising money for charity, convincing them to use your service, read your books, hire you for a job, and so on. Branding can be used for many different things.
Many people work on building personal branding too.
Look at Gary Vaynerchuk – one of the world's first celebrity entrepreneurs.
He made his money through entrepreneurship, and entrepreneurship alone. Rather than making it through sports or media and then transitioning into a business leader.
To summarise; branding is not logo design. It's not just about the visual elements of your brand.
It's all about invoking an emotional response from your customers or clients. Making them think what you want them to think as soon as they hear your brand name.
Branding is how you and your company are perceived, and it's important every business owner understands this.
What does branding mean to you? Share your thoughts, success stories, and even failures in the comments below. We'd love to hear from you.