Handling the marketing, branding, and website design for your company can be quite the task, so it might be worth considering partnering up with a UK creative agency.
Whether you need support with your marketing strategy, or need an entire new website design, it can be useful to hire an external source to take some of the pressure off.
Offshore outsourcing involves hiring an external company or agency to support you and your team with specific tasks, giving you more time to focus on your other responsibilities.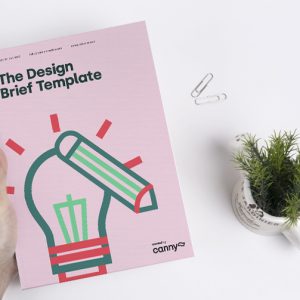 The Design Brief Template
The Design Brief Template is a free template that will help you get the foundation for your design project right. ...
Particularly for projects including more creative tasks such as creating branding for a company, or working on your bespoke email funnels, it's important to consider getting in touch with a creative agency.
Therefore, in this post we will look in-depth into the reasons why you should consider partnering up with a UK creative agency, exploring the benefits such as the useful location, and quality of work.
So, let's get started by exploring the difference between outsourcing externally, and hiring internally.
Outsource Externally or Hire Internally?
As a business, one of the decisions you'll be making when it comes to your creative output is whether to hire someone in-house, or to partner with an external agency.
Both of these routes have their own pros and cons so it's important to weigh up which choice is right for you.
For example, hiring internally allows you to have full control over your creative output but it's very expensive as you're paying another wage.
On the other hand, outsourcing is much more cost effective, and whilst the person might not be physically present in-house, there are so many communication methods available for example, Zoom, email, or simply picking up the phone!
We've covered these pros and cons in-depth in another post, so make sure you give this a read for the full low down.
Whilst being apprehensive about partnering with an external agency is completely normal, making sure you choose the right UK creative agency is key.
Having the right partnership should mitigate problems later down the line, and should lead to smooth and successful project completion.
But for now, let's get onto why your business can benefit from working with a UK creative agency.
Benefits to Partnering With a UK Agency
For the purpose of this post, we're going to solely focus on the benefits of outsourcing your creative output in the UK.
Although there are a few more obvious benefits to partnering up with a UK agency, there may be some in this list that didn't cross your mind and might even make you think twice before you strike up a deal.
So with that, let's take a look at some of the advantages this can bring to your business.
Wealth of Experience
First things first, the UK has a great wealth of skilled workers and professionals in a variety of industries.
We will touch on the major UK industries later in this post, however for now we will focus on the wealth of experience and how this can benefit you and your business.
The UK is essentially a market made for success, with an over 30 million strong labour force, it's top of the charts when it comes to attracting and retaining talent.
As a result, companies are able to hold onto and nurture their employees, meaning that the team you work with will be fully trained and ready to collaborate.
The quality of work produced from businesses in the UK is of a high standard, and one of the reasons for this is the education sector.
With hundreds of top ranking Universities and a wealth of apprenticeships and internships across the nation, workers are given the opportunity to improve upon their skills, learn and gain experience.
But what has this got to do with partnering up with a UK creative agency you ask?
It may feel as if we have gone off on a tangent, but creatives need training and experience too!
For example, packaging design isn't something anyone can just get stuck into, it requires experience with specific softwares, the ability to work to a brief, and in some cases qualifications.
But you're in luck as experienced workers and professionals aren't hard to come by in the UK.
Equally, entrepreneurship is a thriving field in the UK, meaning thousands of new businesses start-up each year which gives an indication to the drive and motivation of the workforce.
This is particularly relevant as a large number of creative agencies are start-ups, or on the smaller side of businesses (much like us here at Canny!)
But don't be fooled as we may be small but we have the knowledge and expertise you need to kickstart your next creative project!
Great Location
Due to the UK being located in a central time zone, using Greenwich Mean Time (GMT), this makes it easier to work with agencies based there.
Whether that's conducting meetings between teams, or even just communicating via email or a messaging system such as Slack or Microsoft Teams.
This is a key positive of working with a UK agency as large time differences can make a huge difference to day-to-day communications and productivity.
For example, time zone gaps can cause delays for collaborative projects if one team is waiting for feedback from the other team before they can get started or make amends to the work.
In some cases you may hire an external creative agency and your operating hours may not quite match up with the hours they work daily, for example a company in Australia, hiring an agency in the US.
This again causes delays and issues with communication as it may be over 24 hours before your agency can get back to you, and this has a further effect upon the deadline that you need to meet.
Therefore, the UK is ideally located to communicate with both North and South American businesses, as well as companies working in Europe, Asia, and Australia.
As such, you could say that the UK serves as a perfect middle ground for communication between businesses.
Easier to Break into Europe
If you're looking to expand your business outside of the country you were founded in, working with an agency in the UK can help you do this.
Similarly if you've already cracked America, countries in Europe may be your next target market to break into, so a UK agency is equally helpful in this situation.
Taking your products or services overseas can be tricky to get right, especially without the helping hand of an agency who knows your target countries inside out.
Luckily, agencies based within the UK already have knowledge on how to break into the European market so that products can be sold anywhere from Portugal, to Switzerland.
Therefore, with this partnership comes a boost in sales, as your products and services are now offered to a wider audience and your brand will become more visible to the right target market.
If the next step for your business is to "go global", partnering with a UK agency can help to expand your market, whether you're looking to break into Europe or possibly the US.
Strong Investment in Recruitment and Talent
In the UK the recruitment industry is booming, and therefore talent is never hard to come by.
Talent is an industry that the UK prioritises and is the home of 4 of the top 10 universities in the world, and 11 of the top 100 MBA institutions, meaning the country is never short of newly trained professionals.
This means that a large proportion of the adult population are educated beyond high-school level, and possess the right skills and experience to help propel your business forward.
For example, by starting a partnership with a UK creative agency you can trust that the team you are working with are fully qualified.
Therefore, it is more than likely that within the UK agency you partner with employees will be educated to degree level either by way of an apprenticeship, or studying at University, or have the relevant work experience to match.
This is a key benefit to outsourcing to the UK in particular as you can be assured that whoever is creating your website, or building your brand strategy has acquired the right skills to do so.
This again will help to avoid delays as work will always be done on time and to the standard you expect.
Access to 4 Key Regions
Linking back to the great geographical location of the UK, if you choose to partner with a UK agency, you have access to options across four regions.
There are agencies across England, Scotland, Wales, and Northern Ireland, to choose from and each region is successful in different industries.
Here's an overview of the top industries for each region, to give you an idea of which agencies may specialise in certain sectors:
Wales
Life Sciences
Manufacturing
Technology
Tourism
Scotland
Sciences
Technology
Oil and Gas
Entrepreneurship and Start-ups
England
Banking and Finance
Retail and Hospitality
Transport and Equipment
Tourism
Northern Ireland
Construction
Financial Services
Global Business Services
Creative Technology
As outlined above, there are a wealth of sectors that each region is successful within and this makes it easier to choose a specific agency for your company.
The list for each region isn't limited to these industries, and there will be creative agencies all over the UK that work in all sectors and create branding for your business whatever it may be.
However, it can be useful to know where to locate agencies that have worked with businesses like your own, either for competitor research, or to partner up with!
Growing Technology Hub
The industry of technology has emerged within the UK to become one of the global hubs, due to the vast amount of electronic and technology manufacturers located here.
Whether it's large organisations, or tech start-ups, the industry is flourishing in the UK, and they are not just limited to London or other larger cities across the nation.
Technology companies are worth billions across the UK, and have helped to secure the UK as Europe's 'tech leader'.
This is a positive for creative agencies as this industry has helped to support the economy to keep businesses open and ready to collaborate.
Equally, the growing tech industry helps to ensure consistent economic growth as well as an increase in start-ups.
As such, this ensures you can rely on UK agencies as they are supported by the success and wealth of the tech industry.
Native English Speaking Country
Across the world English is one of the most spoken languages, and it is often the first or preferred language of many people, in many countries.
Due to the English language being sufficiently universal across the world this makes it another positive to working with a UK agency, as communication is never an issue!
Whether you are communicating via a phone call, video meeting, or even a simple email, agencies in the UK will be able to understand you and relay their ideas back to you.
It's Cost Efficient
Compared to many other countries, for example the US, working costs in the UK tend to be lower.
In the UK the average salary overall is around £27,000, whereas the average salary in the US is around $54,000. This means that it is more often than not considerably cheaper to work with an agency in the UK, as you could save close to $20,000, or more depending on your final agency choice.
Now, we can't only compare the UK to the US, as it's safe to say that outsourcing to some Asian countries such as China, South Korea, or Thailand will cost you less. However, saving money isn't one of your only priorities when searching for a creative agency to work with.
In order for the partnership to be cost-efficient, the quality of work needs to be of a high standard, as well as affordable.
At the end of the day you get what you pay for!
The UK is known for high employment at low costs, due to the competitive labour costs, and operates a National Minimum Wage, and National Living Wage to encourage people to work and prevent businesses from competing unfairly.
However, as we previously touched on earlier in this blog, the UK is home to a wealth of experienced creatives so as well as getting a good deal, you will be working with qualified professionals who can meet the standards of your company.
See Your Business From a Different Perspective
By working with a creative agency in the UK, you will gain a fresh perspective on your company and the way you market and brand your offering.
Although this can be said for creative agencies around the world as they are sure to give you a new take on how you could make improvements or changes to your branding, however agencies in the UK will have a unique perspective.
Due to many businesses looking to branch out across the globe, to new markets and new audiences, the UK can research your target market and help to distinguish you from your competition.
For example, if you're a FMCG company founded in the US but looking to break into European countries, it can be quite the contrast going from branding and marketing your product for an American market, to countries in Europe.
A UK agency can act with complete ambiguity, looking at the US market from an outsiders approach without being too alienated from it. This allows UK based agencies to looks at projects and challenges without feelings but based upon facts.
Therefore, working with a UK will ensure that your branding and marketing is taken and tweaked to fit the bill for European countries, without losing the original American elements to the brand identity.
Reliable Working Times
In the UK, most agencies work between the hours of 9 and 5, or something fairly similar, 5 days a week.
As a result, from the outset it's made clear that between Monday and Friday those are the hours that you can communicate with your chosen agency partner.
This makes planning meetings, communicating via email, and discussing project feedback much easier as you can be sure that both your team and the agency are around at the same time.
In comparison if you choose to work with an agency in the US or another European country, there is the possibility that they work more flexible hours.
For example, starting at 10am and working until 7pm, or in some cases shutting down over a midday period. This can result in some issues with communication as working hours don't match up between each company, and it may be up to 24 hours before you are able to receive a reply.
This slows down the rate of work, particularly if working hours change week by week as it is difficult to determine when your agency partner is free to discuss your project.
Why Your Business Needs to Partner With UK Creative Agency
Partnering with a UK creative agency has many benefits if you're looking to outsource and get a helping hand with your marketing and branding efforts.
If you're looking to work with a company that is cost-effective, uses reliable working hours, and has a reputation for a high standard of work, then look no further than the UK.
There are of course many benefits to offshore outsourcing to any country across the globe, however for this post we have focused on working with an agency in the UK.
Here at Canny we have a team of creatives who have knowledge in all things content, website design, and branding and we have partnered with companies around the world. Being located in the UK means we are in an advantageous location to communicate with a variety of companies all over the world.
Wherever you are located around the world, if you are looking to partner with an agency that helps drive success get in touch with our team today!