When it comes to sweet treats and their packaging, the classics stand out. And everyone has their own favourite. But sometimes they aren't as effective as they could be with their design.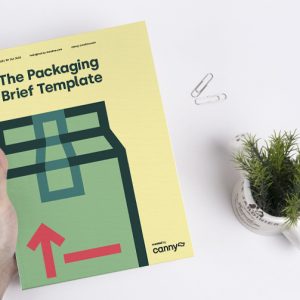 The examples below will give you plenty of ideas of how you could design your own sweet or chocolate packaging. Whether it be creating that emotional connection with the consumer that keeps them coming back.
Or standing for your brand values through your packaging.
Using a strong packaging design can reinforce your brand through the packaging.
And even open new avenues of which to extend your brand. Reaching new consumers which you might not have been able to do before.
Credit to Meeta Panesar
Le Temps Chocolate Packaging
For all the Le Temps chocolate packaging is concept work, it has a great idea behind it that is executed brilliantly.
Each bar has a percentage of cacao in it, which links to a decade, which in turn informs the design on the front. For example the packaging for the 24% cacao has a distinctly 20's style illustration on the design.
Illustrations and colours bring a bold and simplistic style to the chocolate packaging. Linking to particular decades makes it instantly recognisable to everyone. Even if you weren't born in them particular decades.
Credit to Hani Douaji
Trident Gum Packaging
Again this is not a live project but I couldn't pass up talking about this particular packaging. Using a die cut printing technique each set of packaging looks like a mouth with a set of teeth on pink gums.
The idea is that consumers can interact with the packaging in a fun way. When it comes to packaging interacting with the consumer is key.
Whether that be in an emotional way, or a more hands on approach like this packaging. The consumer has to be able to use the packaging for its main purpose, and to feel a connection which brings the consumer back.

Credit to Will Echols
Markham & Fitz Chocolate Packaging
M&F went through a rebranding in 2017 from "Hello Cocoa" to Markham & Fitz. So some new chocolate packaging designs were needed.
Chocolate is supposed to be an inviting product. And using clean white paper with fun playful illustrations they hit this note. Along with this they have gave a real sense of class with the gold foil on the main logo and the script font underneath.
All this partnered together creates a beautifully designed set of packaging. Giving an elegant and silky feeling, much like what I imagine the chocolate itself to be like.

Credit to Carpenter Collective
Boehme's Batch Toffee Packaging
This toffee packaging is a little bit of a blast from the past. In a world of corporations and design moving away from the family run style. Boehme's Batch puts the owners name and an illustration of him smack bang on the face of the brand.
We love this and as we mentioned in an earlier example, creating a connection with the consumer is key. And bringing that family run feeling through is a great way to do that.
The heart and soul of the product is the owner himself. He has connections with everyone in his community so why not use those connections on the brand?

Credit to Cristina Reverté
Dusk Chocolate Packaging
Dusk uses minimal design partnered with an amazing product to create a beautiful design.
The design consists of a simple table with all the information. And a colour strip representing the extra ingredients added to the chocolate. The brown paper and minimal design gives it a rustic feel. As if you have been handed it from a cocoa farmer, straight from its place of origin.
Subtle design elements like the colour of the foil wrapping. The chocolate matching the ingredient colour and the labels bring the design together.
Sometimes a minimalistic design is the correct choice. No beating around the bush and pulling the wool over the consumers eyes with fancy design. Simply letting your product do the talking.

Credit to Veronica Lethorn
The Marshmallowist Packaging
The Marshmallowist is a brand producing you guessed it, Marshmallow treats. The whole brand is very sophisticated and upmarket.
Everything is about the flavour combinations, some expected and some more unexpected. So when it came to the packaging it had to reflect this. So using the hexagon shape of the brand logo as a window to the product. It allowed them to create striking angles of which coloured shapes. Each representing a particular flavour in its combination.
This creates striking colour contrasts. In turn making the whole packaging striking and recognisable. And what more do you need to pick it up off the shelf?

Credit to Mystery
Jom Candy Packaging
Jom create organic candy treats. So when it came to packaging, it needed to convey an organic, healthy and environmental feel. But also still be indulgent enough to class as a treat.
They created and simple, colourful and tactile design to match the products themselves. Using simple illustrations and playful text. They have brought an indulgent and environmentally conscious brand to life through the packaging.
Brand values and strategy are important when thinking about packaging. There's no use in having a brand that preaches being environmentally friendly. But when it comes to their packaging they use non-environmentally friendly packaging. So always be thinking when it comes to your sweet packaging or chocolate packaging.

Credit to Cadbury
Cadburys Dairy Milk Chocolate Packaging
Now everyone should know the purple, gold and white of Dairy Milk. And when it comes to the packaging design not a huge amount has changed over the years.
It has been a consistent example of success. The purple bar has never went to far off the rails. It has made slight changes, but even then some people wouldn't even realise unless prompted.
Dairy Milk is a perfect example of moving with the times. Instead of bringing down the brand and starting again. They have made tweaks to stay in line with design trends of the era.
This is something to take into consideration when it comes to sweet and chocolate packaging. Can you update the existing packaging? Rather than lose the design and brand equity you have already.

Credit to Maija Rozenfelde
Reserves Chocolate Packaging
This project is old but is still a favourite of mine. For the chocolatiers 100th anniversary this packaging was created to celebrate the brand. The chocolate packaging is heavily influenced by where it came from and where it is going.
Chocolate changes state and shape as the consumer uses it, so in the packaging the design needed to capture this. To do this, they folded textures from Austrian Artists (the brand is Austrian). Creating a new modern approach to the art, representing the past and the future.
The second big element of this chocolate packaging is the angular shape. It breaks the norm of what chocolate packaging look like. But the great thing about this design is that the angular shape, while it pushes the boat out, still stacks on a shelf.
So if you want to break the mould with your sweet or chocolate packaging design. Make sure it is still functional for consumers and retailers.

Credit to Giuseppe Migliaccio
Choko Chocolate Packaging
I love this Choko packaging. I am not sure about anyone else but it has a big resemblance to caramel wafers in my eyes and I am big on caramel wafers.
Now the Choko design utilises different colours and a different pattern that creates a simple but striking visual. So don't worry about any copyright.
Now I am pretty sure Choko did not create their chocolate packaging design to stir up my childhood memories. But it instantly created that connection. Which is exactly what you want if a consumer is stood deciding what chocolate to pick.
When it comes to confectionery, everyone has their favourite and everyone remembers the packaging. So don't be afraid to use the strength of that emotional connection to build a packaging design that engages consumers.

Credit to Brand Lab
Fruna Candy Packaging
Speaking of an emotional connection, when it comes to chewable sweets in Peru, Fruna is the only way to go.
The Fruna packaging brings a playful and colourful element which appeals to both kids and the "kids" who grew up with the brand. The packaging is wrapped in a stand out crisp white and bright yellow with a bold red typographic logo.
The fruit flavours make up the mouth of a cheerful face. Bringing the brand to life in a fun and playful way. Altogether the packaging is exciting and inviting for consumers.

Credit to Gabriela Dule
De Cana Panela Sugar Packaging
Now this may not strictly be a confectionary item, but we can let it slide. De Cana Panela is unrefined organic sugar from columbia with a delicious rich flavour.
The packaging has a combination of a typographic stamp, cork lids and some lovely illustrations of the sugar cane plant. This mixture of quality and class from the stamp, with the natural and organic feelings from the illustrations and cork lids. Creates an elegant and sophisticated design.
Everything feels handmade and handled with care. This can resonate with consumers. Feeling like they are being brought closer to the products origin.

Credit to Hatch
Smash Mallow Packaging
Creating an emotional connection or a sense of adventure with packaging is a strong driver for consumers. Smash Mallow does this brilliantly with its natural flavoured marshmallow packaging.
Particular flavours take the consumer back to certain memories or take them on a journey to create new ones. Matching these flavours and feelings with friendly illustrations and inviting taglines. You begin to create a conversation between the consumer and the brand.
They also utilise more natural looking colours to help bring the brand messaging through the packaging. This works far better for this packaging than bright vibrant colours would.

Credit to Biggie Smalls
Big Poppa Donuts Packaging
This is again another blast from the past. Big Poppa Donuts utilises a mascot for their logo to great effect. This is something in packaging design that doesn't get used to much anymore.
The mascot appears on a tube with bright pink packaging instantly standing out on the shelves. They also have a sneaky technique with having each singular donut stacked on top of each other. This makes the consumer pick up the products one at a time. Making the experience all the more mouth watering.
Making your packaging design interactive and engaging for the consumer is key. This should give them a pleasant experience that no other brand does. Which in turn keeps them coming back to you rather than any other brand.

Credit to Little Boo Bakery
Little Boo Bakery Marshmallow Packaging
The Little Boo Bakery creates natural marshmallow treats in an abundance of weird and wonderful flavours. This is the sole product and the goal is very clear, make great marshmallow treats.
This thinking is reflected in the packaging, it has been kept very simple. Looking clean and using natural looking resealable bags. This embodies the brand values and is a great way to build up your brand's story through your packaging.
The design on the packaging is kept to the same minimal standard. With a big bold title, the brand and simple message that reads "hand-made in small batches". This again emphasises the brand.
On the back is a sticker with all the particulars on. When it comes to packaging, costs can rack up (I am not insinuating that the Little Boo Bakery was strapped for cash). But its worth pointing out you can save some cost by using stickers like this on your packaging.

Credit to Loukas Chondros
Ousyra Packaging
This slightly strange confectionary packaging is for a sweet treat called loukoumi. Which is a small cube like treat, you might know it as a Turkish delight without the chocolate.
The whole design is inspired by the small cube shape of the treat and traditional embroidery patterns. They have come together to inform the 8-bit design on the packaging.
I love this design, it's totally different than any other confectionery packaging design.
In fact, it's different in the world of food packaging full stop.
And more than that, it is not a swing at being different for different's sake. It is justified by the concept and brand history.
Being different in the marketing place is becoming harder and harder. Brands can sometimes change dramatically with no reason. You have to look to the heart of what makes you different from your competitors. Partnering that with what makes your brand what it is and where it comes from.

Credit to Bond Agency
All Sorts Packaging
Cloetta All Sorts wanted to move away from the mainstream and stand out from its competition. They wanted to create a more classic look that will bring consumers back again and again.
The approach of "what you see is what you get" was taken. And it visualises the products in a simplistic way. Bringing them to the forefront and letting them do the talking. This clear approach also makes the product easily recognisable on the shelves.
With sweet packaging it is becoming apparent that less is more. If you can visualise your product and the values behind it. The need for razzle dazzle becomes a little obsolete. You see this especially in organic and natural products. But with this example it is becoming a more used technique in sweet packaging and all confectionary.
The Wonderful World of Sweets and Chocolate Packaging
When it comes to sweet and chocolate packaging you think of the classics. But hopefully these examples above have given you an insight into packaging your confectionary products a little differently.
The need for an engaging and interactive packaging design is key to making a strong connection with the consumer. Make sure your brand values come through. For example if you're an organic food brand, make sure that comes across in your packaging as well.
If you'd like to learn more about what we can do for you in the branding and packaging design department, be sure to get in touch!
We've helped countless brands find that sweet spot, from the likes of Opi Frutta and Friedas, and can do the same for you!