For brands in the beverages sector, alcohol branding, and alcohol packaging to an extent, are just important if not more than the actual taste of what they're selling.
Brands in the alcoholic beverage sector have always had an interesting approach to packaging design. The shape of the bottle, the design of the lid, and any additional extras (i.e. tags hanging around the neck of the bottle).
All of it can be fully customised in line with the identity of the brand.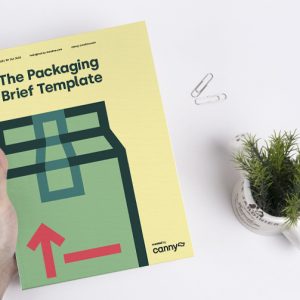 Below we're raising a glass to the best alcohol branding/packaging we've seen. Some you might have heard of. Others (hmmm), not so much.
And we aren't just looking at just can designs either. There's a whole post about soda can design if you want to check that out specifically.
We'll be looking at vodka packaging, wine packaging and everything in between. Not to get you absolutely smashed, but to highlight the creative ways these names are branding themselves in and amongst their competition.
Let's start with the strong stuff, a reality-breaking absinthe bottle concept known only as 'ABSINTHESIS.'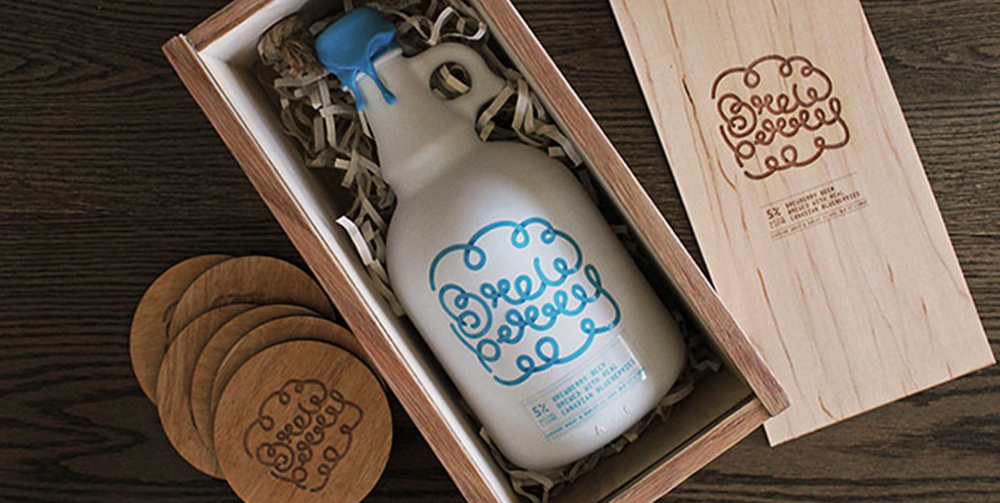 Credit to Catrina Silveira
Brewberry
'Whimsical' is one of the only ways to describe this Brewberry bottle and box combo. It's a very dream-like design all-round, with its melting shape looking a bit like a cloud if you close your eyes and squint a little.
We have to say, the use of blues and greys here, with emphasis on a matte-like finish, are both very welcome additions to an already stellar alcohol packaging design.
As is the blue bottle top that looks like something from a classic Disney movie.
The breezy/loopy logo found on the front of the bottle ties it all up nicely (even if it is pretty tough to make out what it's saying exactly). For those not familiar with this bottle, the word spelled on the front reads 'Brewberry.'
It appearing in a wooden box is a tad bit unnecessary given the design of the bottle. And in our opinion, the logo doesn't sit nearly as well on the box as it does the bottle.
But that's just a small nitpick.

Credit to Aeronaut Brewing
A Year With Dr. Nandu
Illustrations are always nice to have on beer logos as they add a sort of character to what's being presented. Only Aeronaut Brewing Co. came at it from a completely different angle with its 'coaster doodles.'
Four doodles were created, one for each season. One features a ghost playing an acoustic guitar while a snake wearing a top hat lingers in the background. Another (and probably my favourite of the bunch) features a yeti walking away from an arcade machine looking miffed.
They seem like random designs, but they're actually inspired by the doodles people leave behind on beer mats. Which explains why the biro-like blue is one of only three unique colours used.
The designs were created to celebrate the brewery's first IPA (A Year With Dr Nandu). A pretty tasty IPA if you've never had one before.

Credit to Dusk
Lucha Libre Beer
For fans of pale ales and the master of the 619, the masked sensation known as Rey Mysterio, there's this Lucha Libre Beer alcohol packaging.
This one stood out to us for a number of reasons:
It's simple in design
It's striking to look at
And it's wrestling themed
The old poster style typeface found at the top does a lot in adding character to the can. It's also the first thing you're directed towards other than the eye holes of the mask.
There are three flavours to pick and choose from, each represented by a different colour. Outside of a change in colour, there are also subtle design changes that alter the masks slightly.
For example, the red wrestler here has a star in between his eyes, and eagle wings on the sides. The yellow wrestler, on the other hand, has an x in the centre and wings down the sides that look slightly like music notes.
We know it's a wrestling-themed packaging design, but another thing this alcohol packaging design reminds us of are those Rock 'Em Sock 'Em Robots you might have had as a kid.
Do you see it too?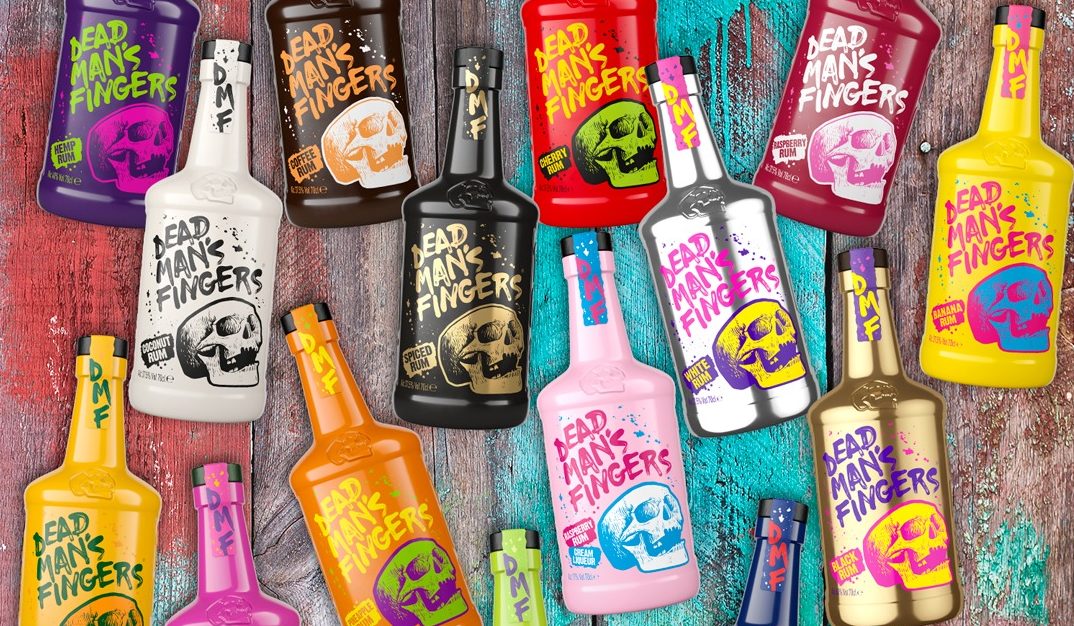 Credit to Dead Man's Fingers
Dead Man's Fingers
We knew we had to include Dead Man's Fingers on the list of the best alcohol packaging and branding. Why?
Because we love everything about it. Most notably, the actual flavour of its rum. Everyone in the Canny office drinks this stuff more or less, although I'm sure not all of them agree with me that the mango rum is the best flavour.
Anyway, let's get back on topic.
The packaging of these Dead Man's Finger bottles do vary slightly depending on which flavour you choose. Although the placement of the skull in the bottom right, and the location of the pirate-like type, are fixed in place.
Some bottles (the spiced rum and coconut rum flavours) do play into that scallywag vibe. Only others head in a complete opposite direction in terms of the colours used, and it doesn't spoil it.
Just look at the Passion Fruit bottle design and you'll see exactly what we mean.
This particular bottle is neon pink with a luminous green skull on it. Needless to say, these bottles more than stand out on the shelves of your local supermarket.
Corona Tackles Plastic
The race to avoid global extinction is on, and Corona are leading the charge on the alcohol side of things. They are on a mission to reduce plastic in their packaging and contribute towards a more sustainable planet.
They've introduced twist together, stackable, can designs which avoid using plastic rings to fasten cans together.
Alongside that, they've also tried utilising a cardboard carrying like mechanism (almost like you use for wine bottles!) to minimise their plastic usage even further.
This is a great example of how the companies can make an impact of our planet, but can do so by utilising great design
Corona shows that you can do good, and create an excellent consumer experience.

Credit to Shower Beer
Shower Beer
The Shower Beer was created in a collaboration between Snask and Pangpang Brewery. At first glance it looks like any other 18cl beer bottle, when in actual fact, it's something a lot more.
At least when you look at the idea behind it.
It's called Shower Beer because that's exactly what it is. It's a beer that you drink in the shower, or drink whenever you're getting ready to go out. It sounds way too simple for its own good, but sometimes some of the simplest ideas are the ones that connect.
Here's more context, courtesy of Snask:
"We've always wanted to have our own beer (like all hipsters do). But not any beer and certainly not just a regular creative agency brew saying "Snask Lager."
We wanted an idea, a concept, something bigger than just the actual beer. Something that could kickstart the night and act as your power up while fixing your hair and listening to "Dressed For Success" on repeat."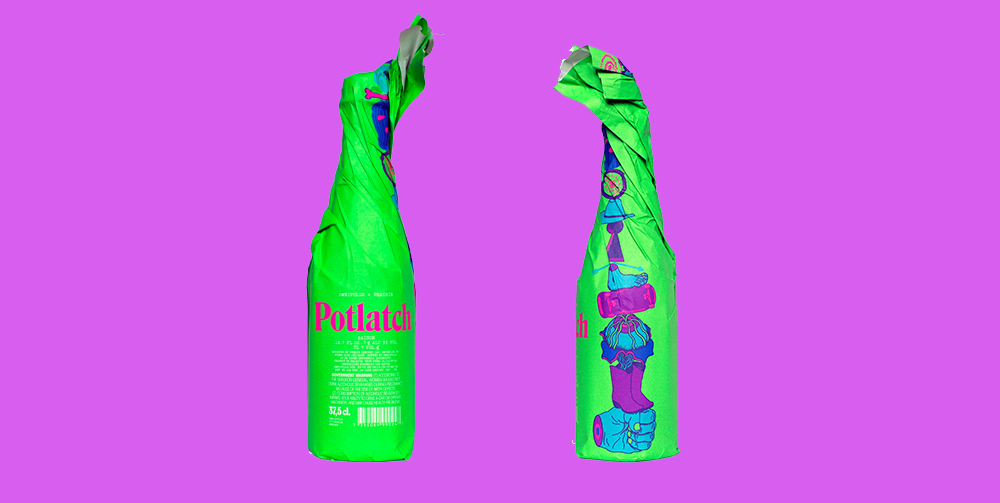 Credit to Omnipollo
Potlatch
Wrapping beer up in a bag like this is no common occurrence. But Potlatch more than makes it work with its farmhouse ale alcohol packaging here.
The cool thing about this design is how varied it all is. You have a pretty professional logo found off to the centre which is offset by these Frankenstein-esque illustrations of body parts and flowers a la Little Shop of Horrors.
There's a neon skateboard in there too, and a keyhole for some reason? The fact that they're all stacked up high one after the other does control the chaos a little bit.
The bright colours used bring a lot out of the packaging too, with pinks and greens used to great effect alongside a royal blue.
We just love how haphazard it all feels. I mean, the fact that the bag isn't even closed at the top properly only adds to the off-kilter appeal.

Credit to Hungry Sandwich Club
The Open Garage Brewing Co.
Why invest a lot of time in alcohol branding when you can give consumers the ability to do it all themselves?
That's exactly what the Open Garage Brewing Co. did. They essentially handed customers two bare brown bottles with a sticker sheet included, encouraging them to customise their bottles however they liked.
The result of this design choice led to some creative, not to mention, funny designs that invited "people to interact with their drink to foster a relaxed, fun social environment."
Design-wise, the stickers included were quite basic, featuring things like anchors, eyelashes, diamonds and things like that. The image of being handed a pack of stickers in a pub might confuse those who just want to whet their whistle, but we quite like this idea.
What do you think?

Credit to Carter Wong
Tickety Brew
Creating a design that is different than everyone else in the alcohol industry can be a hard task, especially when it comes to beer packaging. There is already such a range of creative solutions, its often hard to stand out.
But who thought that something as simple as slightly tilting the label could do so much? That's exactly what Tickety Brew have done.
It is structured, almost templated, which makes the whole product range instantly recognisable. The differentiating factor is the use of striking colour combinations.
They've also play into the ticket and travel motif by creating a beer label that resembles a plane or train ticket.
Sorting products by colour can be tricky, there are only so many different colours and shades out there. And what happens if green perfectly represents two products?
But Tickety Brew have managed to create an extensive product range sorted by colours. They even do limited editions which can combine two different colours.
Tickety Brew show how having a simple design doesn't mean you have to be boring. If you are clever with it, it is just as exciting as all the unique illustrations.

Credit to Malibu
Malibu
When people think of Malibu they tend to think of the large white bottle. What we're referring to are the various pre-mixed drinks that typically come in 250 ml cans.
Like DMFs these cans retain a lot of what you'd expect from a Malibu beverage. There's palm trees, a sunset, and a fair amount of blank space.
Why we think of these cans as one of the best examples of alcohol branding/packaging comes down to just how consistent they are. Consistent, but also, visually stimulating courtesy of the beach-towel esque shapes found off in the background.
Each can has been expertly designed to reflect its respective flavour. Only the design does add an additional type that doesn't stray too far from the very laid back visual style that embodies the brand.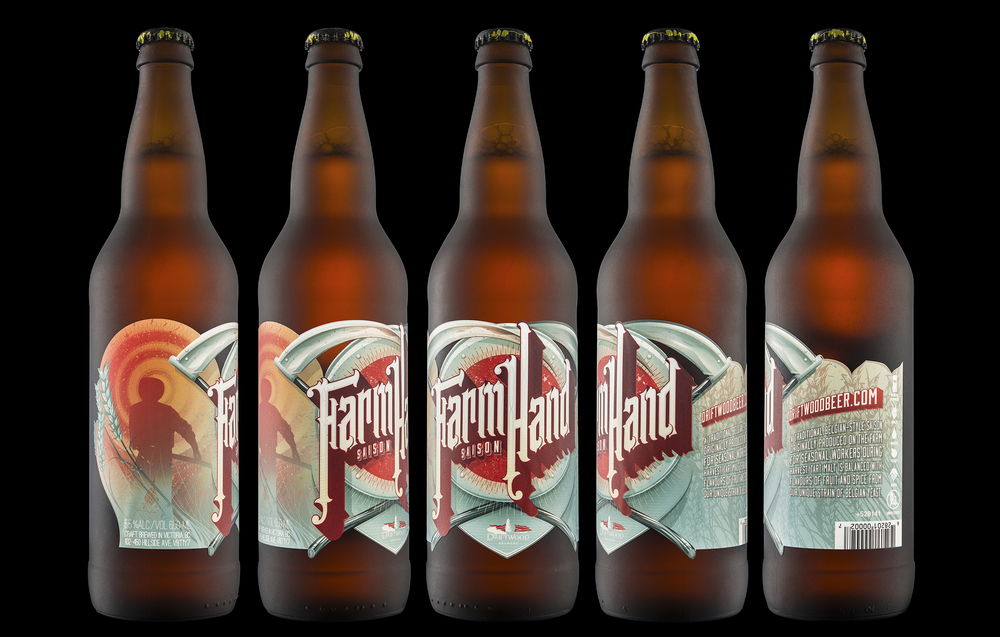 Credit to Hired Guns Creative
Farmhand Saison
If we could rank these alcohol brands by the quality of their logos, we'd definitely put this Farmhand Saison somewhere near the top.
When talking about this alcohol packaging design, Hired Guns Creative, the agency behind this one, said that it "focused on typography that evokes the end-of-day on a grain farm in the summer: we're using serifs and terminals that echo traditional manual farm equipment – the sickle and the scythe – and adding an elongated shadow typical of a low summer sun signalling the end of the workday in the field."
The very vintage look on things like the scythe are very well done, as are the other tools included. Including the farmer in a faded silhouette also needs to be mentioned on account of how well it turned out.
The elongated 'F' and 'H' on the bottle add so much to the overall look of the bottle. As does the copy found off to the right of it.
In short, you don't need to work on a field to appreciate this one.

Credit to d'Arenberg
D'Arenberg's Daddy Long Legs Extra Rare
Not everyone's a fan of spiders. But when there's alcohol involved, maybe exceptions can be made.
You see, D'Arenberg's Daddy Long Legs Extra Rare is named after the "legions of daddy long legs spiders who have kept a watchful eye" over wins that has an average age of over 50 years.
The wine comes in a very unique shape, one that nestles perfectly in a holder made up of eight long legs. What's more, the box it comes in also has eight sides (and a bunch of cobwebs on it, just in case you didn't know already that it's spider themed).
We can only imagine what it's like to have this bottle at home. Especially if you're an arachnophobe but love great tasting wine.
In terms of type and things like that, the Daddy Long Legs does an excellent job in showcasing the air of sophistication that only expensive wine can emote. The line spacing between each letter adds an awful lot to an already interesting concept.

Credit to Shacksbury

Credit to Anarchy Brew Co
Anarchy Brew Co
Anarchy Brew Co is the brewery for all you punk rockers out there. Based in Newcastle (how could we not include them!?), this brewing company has a distinct illustration style that stands out on crowded shelves.
Taking inspiration from the artwork of the punk rock scene, Anarchy create a huge range of products ranging from IPA's to Brown Ales. Each has their own distinct artwork which is inspired by the unique name given to the brew.
Their design work is hard hitting and not for everyone, but that's not a problem. They know their target audience inside and out. They even go as far as to hold punk and rock concerts in their brewery on weekends!
This is what the brand is born out of. This vision, this style, and in true punk rock fashion, it does not need to conform to the standards of regular beer packaging design.
Lo-Ball
Anyone for a cider with a baseball theme?
Lo-Ball is a bubbly highball style cider, known mostly for its cheeky baseball character who features on all Lo-Ball cans. A character who always has his tongue out, leaning on a baseball bat and throwing a can somewhere.
We really appreciate how much of a throwback this alcohol packaging design is. It's very simplistic when it comes to the colours and fonts used, but that's actually part of its charm.
How it's all arranged and presented stays with you long after you've crushed the can and already began drinking another.
One of the best things about this can is how adaptable it is. Stubby versions of the same can (8oz) simply trim how long the legs are of the baseball. It doesn't come across as lazy either.
It's genius, if anything.

Credit to Alcoholic Vodka
Alcoholic Vodka
Alcoholic Vodka, a product produced by Swedish distillery Tevsjö Vodka, has gone meta with its alcohol packaging design.
For the sake of complete transparency, the brand actively advises people not to drink, detailing the various problems that arise from drinking. On the label you'll find an anatomically correct image of a human, with various warning signs dotted about its body.
On the lid of the bottle is tape that reads "Do Not Drink."
Font wise, the logo is incredibly basic, which was sort of to be expected given the main focus and approach of Alcoholic Vodka. The brand's website continues the warning, stating that vodka is expensive and dangerous to drink as it leads to serious diseases.
It's actually quite difficult to work out whether this is tongue-in-cheek or not. Although the brand does claim that its goals are to "challenge the vodka industry," so it might not matter as long as they make a difference.
We still feel like it's a masterful play at shock marketing, but we reserve the right to be wrong.

Credit to High Water
High Water
When we think of High Water and its line of hard seltzers, all we think of is refined sophistication. Mostly thanks to the very creative designs found on its cans.
Like some of the other alcohol packaging designs mentioned, each flavour changes enough to stand out on its own. In this instance, High Water changes up the colours used to represent water (or sand in the case of the lemon and elderflower flavour).
They also change what's featured on the can, be it a boat or a beach umbrella. The shadows being separate to the boats on two of the cans work really well in making it feel real.
Can we also appreciate how the colour used to fill the white space?
Hard seltzers appear to be all the rage these days. But High Water is definitely leading the pack in terms of packaging design.

Credit to Suntory
Hibiki Whiskey
Very few alcohol packaging designs can hold a candle to Hibiki Whiskey. Everything from the shape of the glass to the matching glass stopper is a different class, which explains why this whiskey is so expensive outright.
Hibiki has a range of whiskeys to pick and choose from. Only the 21 year old version is a cut above all the rest. Which isn't to say that the others aren't up to snuff. We just think the black colours add so much more character and sophistication.
The shape of the glass is reminiscent of the classic old-school "on-the-rocks" glasses seen in shows like Mad Men. And that's without talking about the drawn Japanese lettering on the label.
This bottle is marked by excellence, and one of my personal favourite whiskeys. So you could say I'm biassed.
Then again, have you seen the design of the bottle?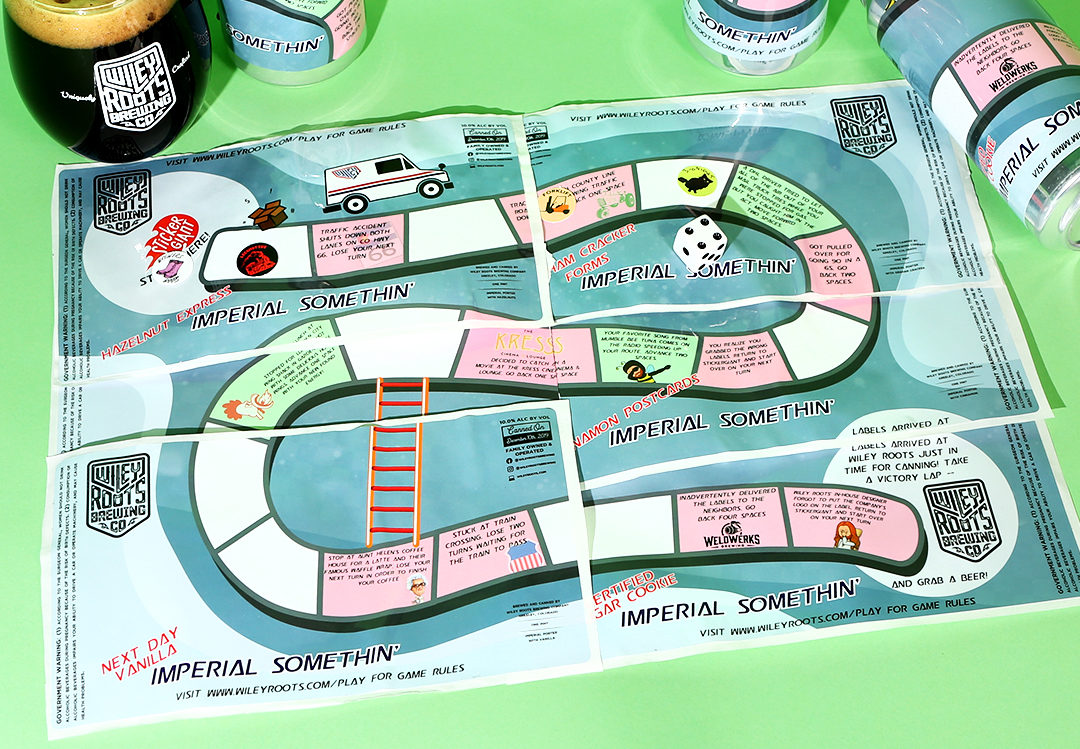 Credit to Hop Culture
Imperial Somethin' Got Played In The Mail
In case you haven't guessed it, we love anything that engages customers in new and interesting ways.
Enter Wiley Roots and its Imperial Somethin' Got Played In The Mail. What's great about this beer – or more specifically, its labels – is that when you combine all six you reveal a classic game of Snakes & Ladders, just with a twist!
It's one of those things that should be painfully obvious to anyone buying this beer.
Although we will admit that having six different flavours and having the labels look nearly identical to one another is a tad confusing if you're not in the know.
Wiley Roots might be asking too much of its customers to buy multiple beers and peeling off the labels. Still, there's no denying the ingenuity factor at play here.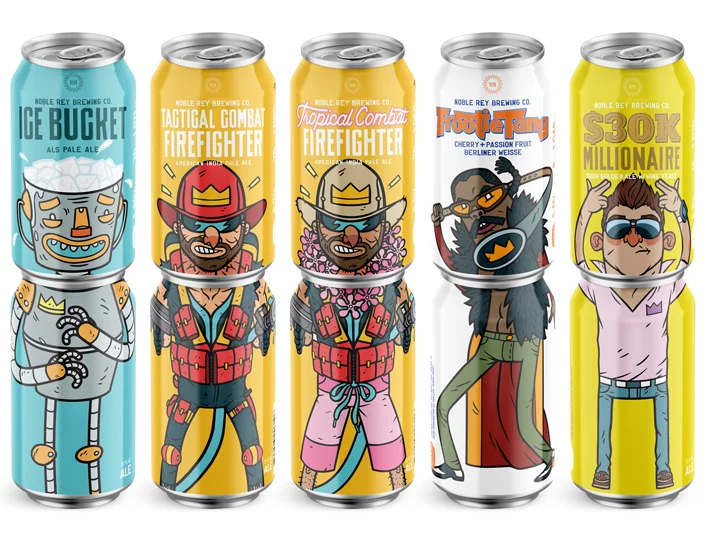 Credit to Noble Rey Brewery
Noble Rey Brewery
From one ingenious alcohol packaging design to another. We're of course referring to Noble Rey Brewery and its line of craft beers.
Beers that when stacked on top of each other create cartoon characters – some more provocative than others…
We're talking about the gimp found on the brand's 'Off The Leash,' a Texas Red Ale that is said to have been "brewed with no restraint."
If we had to pick a favourite of these crude characters we'd have to go with Baracus – a clear nod to Mr T from the A Team. That being said, there's something about the $30k Millionaire character that we just can't put our finger on. He's cool too.
The great thing about this alcohol branding is the approach. The beers here are almost like collectors items that you display, not crack open and drink. We'd happily watch a cartoon of these characters in some sort of sitcom if Noble Rey Brewery decided to speak to work with someone like Netflix.

Credit to If It's Hip It's Here
Leuven Beer Packaging
Would you ever drink a pint out of a bag that was transported in a suitcase? An odd question, I know. But a necessary one when you look at this Leuven Beer Packaging.
The idea behind this packaging is that it's incredibly lightweight, recyclable, affordable and transportable. Still, we don't know many people who would carry around alcohol in such a way, but we appreciate the creativity and thought that went into this.
The beer itself is held in vacuum sealed bags. Some likened it to a Capri Sun for those old enough to drink when this alcohol branding concept was unveiled back in 2012.
While it has yet to see a full release, we thought we'd include it here in our list as it could one day see the light of day given the risks brands are willing to take currently.

Credit to Camden Hells
Camden Hells by Camden Town Brewery
Last, but by no means least we have Camden Hells, another brand that we here in the Canny office are very invested in. Camden Hells is made by Camden Town Brewery, one of the leaders in the craft beer explosion.
And we aren't the only ones. Practically everyone across the country, from London to Newcastle drinks this stuff. Back in 2016, when Camden Town Brewery unveiled its new packaging, their Managing Director said:
"This refresh is part of our wider strategy to bring great craft beer to more people. The bold branding will really stand out on shelves, with engaging product information that appeals to consumers, giving another great reason to purchase."
Little did he know how true he was, given the success of the brand and just how recognisable the brand currently is. The core roundel logo is synonymous with quality, and it sits perfectly on things like pint glasses and bottles.
Best Alcohol Packaging That Packs a Punch
And there you have it, those were our top picks for the best alcohol packaging that packs a punch.
We've covered a decent amount of alcohol brands and packaging concepts in this post. We do have our favourites — a toss-up between Lo-Ball, ABSINTHESIS and Camden Hells. But maybe you think differently?
At the core of all these alcohol packaging designs is brand identity. It underpins each and every one of these designs in some way or another. Be sure to keep that in mind if you ever find yourself designing your own packaging, or seeking the help of a creative agency like Canny to create it for you.
For reference, we've helped countless brands capitalise on effective packaging design. Kono Coffee is one that comes to mind. We help set brands up for complete success, regardless of what that success might look like.
Are we missing any of your favourite alcohol packing designs? Let us know via one of our many social media channels if that is indeed the case.