Candy packaging is one of the most exciting categories of food packaging design.
The rules are, there are no rules!
The more fun, colourful, and engaging the better, as these brands need to appeal to such a vast audience, and packaging is the way to catch the attention of consumers.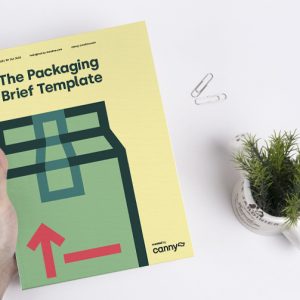 The beauty of candy packaging is that it can be anything, boxes, bags, cartons, tins, or jars, and this is what makes the design process all the more fun.
With candy brands popping up left, right and centre, there is a lot of competition for brands to come up with new and exciting ideas to make their packaging stand out.
In this blog post we will be exploring some of the most popular candy brands, and finding out what makes their candy packaging designs hit that sweet spot.
So, let's get going…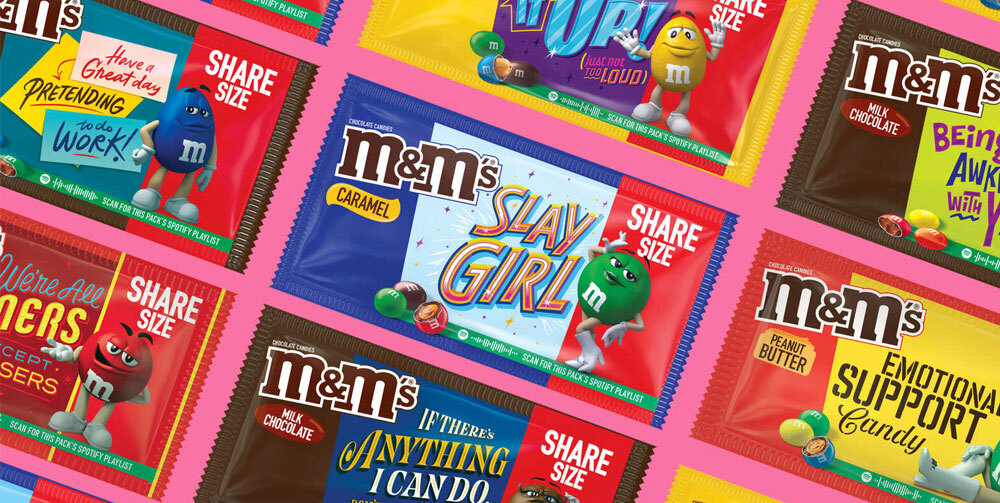 Credit to Mars Wrigley
1. M&M's, Let M Say it For You
We are starting off with a crowd favourite, and for this design M&M's teamed up with Spotify to bring packaging with a sprinkle of humour.
Back in 2021, candy giant M&M's appealed to a wide audience with their campaign 'Let M say it for you', as each packet contained a different message suitable for several social situations.
Whether consumers wanted to say congratulations or I miss you, the brand had a witty message to match.
Each packet included an extra added bonus too, as each message was paired with a unique Spotify playlist to match the vibe. For example one packet read "Have a great day pretending to do work", containing a link to a Spotify playlist to 'make you feel like a boss'.
We thought this was a clever way to get consumers involved in the humorous side of everyday life, by preaching the idea of not taking things too seriously.
Linking with top music streaming platform Spotify, helps the brand to do this as it encourages people to laugh and dance, and reaches over 400 million users worldwide.
Not only this but every packet is different, the brand has used a different colour palette and font for every single message, meaning you could spend hours in the store picking out your favourite!
M&M's have managed to cater to their wide target audience and reflect the unique feelings and personality of the individual consumer, we can see why they're a world favourite.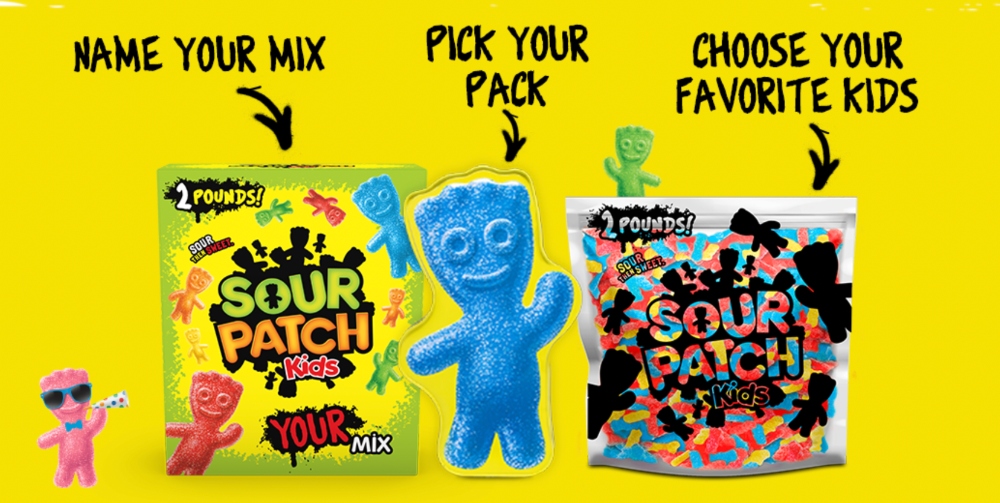 Credit to Sour Patch Kids
2. Sour Patch Kids
Now onto another classic that definitely hit that packaging sweet, and sour, spot.
Sour Patch Kids are another super colourful brand, using almost neon shades of yellow and green, to mimic the sour taste we all know and love.
With these colours as the backdrop, the black outline of the logo really stands out, and the little gummy kids circle the logo as if they are taking over the packet.
This candy packaging in particular has a real sense of duality, as the gummies are targeted towards children and adults. The waving gummies appeal to both audiences, as does the logo, as each letter has been purposefully rounded on one side, and squared off on the other, creating a youthful and mature vibe all at once.
The best part of this design however was hidden for quite some time, as consumers didn't zoom in to the edge of the packaging, which is populated with tiny sour patch kids.
This sneaky added design within the obscured border is made up of hundreds, if not thousands of lime green sour patch kids.
They're taking over the world, not just the packaging!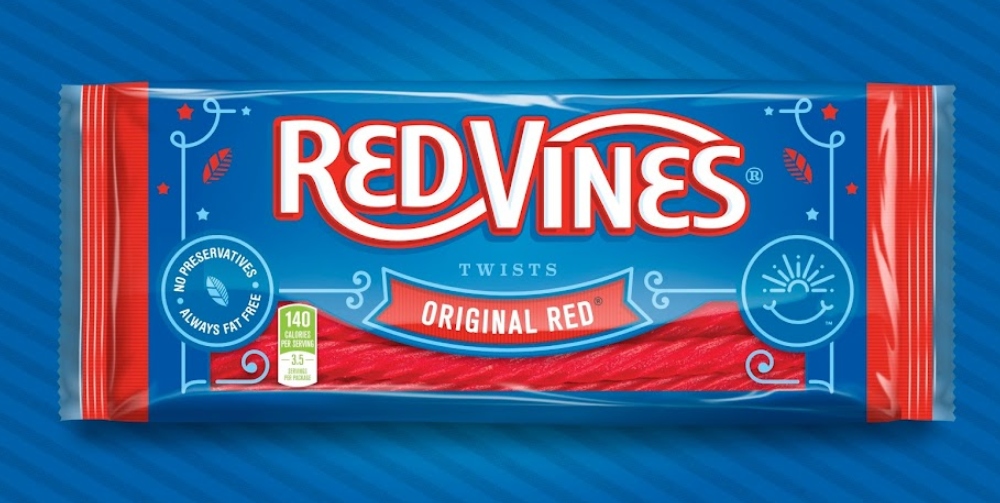 Credit to Wallace Church
3. Retro Red Vines
For nearly 100 years now, Red Vines have been a movie theatre staple, and it seems hard to imagine a time where they weren't the worlds favourite film companion.
The brand has had a slight switch up and mirrored this idea, providing us with new candy packaging that has more of a classic, retro feel.
Red Vines stayed true to their brand identity with their classic colours of a rich red and blue, but they have softened the logo, scrapping the harsher font for something smoother, with the tail of the R flowing nicely to connect the logo together.
Due to the shape of the packet and the linework around the edges, the packaging reminds us of old style cinema or theatre ticket, particularly with the addition of the small red retro label displaying the flavour 'Original Red'.
This ribbon effect to the ticket style candy packaging is highly recognisable and memorable for the consumer, and probably the first design element that pops into our heads when we think of Red Vines.
Something that isn't often done with candy packaging anymore, but is mouth-wateringly effective, is having a small window showing the candy inside. Red Vines have included this as part of their packaging as if to say, 'look at me, I'm the one you want'.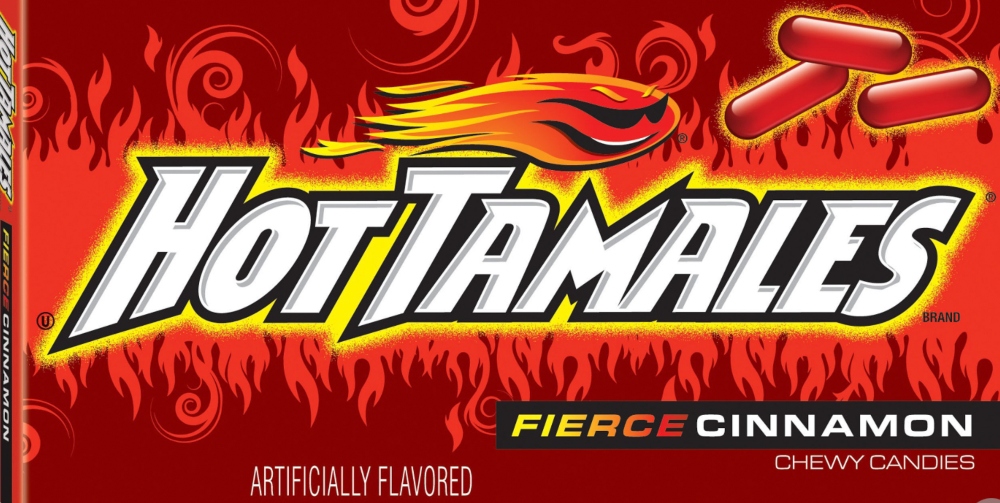 Credit to Just Born, Inc
4. Hot Tamale!
Another classic that has been up and running for around 70 years is Hot Tamales, and their packaging sure is on fire!
The well-known fireball character is still there above the logo, wearing his shades, but this time is surrounded by swirling red flames, which create a lot more depth and dimension on the front of the box.
These flames stand out far more on the deeper burgundy base colour of the packaging and the box is more of a gradient of fiery colours from the deeper shades of red, to the yellow, and finally the white hot logo in the centre.
This design captures the colours of a roaring fire far better than the original packaging, and we can almost feel the heat.
To turn the heat up even more, the flavour is described as 'fierce cinnamon', with the wording of 'fierce' showing the growing heat of the candy with the varying colours from yellow, to orange, to red.
The angled font used throughout the packaging design only intensifies how hot and fiery the packaging and candy is, which further compliments the speedy fireball by matching his spicy character.
This candy packaging was a much needed update, is hot, and certainly hits that sweet spot.

Credit to ADWEEK
5. Nerds
Although they've partnered with Dungeons and Dragons, Nerds have somehow managed to make it lovable.
This candy packaging's success is all down to the tiny Nerd shaped characters, every time.
For this campaign, each Nerds character is dressed ready to play the fantasy tabletop role play game, decked out with shields, helmets and we believe one has a ukulele.
This particular box of candy shows a reimagination of a Dungeons and Dragons 'Mimic' character, but this time presented as a chest filled with Nerds sweets, luring the little characters in.
This is so effective in promoting both the game and the candy, showing that Nerds really are that hard to resist.
The company has held onto the colourful packaging that is central to their brand, incorporating a mixture of pink, purple, green, yellow and blue letting us know, the rainbow candy is still inside.
Nerd's have done a great job here of keeping the cuteness of the candy intact, whilst working with Dungeons and Dragons to promote exclusive content.
6. Reeses Keep it Classic
You may not have known about this one before E.T. but we guarantee you do now.
Reeses have stuck to their original brand identity since Eliot lured the worlds favourite extra-terrestrial into his house with Reeses Pieces, and that's why they're still a worldwide favourite.
The brand adopted orange as their colour in the world of candy packaging, and never looked back, and this paired with the classic yellow logo is so effective because it's so simple.
You can't tell us this isn't an example of memorable packaging?
The outline of a peanut butter cup underlines the logo nicely, containing the words '2 peanut butter cups' and the logo is then only accompanied by an image of the candy itself.
On all Reese's packaging we see a peanut butter cup with a bite taken out, revealing the soft peanut buttery centre, leaving you wanting more.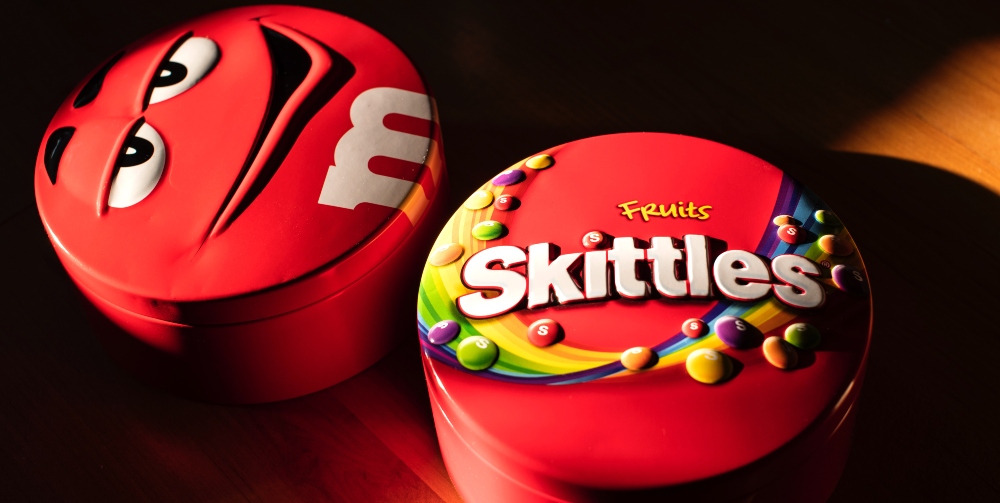 7. Skittles, Give the Rainbow
We think this one is particularly genius.
With this limited edition candy packaging Skittles supported the LGBTQ+ community and Pride month in particular by stripping back their packaging.
The slogan for the campaign was "During Pride only one rainbow matters" scrapping their world-famous colourful packaging for a monochromatic look instead.
While the packaging design is exactly the same as the classic red packet that displays every colour of the rainbow, it looks to us like it could be a completely different brand!
The white Skittles pouch with the black logo and font stands out in a completely different way, as candy packaging is usually the one to jump off the shelves for its colour, but this provides a brilliant contrast.
As well as the packaging being completely black and white, so is the candy inside. Skittles went the extra mile with their support and made sure the individual Skittles inside the packet were white too, each displaying a small black S.
This not only expressed the company's solidarity, but gave consumers an extra surprise as without the classic rainbow colours, it is impossible to tell which flavour is which.

Credit to Bulletproof
8. Swedish Fish
In order to remain in the hearts of consumers, Swedish fish experienced a sweet new rebrand.
This candy packaging certainly hits that sweet spot, as it is playful, colourful and timeless, in comparison to the older more vintage looking packaging.
Again, they are another example of a brand that sticks to the basic colours of red, yellow and blue which works well as the blue and yellow reminds us of a day at the beach.
Equally blue and yellow are the colours of the Swedish flag, this helps to nicely tie the culture into the candy packaging.
This paired with the classic red Swedish Fish being thrown up in the air by a crashing wave, really brings the packaging to life.
For this packaging rebrand, Swedish Fish were another example of a brand including a real example of what the candy looks like, adding a 3D look to the packet with the embossed gummy fish.
Even the logo underwent some changes during the rebrand process, with the brand using a more rounded playful font, topped off with the dot of the 'i' being replaced with a tiny little fish.
The new typeface has more of a flow which unsurprisingly replicates the movement of a fish, giving it a natural flow in comparison to the old serif typeface that was pretty still and flat in our opinion.
This was a much needed update for the brand in order to stay relevant and popular in the growing competitive industry.
In our eyes they pulled the rebrand off swimmingly.

Credit to Honey Mammas
9. Sweet Like Honey Mama's
Now onto something a little different.
This next candy bar is brilliant purley because of the mixture of flavours, packaging and colours.
First of all, Honey Mama's is on a quest to change the way consumers see indulgent food, using ingredients like raw cacao and honey, avoiding refined sugar, gluten and dairy.
This is almost mirrored in their packaging, as the candy looks like something fresh out of your local farm shop or farmers market. The circular logo contains almost all of the text, keeping the packaging neat and tidy, and the lines around each circle look a bit like rays of sunshine.
This packaging uses a range of typefaces such as script, serif, and sans serif fonts which normally would be a challenge to pull off. However this works well for Honey Mama's as it ties the packaging in together very nicely, giving off a slightly traditional, retro look.
Not only this but the company's logo includes a small bee illustration that is placed above the brand name on every bar, adding to the natural organic feel to the packaging.
This bar is heaven so far!
Equally, the colours used on each bar complement each other nicely, for example lilac mixed with a deeper shade of purple, or bright orange tied with a chocolate brown. This colour palette provides a nice contrast to competitor candy packaging that can quite often be loud, colourful, and sometimes in your face.
Overall, Honey Mama's gets a like rating from us, providing packaging that is sweet like their candy.
10. Her / She
Another candy packaging example giving others a run for their money, was Hershey's International Women's Day campaign candy bars.
The word Hershey, funnily enough as you may have noticed, contains both the words 'her' and 'she'.
Although that may have been obvious to most, what the brand did with this was totally refreshing and engaging.
Hershey invited creative, talented women who were writers, singers, poets and artists to get involved designing packaging for the candy bar.
Real examples of women's creative work whether that was poetry, photography or illustrations, were showcased on each individual bar, celebrating the successes of women.
This packaging really hit the sweet spot for everyone as there were various different designs to choose from, and the limited edition bars sold out in a matter of days.
Interestingly each and every bar had either the word 'her' or 'she' but never the full brand name. Instead the pronouns were accompanied by either a Spotify QR code for "Her music" or fun illustrations for "She draws".
This candy packaging was certainly an innovative way to support and promote the talent and success of women around the world, and we loved it.
11. Oreo, Sharing is Caring
Love and support seems to be the underlying theme of today's blog post, as Oreo provided us with an example of allyship in the LGBTQ+ community.
We think this one possibly wins the award for the most positive, uplifting quotes sandwiched onto one packet, as for Pride month Oreo decided to ditch the classic blue packaging and use the rainbow for inspiration.
Plastered all over this candy packaging were quotes and affirmations such as:
"Be exactly who you are the world needs more of that"
"You can be anything, do anything, love anyone"
All written in different fonts and colours surrounding an Oreo heart, which itself was embossed with the word 'Proud'.
This packaging reminded us of doodles and notes about love, or graffiti with the mismatch of fonts, including cursive, script and bubble lettering, in vibrant colours.
The main message of this packaging was to provide a "canvas for allies to share their words of pride", and the brand provided a box titled "real words from proud allies, add yours:" to encourage consumers to share their support and of course, share their Oreos.
11 Examples of Candy Packaging That Hits the Sweet Spot: Review
So there we go, 11 examples of candy packaging that really do hit that sweet spot.
Sweet in terms of design, and sweet in terms of sentiment, as a lot of candy brands seem to really focus their branding on positive, and supportive messaging for important causes.
We have covered classic candy brands such as Reeses and Red Vines who mainly stick to what they know, and newer brands such as Nerds and Skittles who never fail to keep their packaging colourful and popping off the shelves.
In the ever-growing industry of candy, packaging is key to securing your loyal consumers that will come to you every time for the candy they know and love. Vibrant colours, switching fonts and getting playful with packaging ideas, are all essential to creating and maintaining your brand identity that doesn't just appeal to the child consumer, but the adults too!
If you are struggling with packaging design or just need a bit of help discovering and securing your brand identity, get in touch with us here at Canny.
We have helped various brands, such as Kono Coffee, create packaging designs and build up their brand identity, to suit their business needs and help reach their goals. Whatever they may be.
Are there any standout examples of candy packaging that we have missed on this list? Let us know your favourites, and your not so favourites, via our social media channels.