As a business owner or branding professional, business stationery design is an integral part of a branding project.
Yet, for whatever reason, it's often an afterthought, with people just putting the logo on one side and the details on the front.
But there's so much more you can do with stationery, whether it be through print finishes or clever ways to bring your brand through.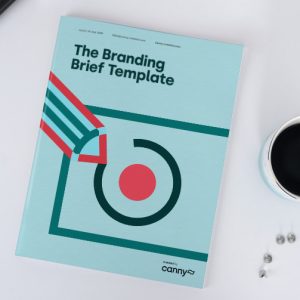 The Branding Brief Template
The Branding Brief Template is a free template that will help you get the brief for your branding project right. W...
As a pretty vital part of your marketing material in a business, that will be getting a fair amount of face time with potential customers, could you be doing a little more with your stationery?
If you're looking for help, an agency that provides branding services will be able to help create some great business stationery design for your brand.
Below are some great examples of how stationery design can enhance your brand, not just be a quick necessity.

Credit to Foreign Policy Design Group
Wanderlust Hotel
The Wanderlust Hotel has very strong branding which filters through to the branding, pulling through the brand story.
The business cards are set up like suitcase travel tags with various travel related images on them, this is a great way to stand out from the norm of 85x55mm business cards.
The letterheads follow the same path, using a lovely flight path pattern fading into the white which complements the dot logo. Everything is concealed in tactile brown envelopes with the same flight path pattern inside.
All of this creates a fun and interactive experience for customers, prompting feelings of adventure and discovery which is perfect for the hotel.

Credit to Damian Skotzke
Surge Cloud
Technology is complicated sometimes, but this module design in the Surge Cloud stationery makes it look very very simple.
Using the brand's visual style all the stationery elements have a simple pieced together feel, translating across the business's theme exploring solutions in technology.
Projecting your brand values throughout your business stationery can help your potential clients understand your brand and therefore your business.

Credit to DixonBaxi
British Land / Storey
Another great example of pulling through your brand onto your business stationery is the British Land / Storey brand.
The brand is all about being more than a building, it is a "story" of the people inside them. So with this very people focused approach, they also have people focussed messaging. These messages have been paired with simple illustrations which go on the back of business cards.
Having this sort of multiple messaging on stationery is great, you can get as much of your brand messaging out there as possible.
We are currently doing something similar for one of our clients, so keep your eyes peeled, when we are all finished we will link up this post to the project.
Credit to BrandWorks
Due North
Due North is a marketing and business growth agency, they wanted something different than the typical sales imagery for the brand, and this lead to a beautifully elegant brand.
Using effective printing techniques the elegance continues in the stationery. Embossing and debossing may seem a fancy extra that will put you way over budget for stationery.
However, striking up a good relationship with a great quality printer can help. And remember, stay away from low cost print suppliers!
But Due North shows that when done properly, business stationery design can be used to tell your brand story and deliver on your brand strategy through print work.
To be honest with plenty of different options within printing these days, you may be surprised how cost effective this sort of finish is.

Credit to Formula Creativa
Formula Creativa
Not so long ago all your printing colours would be slightly dull compared to web colours. But oh how times have changed, with new tech and printing ability you can really push the boundaries with bright, bold and vibrant colours.
Formula Creativa created their new branding and the stationery is a great example of how much you can now do with printing. With bold and vibrant colours and flowing gradients they have a striking brand on the web and on paper.
So don't be afraid when your designer shows you some really bright colours for you brand. You don't have to be underwhelmed when you get some new business cards with dull colours, they can be as bright as the web.

Credit to Studio Pros
Roaders Hotel
This hotel has a very rustic and travelled style and the business cards are no exception.
Using a tire track pattern, mixed with the brand colours of brown and orange, they have brought through the rustic feel into their stationery.
So rather than just your logo, is there something that really voices what your brand is all about? And could that go on your business cards?
Maybe your a cake maker, could you get a dusting effect on your stationery? Or maybe you're an architect, could you clear print a blueprint on your cards? No idea is off limits, it just needs to be executed properly.

Credit to Manual
The Slanted Door
The Slanted Door have went for a very literal approach to their stationery, using the name to create a visual style.
For all the business cards are simple and don't incorporate the slanted visual style but everything else has this clever and subtle slanted page background to the artwork.
This is a perfect example of really thinking about how your stationery can enhance the brand experience, especially for a restaurant, where pretty much all the printed items are handled and viewed by the consumer.

Credit to Socio Design
Soap Industries
Soap Industries have used a mixture of print techniques to create a very tactile and accomplished stationery set.
They have combined both embossing/debossing with gold foiling. 'Its really expensive' I hear you cry! and gold foiling can be expensive but nobody can turn their nose up at the results when it is done correctly.
It brings a professional and accomplished look to any business stationery, which considering Soap Industries sounds very… well industrial, this scattering of gold foil blows them assumptions out the water.

Credit to Mind Design
Blustin Design
Blustin Design Architecture and Interiors combine patterns and colours on their stationery, representing the process they will go through to design architecture and interiors.
This use of multiple designs on business cards is on trend at the moment, and Blustin do this perfectly with plenty of different textures and patterns that seem to represent materials they would use.
They also use multiple coloured papers, personally I feel like this is an underused option, and this is normally as it is more expensive to get in some special coloured paper, but it can make your stationery stand out from the crowd.
Now this doesn't mean go out and buy 100,000 sheets coloured paper that matches your brand, it is something that needs to amplify your brand not just to be used willy nilly.
It also helps to work with a designer so they and the printer can work out what's best for printing on coloured paper of a certain colour.

Credit to Anagrama
Bodega Los Cedros
This wine vineyard in the mountains of Mexico mixes elegance and hand drawn styles to connect with the audience and still stay true to the roots of how the product is made.
The hand drawn trees of the brand and the scribbled handwriting on the stationery gives off a very personal touch, which in a mass produced world is a lovely touch.
So if you work damn hard and pour all your love and attention into your product, maybe this is something you want to get across to your customers? A more personal and handwritten approach to your stationery can go a long way to doing that.

Credit to Colt
Quaglino's
A legend in London Nightlife this club has a sexy new brand and the stationery to go with it.
And it does not disappoint.
Using a multitude of printing techniques to amplify this sexy, elegant and classy look.
The purple, gold and black colour palette, combined with gold foiling and embossing may seem like a little much but it really works.
But be careful as this is not for every business, you may want to push the boundaries but if your business doesn't suit this striking look you may want to steer clear, you don't want to bring a negative press on your business.

Credit to Reynolds And Reyner
POM POM
POM POM are a lingerie brand that are breaking the elegant, classy norm when it comes to lingerie.
They use bright colours with playful patterns to really stand out in a market dominated with model images.
Another interesting printing technique used is die cutting. The shape of the POM POM branding really lends itself well to die cutting in the business cards.
This is another technique that I think needs to be well thought through before going ahead with it, but die cutting your stationery can give it the edge (see what I did there) that it needs to stand out.

Credit to ACRE
7Cycle
7Cycle is an indoor cycling studio, with a rave like atmosphere, dark rooms with glow in the dark lighting.
The whole idea is to make fitness and healthy living fun and exciting and the stationery is no different.
The stationery replicates this rave like atmosphere with fully glow in the dark application.
Very practical if you are handing out a business card in the dark, but also totally different to anything in the market. Really underlining the business and its message.

Credit to For Brands
Vesha Law
The stationery for Vesha Law is a great example of how a logo and the flexibility of a logo can be used in lots of different situations. The logo expands and contracts from the business cards up to the letterheads.
If you're looking for the best in business card design, look no further.
This is then finished off with a copper and silver foil, which brings out a classy professionalism that is needed for their market.
So having a flexible logo can really work well in your stationery. Don't be afraid to break your logo a little to really make it work on your stationery.

Credit to ico Design
London Luton Airport
Luton Airport had a major rebrand, and the idea was to redefine themselves in the London Airport market. They settled on a bold new brand with bright colours. So don't hold back on colour, if your brand has colour, use it to your advantage.
With the business stationery following suit, they have created a clear visual identity which sets a path for the future.
The bold and bright shapes on the stationery really makes it exciting and fun, partner this with the fact this is normally where you start your journey for a holiday it brings positive connotations to the brand.

Credit to Manual
Wo Hing
Wo Hing is a asian restaurant with a mouth watering business stationery design.
Wo Hing's stationery is a great example of being super creative. Manual have used scans of noodles which is a popular dish of choice in most asian cultures and created a beautiful visual style.
This scanned style gives a vibrant new look to a sometimes old school looking market space. The noodle shapes also look like the hundreds of neon signs you see in photos of Chinese streets.
This sort of experimentation might be pretty specific to this industry but this sort of creative thinking can really set your brand apart and the stationery it is used on, will spread your brand.

Credit to Green Chameleon
The Botanical Coffee Company
The Botanical Coffee Company is inspired by nature and the brand beautifully represents this concept.
Being inspired by nature couples well with the very tactile, touchy feely stationery that Botanical Coffee has. The paper and print finish adds to the user experience hitting senses.
The marbled texture used throughout the brand a print items finishes the assault on the senses with a striking pattern.

Credit to Christopher Doyle
Natasha Cantwell Stationery
Natasha Cantwell's is a photographer with quite an interesting surname, this has been taken advantage of fully in her business stationery design.
It is really quite clever, using her name to create a style across all her stationery. The big bold red typography adds to the style and cleverly makes light of some of her lesser talents.
This playful and almost conversational style can really hit the mark with consumers, but be careful, not every industry or business is suited to this.
But with the world becoming a more open place you can always be surprised by which industry or business is making light of some pretty serious situations.

Credit to Here Design
The Barbary
This restaurant has a pretty distinctive style and has implemented this into the business stationery design beautifully.
Being inspired by the barbary coast in the 16th to 19th centuries they have pushed the old school style throughout the brand, making use of old style maps and stamp like monograms, you could be fooled you were a pirate.
Something as simple as the typeface choice on the letterhead really pulls everything together.
Using a more run of the mill typeface I would expect would look lost and it puts an emphasis on how this small detail can really make or break a design. But be careful, function is key and if you get to fancy and the typeface cannot be read, that's a problem!

Credit to Studio Mast
PAK PAO Thai Food
PAK PAO have beautifully combined clever iconography, exciting typography, sizzling colours with cultural patterns to bring together a striking brand and stationery set.
This exciting style is represented with some quirky square business cards. This is something that isn't seen often but it is good to know that your business cards don't have to be the standard 85x55mm.
So possibly think outside the box, or the square when it comes to your business cards and stationery, explore all the options.
21 Examples of Business Stationery Design That Communicates
Hopefully this list has given you some inspiration on what possibilities you have when it comes to your business stationery, how you can break out of the norm and use some clever thinking to create a striking design.
But also that it's not all about razzle dazzle, that if you are going to use a particular printing finish or technique, that you have meaning behind it that promotes your brand message and enhances your users experience.
If you would like to discuss your business stationery, please let us know and we can help you create something stunning and meaningful.
We've helped countless brands set the tone just right with their business stationery (take Leaf for example), and can help you stand out with yours.