FMCG (fast moving consumer goods) packaging design is an art form in itself.
When we shop there are many different factors that can influence what we buy and even the way we buy, but none more so than a product's packaging.
How many times have you stopped and picked up a product, purely because the packaging caught your eye?
I bet it's lots!
Let's say you buy a bottle of fancy Gin. Do you buy it because you need that exact bottle, or do you buy a particular brand for its shape, colours, bold type or graphics?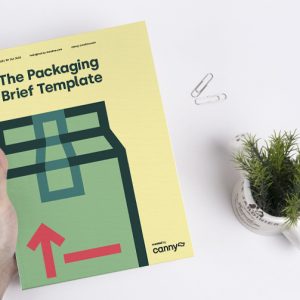 Often a products packaging can be the first point of contact that a customer has with your brand, so why not send the right message!
After all, first impressions count.
In today's oversaturated market, the importance of great packaging design is becoming increasingly important.
If you're looking to make an impact with your packaging design, check out this video:
Supermarket shelves are becoming littered with product after product that do the exact same thing!
So if you're a Marketing Manager who has been tasked with designing new product packaging, it's imperative your product stands out amongst the crowd and visually hits the spot.
Remember, people don't just buy products, they buy brands.
Without further ado let's see some of the best FMCG packaging design the shelves have to offer…

Designed by jones knowles ritchie
Hippeas
First up. Hippeas!
Other than the fact that Hippeas taste AMAZING and they possibly have one of the cleverest brand names ever, playing on the fact they are hippies – they have another great design tool at their disposal.
Their packaging!
The packaging for these tasty snacks look great.
At Hippeas they do a lot of charitable work, they believe that tasting good and doing good should go hand in hand. This message is really delivered well through its packaging, it is bright, colourful and unapologetic and really reaches out directly to the youth of today that want to make a difference!
What I particularly like about these packets are its strong use of colours.
Not only does the yellow clearly resemble a chickpea but it's also extremely uplifting. Looking at the packet makes you feel good, which entices people in. The yellow combined with other vivid colours like the cyan blue and green really helps deliver the hippie vibe that the brand are aiming for.
The simplicity of the packets are also a great selling point, as it help them stand out amongst the crowd, delivering its information in a short and concise way – giving it impact and superiority amongst it's competitors.
Going back to what I was talking about earlier about 'Supermarket shelves are becoming littered with products' this is an extremely great selling point.
Hippeas nail the "simple but effective" look that we talk about so often at Canny – and given the fact they raised a $50m round lately, it's fair to say it's contributed to their success.

Designed by Bulletproof
Cadbury
Needing no introduction here is Cadburys!
I'm sure everyone here will recognise this beloved brand, having been eaten or at the very least, seen, many times – after all it is nearly 200 years old!
Cadburys is one of the big guns in the chocolate and confectionary world, however recently it has been through a massive overhaul in it's packaging design across the full range of tasty products.
Now I know for any of you that follow the Canny Rebrand Review, will realise that we have chatted about this design before. However it's that good we thought it deserves another shout out!
Find out what we had to say about the Cadbury's rebrand here:
Cadbury's last redesign was by Pearlfisher back in 2013, the design in all honesty was good. It was simplistic and instantly recognisable, however recently Bulletproof has tried its hand at rejuvenating this iconic packaging – and what a job they've done!
In terms of chocolate brands you don't get much bigger than Cadbury's, it is the most popular chocolate in the UK and now even breaking its way across the pond into the USA, Australia and even India.
As a brand, it's instantly recognisable on any supermarket shelf for its iconic rich and bold purple packaging. In fact, it's purple colour is so rich, Cadbury even managed (in a round about sort of way) with trademarking it.
This is an important element of the brand that Bulletproof have preserved in the new rebrand and packaging design and rightly so!
When you are looking down that shelf searching for your Cadbury's Caramel bar (my personal favourite) your eyes are subconsciously hunting down the purple and yellow colour without you even knowing it. To have products that are that instantly recognisable, is the ultimate aim for many a brand!
However this hasn't been achieved by fluke or chance, but by well thought out branding work and outstanding packaging design.
The new packaging design focuses on the immense heritage, history and family of founder John Cadbury himself. This is a very popular design tool when it comes to branding and especially packaging design, as it helps to cement customer confidence in a product while telling the rich story of a brand.
Bulletproof has done this by turning to the past for inspiration. They have kept the iconic signature logo (albeit slightly thinned down) and also added in light textured patterns of the pouring cups and ribbons, that were used when they first began – giving a nice nod to the past.
All-in-all, Cadbury's new packaging is a masterclass in FMCG packaging design!

Designed by Elmwood
Macallan
Next up is a big name in the whiskey world and that is Macallan. For me there is not much to say but wow!
The design of this packaging is stunning and really commands attention and is a perfect example of how to do packaging right!
Macallan have really appreciated the importance of having unique packaging and tasked the designers at Elmwood with "Redefining iconicity for an icon."
Now personally I am not a whisky drinker, but even I might be swayed by this packaging.
The design is elegant, understated and oozes sophistication – all the connotation you want for a whiskey brand. Every detail has been thought about from the box right through to the wrapping of the cap, nothing has been forgotten about.
It's label has been kept classic and minimalistic in design, focusing all of it's efforts on the heritage and pedigree of the Macallan brand, which is an extremely important aspect for any whiskey drinker.
Meanwhile the oceanic blue box excites and wows customers with its depth and architectural form, helping it stand out amongst the status quo.
The packaging design here has drifted somewhat into product design territory, however it is a great example of the depth in which you can go to when considering packaging for your products.

Designed by Stocks Taylor Benson Graphic Designers
Morrisons' Saver Range
Morrisons is a huge supermarket chain and like many others, they don't just sell others products and produce, but their own too. They have many different product ranges from premium right down to the 'savers' like what we have here.
Normally, supermarket own budget and saver ranges leave much to be desired when it comes to creative packaging design.
We've actually used budget ranges before in our brand strategy guide to help illustrate brand positioning.
Sadly though, they're often overlooked, with the primary focus being on cutting down costs and budgets. However just because something is a budget range, that doesn't necessarily mean it has to be budget in design too!
Morrisons and 'Stb Graphic Designers' have certainly shifted its thinking when it comes to its new packaging.
The new designs are loud, proud and unapologetic, commanding space on the shelf with its bold and in your face typography.
Gone are the days of the horribly uninspiring packaging as they have introduced packaging that can keep up with the big guns, but at a fraction of the price! Although the packaging has been through a redesign, it hasn't lost its identity and its still recognisable across a wide range of different categories and products.
The Morrisons 'saver range' is a great example of how you can achieve eye catching and bold packaging design even on the smallest of budgets!
For reference, Morrisons have always had great looking budget packaging. If you want a real treat, go back to the designs from around 2008.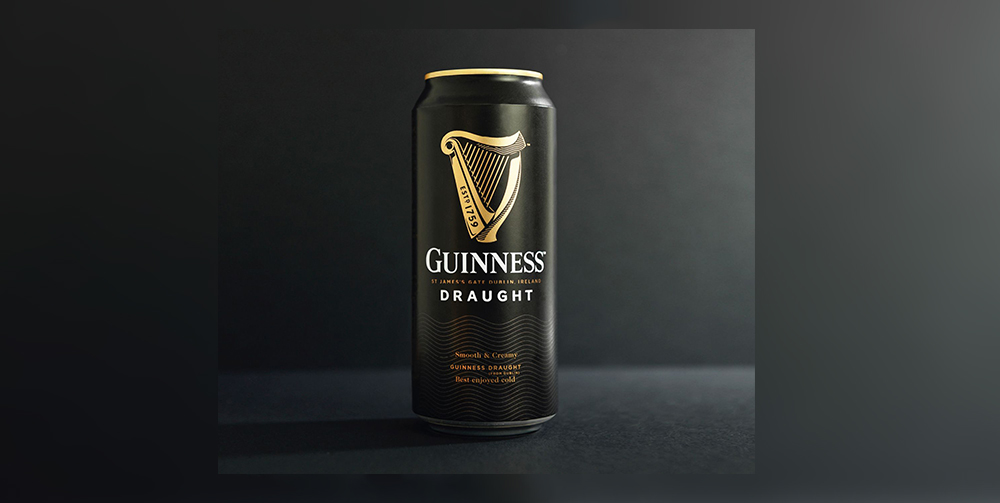 Credit Pinterest
Guinness
The Guinness can design is very high up my list as some of the best packaging designs around and that is not just because I am an ale fan!
Guinness has been brewing its much beloved iconic Irish stout since 1759 and in that time, its cans have seen a dramatic evolution – but this is their best design yet.
You wouldn't normally associate a beer can with being elegant and beautiful, and especially not an Irish stout!
However, for Guinness it really works.
This latest can design really stands out amongst other ales.
It's iconic, gold harp takes centre stage and leaps off the black can, instantly drawing peoples eyes to it. The design is bold and strong while retaining a subtle and simplistic elegance to it, giving it a somewhat mysterious and even God like quality – which portrays the brand image perfectly.
Another design element I particularly like on the can are its very subtle use of patterns, which have been applied to the can in an extremely sophisticated way.
They have taken the wavy lines used in the shading on the harp and applied it to the bottom of the can. This not only adds depth and texture, but also represents the iconic settling out of this creamy ale, once poured.
Guinness here have well and truly lived up to their "Made of More" motto.
Check out this post for more about the best alcohol, beer, and craft ale packaging.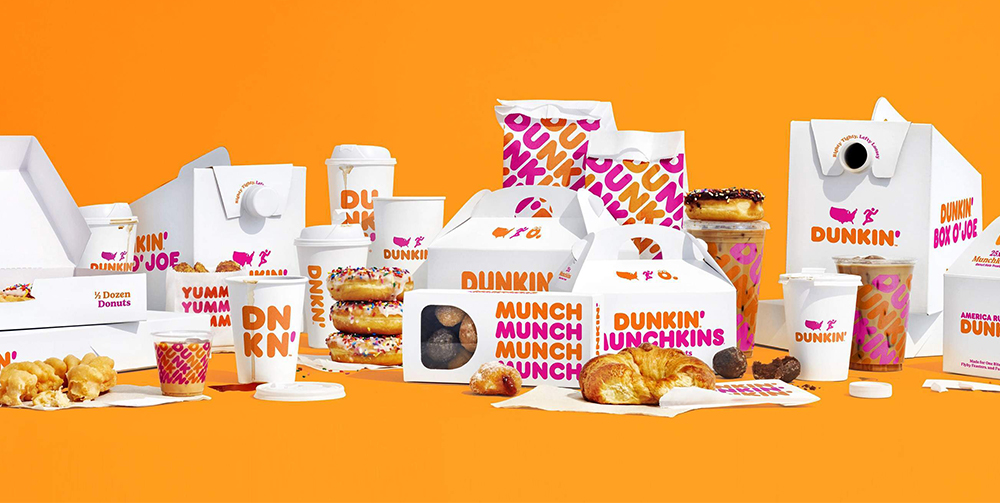 Design By jones knowles ritchie
Dunkin'
Getting everyones design taste buds tingling is the brand formally known as Dunkin' Donuts. Technically, this isn't an FMCG product in the traditional sense, but it's too good to not include.
Dunkin' is another brand which is very well established in their marketplace and has been around for over 70 years. If you think of donuts, you think of Dunkin'.
Dunkin' has alway been a fun and playful brand and has never taken itself too seriously. However designers at "Jones Knowles Ritchie" have really taken the packaging to another level in it's 2018 rebrand.
The design of this packaging is very much centred around the use of typography. The now specially designed "Dunkin Sans" has been used throughout the packaging to create the especially bold and fun brand image that people have come to know and love.
The packaging's rounded typography really communicates the personality of Dunkin.'
Colour has played another vital role here as the orange and purple colour has now become iconically identifiable and acts as a very ownable mark for them.
Normally orange and purple together is a design no, no. It can look very garish and hard to look at.
However, by putting it on simple white packaging, "JKR" have utilised the garish quality to their advantage and managed to portray the crazy brand image, but in a controlled way.
No matter which packaging you look at whether it be a coffee cup or a donut box it looks fun from every angle!
Checkout this post for more awesome donut branding and packaging design.

Design By Landor
Kelloggs
The designers at Landor (one of our favourite creative agencies) have recently done a great job in taking Kelloggs through a major packaging overhaul across its extensive range of cereal products.
It's previous packaging looked old tired and a little bit dated, and now it has been given a modern refresh that's fit for the consumers of today.
Many people now don't just have one product to their brand name but instead have multiple, which span across a full range of products. These could be different products like what we see here with Kelloggs, or a variations of the same one.
However whatever your product, it is important to consider the continuity throughout your packaging design – which is something Landor has managed wonderfully in this new Kelloggs range and packaging design!
The design for these cereal boxes have been stripped back from what they were previously, which looked a little dated and cluttered. Instead they have taken a minimalist approach, letting the iconic colours of each cereal brand really do the talking.
This means people walking down the cereal aisle, can quickly spot their favourite brands amongst the cluttered shelves!
The new packs also have a tasty looking image of each cereal bowl to really get the taste buds tingling.
One thing to note is that Landor has clearly taken a lot of time to make sure that the bowls, Kelloggs logo and cereal logo are all in the same place on each pack. This is to keep aesthetic continuity across its range, but also to make sure that no matter which pack you are looking at, it is instantly recognisable as being part of Kelloggs range with a single glance.
Pass the spoon.

Design By Coca-Cola
Share A Coke With Bottles
In terms of brands they don't come much bigger than Coca Cola.
It's sold in almost every shop all over the world, so they must have done something right with their packaging! I'm sure we all remember the "Share a Coke" campaign which launched back in 2014. It was one of the largest campaigns ever launched by a company, which sent everyone out hunting down a bottle with their name on it.
Now I know this is maybe entering more into the territory of an advertisement or marketing campaign and is probably out of the budget scope for most business, however it is a great way of demonstrating the power that packaging design can have on a consumer, and subsequently, sales.
The reason why these Coke bottles were so successful is the fact that they connected with people on a personal and individual level. Tt appeared that 'Coke' was talking directly to them – which is a very powerful marketing tool.
Another reason why they were so successful was the fact that they have a very clear call to action. It is not only saying "Share a Coke" with someone in the literal sense, but also encouraging people to take to social media. By encouraging people to share a pic of their special bottles, it sent everyone into a social media frenzy – which is also a very powerful and free source of advertising!
User generated content is firmly in.
As mentioned earlier this may be out of the vast majority of people's marketing budgets, however there are a lot of great tips that you can steal from 'Coke' and use in your own packaging designs.
The key takeaway being to try and make your packaging connect with people on a personal level. Now this doesn't have to be custom labels like we have here, however if you can find a way to make something more personal or talk to people directly, then you could be on to a winner.



Check out full case study here
OPI Frutta
OPI Frutta engaged the services of Canny to create packaging that had visual appeal on a busy shelf.
They are innovating in the healthy snack sector, with a new way of freeze drying fresh fruit, retaining all of the natural flavour and texture. Needless to say this made it a rather exciting project to work on based on the number of possibilities!
The snack sector is wildly overcrowded and the shelves are filled with "organic looking" products. Our challenge was to create a brand that positioned their fruit snacks as an exciting, vibrant, alternative choice for people looking for a healthy snack alternative.
Because Opi's snacks are a game changer in the snack space, we designed bright, eye-catching packaging that avoids organic and health food design trends. This vibrant palette makes Opi's products stand out on the shelves.
The use of real-world images of various fruits made the flavour of each universal in any language — it also gave Opi a clear cut advantage over the competition. Many of these healthy food brands use too much or too little fruit imagery in the packaging, whereas we found that perfect sweet spot.
Combining vibrant colours with real product photography, the brand is bold, exciting, and appealing across both physical and digital touchpoints. In short: we created a healthy brand that continues to shine to this day!
FMCG Packaging Design That Races Off the Shelf
I hope this blog has given you a good insight into the world of great FMCG packaging design and highlighted the impact in which a well designed piece of packaging can have, not only on a products sales, but also on a brand's image.
The importance of having well designed packaging to wow and impress your customers should never be overlooked or become a secondary afterthought to the product itself. Instead, they should go hand in hand with each other.
No matter how good a product is, if people aren't enticed to pick it up in the first place, then you'll never have a product that races off the shelves! After all first impressions count and the first stage of buying, we do with our eyes!
The more creative and innovative you are with your designs, the more likely people will pick up your product over another. Simple!
Whether you have a new product that needs packaging or are looking to breath a new lease of life into a current one, then we hope this article has given you plenty of inspiration, thoughts and ideas to send your packaging racing off the shelves!
If you need any help and want to chat about how we can develop your packaging, then please don't hesitate to get in touch!